Why You May Need Insurance for Festivals this Summer
---
---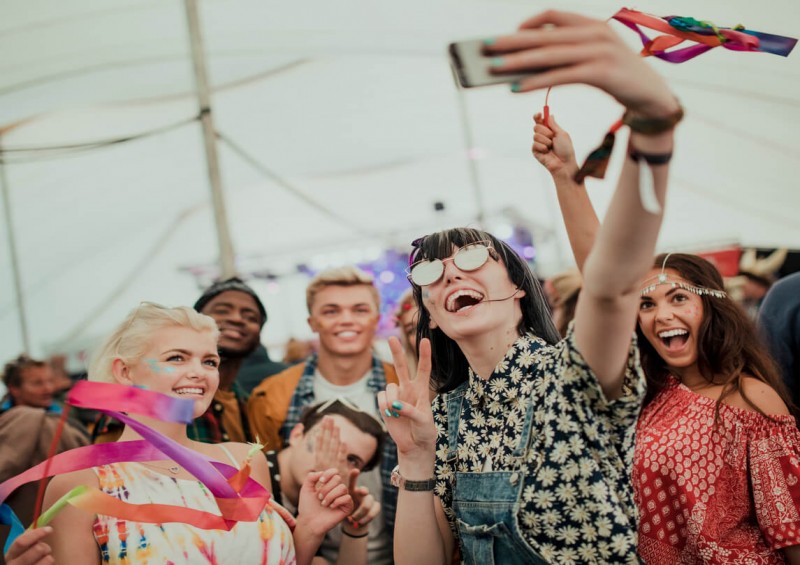 Are you going to a summer festival this year? If so, you might want to consider insurance to protect your belongings – despite it probably being one of the last things on your mind at the moment!
With summer finally well on its way, market leader Lloyds Bank Home Insurance is now advising customers to consider getting personal items insurance before heading to festivals like Glastonbury, Reading, Wireless and Latitude in the coming months.
Why? Because festivals are the ideal hunting grounds for thieves, and let's face it, it's pretty easy to lose things over three or four days of partying.
Here, we explain what type of personal belongings insurance you may want to take out, and how you can protect your items at festivals.
Why take out personal possessions insurance before a festival?
Lloyds Bank Home Insurance received 1,814 claims for accidental loss of belongings outside the home in 2018, as well as 1,247 theft claims, which reiterates the danger of taking your personal possessions out-and-about with you for several days.
Lloyds also made a point of noting the apparent spike of losses and theft cases during summertime, with 18% more loss claims and 12% more theft during peak summer months in comparison to winter. Festival? More like theftival!
While summer festivals are great fun and an exciting way to spend time with friends or partners away from the reality of every-day life, you should be sure to protect your belongings as Tim Downes (senior claims manager at Lloyds Home Insurance) says that these festivals are the ideal settings for opportunist pick-pockets, who take advantage of the busy crowds to steal smartphones and wallets.
While you should still remain vigilant, having the right insurance cover in place will help ease your mind and allow you to let your hair down and party without constantly looking over your shoulder.
Losing or having your valuable possessions stolen is bound to put a dampener on your weekend, but adequate insurance should lessen the blow and could save you significant amount of money should the worst happen.
Personal belongings insurance: What cover do you need?
If you're heading to a festival and think it may be worth insuring certain items, there are various insurance policies that you could opt for.
Personal possessions insurance
Personal possessions insurance covers most items you take to festivals with you and leave in your car, van or accommodation (does a tent really count as accommodation?).
All providers differ, so be sure to check the policy's rules regarding what items the insurance covers, and whether or not it'll remain valid if your belongings are left unattended.
Mobile or gadget insurance
For your more expensive possessions, like your mobile phone or tablets, you may want to consider individual cover.
You can either take out insurance as part of your home insurance policy, or as standalone cover. You should check these policies carefully, as there are a lot of providers out there that will refuse to cover certain incidents, such as water damage (that includes dropping your phone in a mud puddle at Glasto!).
Some providers will also only cover you for theft if your item has been stolen while it's on you – so it's best to avoid leaving any valuables in your tent or accommodation unattended whenever possible. Check this with your insurance provider before you agree to the policy and ensure that you know exactly what you're paying for.
If your mobile phone is lost or stolen, report it to both your mobile provider and the on-site police as soon as possible. The mobile phone company should be able to lock your phone so that it becomes worthless to anyone in possession of it and your information will remain protected.
Cancellation cover
Campers going to the typical boozy summer fest with the bare minimum probably won't need this, but the glampers and caravan-goers amongst you should take note.
Cancellation cover is a type of policy that either comes as standard within your annual travel insurance policy or can be purchased as an add-on – which covers things like your travel costs (train or bus tickets) and usually your accommodation.
Cancellation travel insurance usually pays out up to £1,500 (with premium policies reaching up to £5,000), and will pay the cost of a cancelled holiday that the travel provider fails to refund.
These policies can sometimes only cover travels abroad, so if your chosen festival is in the UK, check that your cover includes British staycations also.
There are often terms and conditions, as with most policies, and you may find that you need two or more nights at a pre-booked accommodation to qualify.
Festival insurance abroad
People are starting to travel far and wide for festivals, with the likes of Hideout Festival in Croatia and Tomorrowland in Belgium becoming super popular with UK enthusiasts in recent years.
These festival-goers will need full travel insurance, which is more extensive than any other cover we've mentioned, because it's essentially treated as a holiday abroad.
The cost of personal possessions insurance
The cost of your insurance depends on the type of insurance you opt for and the level of cover you require.
Personal possessions insurance itself can cover: mobile phones, laptops, tablets, cameras, wallets, keys, jewellery and so on – and the cost depends on the value of the items insured.
Those that are planning on insuring individual items should remember that the cost of covering each item is dependent on its worth, but it's certainly worth considering if you're taking your most valuable possessions with you.
Tips to keep your belongings safe at a festival
Now, having insurance is a great safety net if the worst should happen, but what if you could prevent the worst from happening in the first place?
Using these five tips, you should be able to minimise the risk of your belongings being lost or stolen, or they should at least soften the blow if you do have a bit of a nightmare:
Use lockers: they're now widely available to rent or purchase in festivals, so you may want to keep some of your expensive items under lock-and-key during the day or night.
Don't leave your valuables unattended: not to sound like an airport tannoy, but leaving your possessions unattended at festivals is not a smart move. Tents are hardly the most secure types of accommodation you could stay in, so reduce the risk of your valuables being stolen by keeping them with you at all times. For bigger gadgets like tablets or cameras, consider lockers.
Only use cash: avoid taking your bank cards to festivals – just take a set amount of cash out and assign some to each day. That way, you minimise the amount of money you could lose and you don't have to deal with the stress of cancelling your cards, etc.
Back your phone up: not that it will stop your phone from being stolen, but backing up your irreplaceable memories (pictures, videos etc.) to iCloud or Dropbox could keep your memories even if your device falls victim to the festival.
Go old school: As much as you'll get the mick taken out of you, taking a cheap pay-as-you-go mobile phone instead of your smartphone could save you a whole lot of money if it's lost or stolen. Plus, their batteries are far better, they're almost indestructible, and you won't be £200+ out of pocket if you lose it. You might not get Instagram on your Nokia 3310 though…
Get personal possessions cover
As you might've noticed, we recommend getting personal possessions insurance (or whatever policy is most suitable for you) to cover any items that could be stolen or belongings that you might lose. It could really help you out financially should your festival weekend become a disaster.
Whatever festival you're going to – enjoy! And be sure to check out our array of resources for any more information regarding home and contents insurance, as well as travel insurance.
---