How to replace your lost car keys
---
---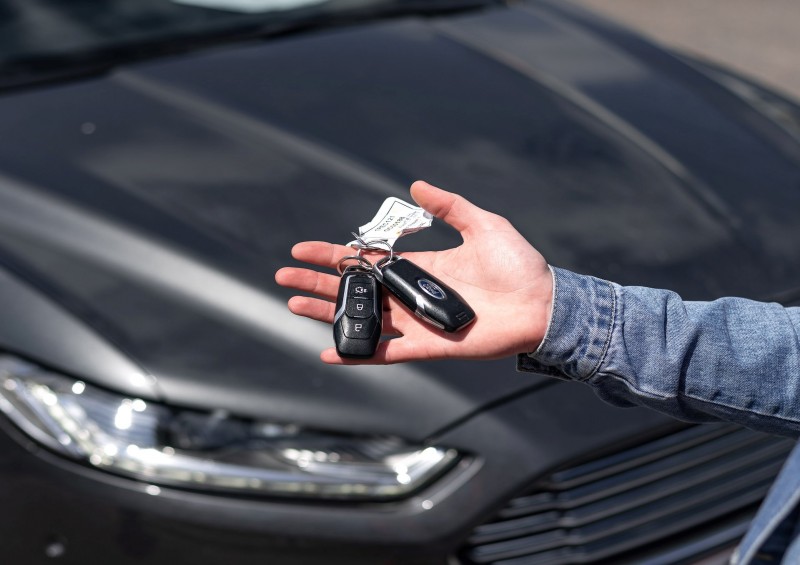 Nobody wants to be left standing outside the car with the panic-stricken realisation that you've lost your car keys.
So what happens now? We'll cover what you should do next in this quick read guide.
Retrace your steps
When you're in a state of panic, your thinking can easily become clouded and your car keys could be right under your nose.
Some of the most common places that people put their keys should be your first port of call when looking for your own keys. These include:
Coat or trouser pockets

Any bag you may have used recently

Kitchen counters

Dumping draws

Dining and bedside tables

Between the cushions on the sofa or down the back of the sofa
What are the main types of car keys?
There are 4 main types of car keys:
Mechanical keys
Mechanical keys are traditional metal keys that have been widely used for decades. They are manually inserted into the car's lock cylinder to lock/unlock the doors and start the engine by turning the ignition switch. These keys don't contain any electronic components and rely solely on the mechanical action of the key and lock mechanism.
Remote fobs with integrated keys
Remote fobs with integrated keys combine the functionality of a key fob and a mechanical key. They have buttons on the fob that allow you to remotely lock/unlock the doors and even open the boot or activate the panic alarm. These keys also have a mechanical key blade attached that can be manually inserted into the lock cylinder to unlock the doors or start the engine in case the remote functionality fails or the battery dies.
Remove keyless fob
A remote keyless fob, commonly known as a key fob, is a small handheld device that uses radio frequency signals to communicate with the car's electronic system. It allows you to wirelessly control functions such as locking/unlocking the doors, opening the trunk, and activating the panic alarm. Keyless fobs do not have an integrated mechanical key and rely solely on the remote functionality.
Transponder keys
Transponder keys are equipped with a small electronic chip embedded inside the key head. When you insert the key into the ignition cylinder and turn it, the car's immobiliser system sends a radio signal to the chip. The chip then transmits a unique code back to the car's computer, verifying its authenticity. If the correct code is received, the engine is allowed to start. Transponder keys provide an added layer of security by preventing the engine from starting with unauthorised keys or duplicated keys that lack the correct programming.
How to get replacement car keys quickly
If you've come to the conclusion that you've definitely lost your keys, you have a handful of options on how you can get them replaced. However, some take more time and money than others.
Order replacement car keys from the dealership
Buying a new set of car keys from a dealership is usually the most expensive option. It can take anywhere from a couple of days to a few weeks for them to get you a replacement set.
You'll also have to find a way of getting your car to the dealership for them to programme the new keys to your vehicle.
Contact your vehicle breakdown provider
Another viable option is to contact your breakdown service. You may be left waiting a while for them to arrive as they will usually prioritise breakdowns, however, they will try and either gain access to your car (if you have accidentally locked them inside) or cut you a new key if they have the right equipment.
If they are unsuccessful at either of the approaches mentioned above, they will most likely tell you to contact a local auto locksmith.
Call a local auto locksmith
This is likely to be your quickest and most cost-effective option. When you contact an experienced local auto locksmith, they will have all the equipment and experience needed to programme a replacement car key without needing the original.
Many auto locksmiths are mobile, so they will come to wherever your car is parked. They will also deprogramme the old keys so that your vehicle isn't at risk from thieves, especially if your keys have actually been stolen rather than lost, or ended up in the wrong hands.
How much are replacement car keys?
The cost to replace your car keys will mainly depend on the make ad model of your car as well as the type of key that is needed.
Your location can also be a factor when getting quotes from auto locksmiths.
What do I need to get a replacement car key?
When using any of the options listed in this guide, you will be asked to provide the following information in order to receive a quote and arrange the service to replace your car keys:
Vehicle make and model

Car registration number

Proof of ownership such as the V5C or other document

Some form of ID such as a driving licence or passport
My keys are locked inside my car - what do I do?
Firstly, do not try and break into your own car yourself. It can end up causing expensive damage to your car but will also void your car insurance policy.
You are better off calling a mobile car locksmith that will come and gain entry to your vehicle in a non-destructive way.
Can I claim replacement keys on my car insurance?
It is worth checking your car insurance policy documents to see if you have 'key cover' included. This benefit can sometimes come as standard but in many cases, you will have to have purchased it as an added extra. There may also be an excess to pay along with restrictions on the amount they will provide to cover the cost of replacing your car key.
We would recommend that you contact your insurer to see if you have this cover in place and ask what your options are.
Get yourself a spare car key cut
The ordeal of losing your car keys is not an experience you will want to repeat any time again soon.
Whilst getting your new car key cut, it may be worth asking for a spare to be made at the same time so that you have a backup key should the unforeseen happen again in the future.
---