A Complete Guide to Business Interruption Insurance
---
---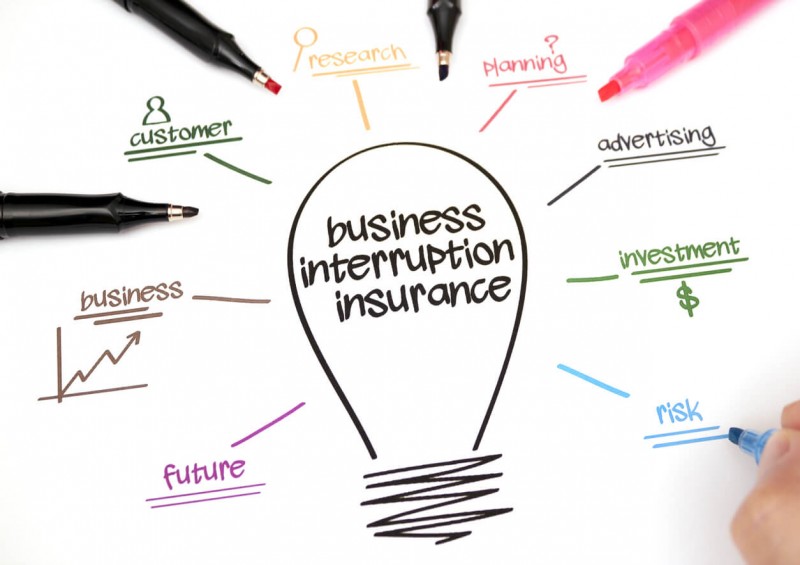 If you run a business and an unexpected event means it abruptly ceases operation, having business interruption cover in place can help your business survive.
Here's all you need to know.
What is business interruption insurance?
Business interruption insurance, also referred to as business continuity insurance, is a distinct type of business insurance policy that provides specific cover for losses sustained by your business when an unforeseen event like a burglary, fire or flooding, stops your business from trading as usual.
Many business owners are unaware of the existence of this niche type of insurance cover and some erroneously think that business interruption losses are automatically covered by buildings and/or contents insurance.
Note: Not all business interruption insurance covers pandemics.
What is covered by business interruption insurance?
Business continuity insurance specifically covers loss of business profit and income when a sudden event occurs (usually fire or flood damage to a building), meaning that a business can no longer function as normal.
This type of insurance does not cover anything else such as the cost of repairs to damaged buildings or replacing contents (this is covered by building and contents insurance); it simply covers loss of profits.
Claims for profits lost through business interruption can be made as a result of:
Floods
Fires
Burst pipes
Storms
Impact
Vandalism
Theft
Does business interruption insurance cover Covid-19?
The UK government has stated that if your insurance policy includes wording that states cover applies to both:
Notifiable diseases (and there is no specific list of named diseases in your policy) and
Closure of your business was mandatory (i.e. ordered by the government)
then you should be able to make a claim on your insurance if it has suffered loss of profits due to the Coronavirus pandemic.
You should read the small print of your insurance policy to see whether you might be able to make a claim or if there is a specific exclusion clause in your policy relating to pandemics meaning a claim for covid-19 losses is not possible.
The House of Commons' Library recently reported that many business interruption insurance covid-19 claims have not been successful, leading to small businesses demanding government action and complaints being made to the Financial Ombudsman Service (FOS).
Many new insurance policies now exclude cover for the Covid pandemic, so always be sure to read and understand the terms of your policy.
What is classed as a business interruption?
Business interruption means that for a considerable period of time (typically between 12 and 36 months), a business is unable to operate, carry out its usual business or earn any profit due to a natural disaster and/or other unexpected events.
Does business interruption insurance cover loss of earnings?
Yes, this type of insurance is designed specifically to cover loss of profit and earnings as a direct result of a business being unable to trade.
How do you handle a business interruption claim?
The Financial Conduct Authority (FCA) provides detailed guidance on their website on how to make a business interruption claim, with particular reference to Covid-19 related claims.
Here's a summary of the FCA's guidance:
If you think you might have a valid claim, contact your broker or insurer and ask how to go about making one. You may need help from an accountant to calculate your business losses, etc.
You don't need to use a claims management company or lawyer to make a claim but this is an option if you don't want to handle it yourself or you don't have a broker who will oversee a claim for you.
You should make a claim as soon as possible and insurers should exclude the period 'between 17 June 2020 and the final resolution of the test case' from any time constraints for making a claim due to Covid-19.
The indemnity period you can potentially claim for can 'extend beyond the renewal, expiry or termination' of your insurance policy if the event occured when the policy was still in force.
If a disease clause in your policy says that Covid-19 has to be active within a certain distance of your business premises (or has to actually be 'at' your premises), in order for your claim to be valid, you should review the FCA's final guidance on this.
If your claim is rejected and you're not happy, 8 weeks after complaining to your insurer, you can usually complain to the Financial Ombudsman.
For further advice on what to do if you've already claimed or complained, and for guidance about what you can claim for, visit the FCA's FAQs page.
How long does business interruption insurance last?
The indemnity period (i.e. the period of time that you can claim compensatory cover for) can last anywhere from between 12 and 36 months.
How is business interruption calculated?
To calculate business interruption, you will need to:
Estimate the indemnity period by considering the maximum amount of time it will take your business to return to normal operation, taking into account any permit(s) you may need and to comply with building regulations (if building works are necessary).
Guesstimate how long it may take to get new equipment delivered and installed, and if necessary, train staff to use it - experts typically recommend 24 months but an indemnity period can be up to 36 months.
Once you have an estimated indemnity period, you will then need to calculate the projected gross revenues for that period based on the last 1 to 2 years of your fees or sales (as applicable). When undertaking this calculation, you will need to consider predicted inflation rates and how that may affect your gross revenues and anticipated business decline or growth.
Work out the estimated gross profits for your business for the indemnity period. Do this by taking your predicted gross revenues and deducting anticipated fluctuations in business material use, shipping costs and inventory values.
Calculate how much it's going to cost to move your business and operate from a temporary location for the duration of the indemnity period. When making calculations, you may need to take into account rental costs, payroll, equipment hire, employee compensation, benefits and allowances.
Work out how much money you will save on your usual business premises' expenses such as utility bills and maintenance costs for the duration of the indemnity period.
If your business premises have been destroyed and you are a tenant, check your lease to find out if you're liable for the rent and if you are, calculate how much rent you'll have to pay for the indemnity period.
Calculate predicted earnings for staff who you will be unable to employ during the indemnity period and add this sum to anticipated expense savings.
Add together the gross profits, moving costs and rentals (as applicable) and take away the predicted saved expenses to arrive at your business interruption total costs figure.
Is business interruption insurance expensive?
Whilst larger businesses can expect to pay much more expensive insurance premiums, according to nimblefins.co.uk, business interruption insurance fees can start from just £82 a year for a small business.
Is business interruption insurance worth it?
If you run the type of business that would lose all or most of your business income should your business abruptly cease operating, then business interruption insurance is most definitely worth it.
Business interruption cover is typically included in business insurance policies for retail businesses, hairdressers, restaurants, pubs and offices etc, but you should always check if this cover is definitely included and how much cover you have.
However, business interruption cover isn't included in all standard business insurance policies and is very often an add-on you will have to pay extra for, so check this with your insurer if you're not sure.
Related guides
---