A complete guide to business credit cards
---
---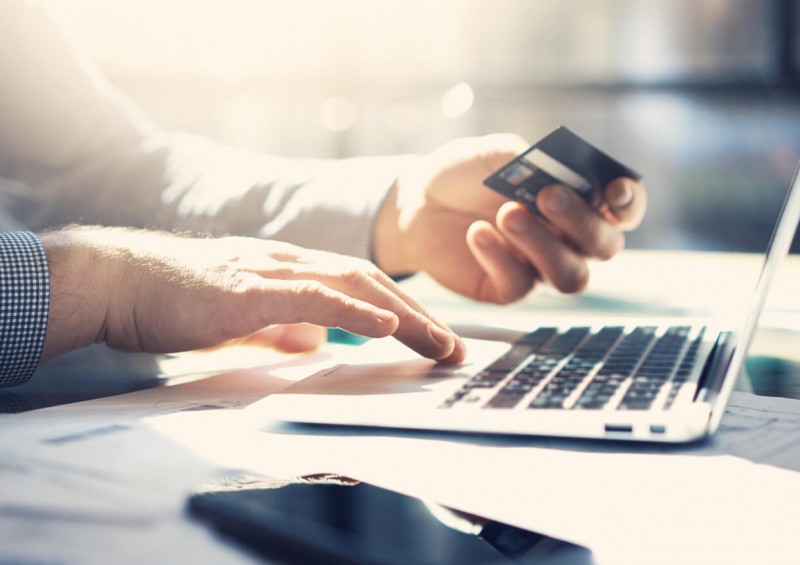 Using a business credit card responsibly can help you build a solid business credit history, efficiently manage business expenses and earn rewards for spending money.
What is a business credit card?
Similar to a personal credit card, a business credit card will have a set credit limit and a monthly APR that is applied to any borrowing that isn't paid back by the payment due date.
A business card can be used to pay for all business related expenses such as travel costs, office supplies, business lunches or mobile phone bills; it cannot be used for personal expenses.
A card can also help with your business's cash flow - say, when a customer is late paying an invoice.
How does a business credit card work?
A business credit card works by allowing you to use credit (this can be more credit than you would access on a personal credit card) to solely make business related purchases.
You can opt to pay anything from the minimum payment up to the whole balance - there is a longer grace period for repayments on business cards, typically from 45 to 59 days.
Many cards offer rewards on purchases which are often points that can be converted and used for travel or accommodation costs, or cashback credited to your account. (Note: Some rewards cards charge annual fees.)
If you have employees, they can have a card issued in their individual name(s) so you can easily keep track of their business expenses.
Is it worth having a business credit card?
A business credit card can be worth having if you:
Want to build a solid credit history for your business with a view to gaining access to cheaper borrowing in the future
Want to borrow money for your business but are struggling to get a loan; it's easier to get a business credit card than it is to get a business loan
Want more control over your cash flow and have something to fall back on when needed
Want more borrowing flexibility than a business loan can offer
Have employees who claim expenses and you want to efficiently keep track of these
Want to avoid collating fiddly receipts or invoices and instead use a credit card statement to clearly and separately show your business expenses for tax relief/accounting purposes
The disadvantages to using or applying for a business credit card are:
Some cards have annual fees
The APR will be higher than a loan's interest rate
More stringent eligibility criteria: a good credit rating is essential
Applying can impact your credit rating
A low credit limit (especially if it's your first card or for a start-up business)
Card purchases are not covered by Section 75 of the Consumer Credit Act
You might like: 7 reasons for getting a credit card
Business credit cards eligibility
You are a UK-based and registered as a sole trader, partnership/LLP or limited company
You and any other intended business users are over 18 and resident in the UK
You have a strong credit history and financial standing
Most lenders require you to be an existing customer
Some lenders require a minimum turnover (for example, a £10k turnover)
Some lenders require a minimum trading term (for example, 3 months)
Startup business credit cards tend to have stricter eligibility criteria, a lower spending limit and higher APR. Some providers, such as Capital On Tap, specifically offer startups business credit cards but only to limited companies, not to sole traders or freelancers. However, other lenders like NatWest do offer sole traders a start-up credit card so shop around and compare cards before applying.
Is your credit score checked when you apply for a business credit card?
Yes, as part of their vetting process, a lender will conduct a credit check when you apply for a business credit card.
If you have little or no business credit history, a card provider will check your personal credit score and history for adverse credit (and, if applicable, other director(s)' or partner(s)' personal credit scores and histories too).
You might also want to read: What does adverse credit mean?
What credit score do you need for a business credit card?
A good credit score alone will not guarantee a successful business credit card application as this is only one part of the overall eligibility criteria. However, your credit rating is pretty important.
What credit score you need for a business credit card will depend on whether your application is based on a personal credit score or a business credit score:
Personal credit score: If you have no business credit history or score, lenders will look at your personal credit records (and also at any partner's or director's scores) to check your/their creditworthiness. To find out what a fair, good or excellent personal credit score is with the UK's three main credit reference agencies, read: 14 Reasons why your credit score is important.
Business credit score: A business credit score has a different rating system (number scale) to a personal credit score. For example, a business credit rating scale (called the 'Delphi') ranges from 0 to 100 which makes 50 an average score and any score between 50 and 80 makes you a 'below average risk.' A top score of between 80 and 100 significantly increases your chances of having a business credit card application accepted.
As your credit score is so important, before applying for a card you should check your personal credit score by getting a free, multi-agency report from Checkmyfile.
You can also check your business credit report online with Experian or to check it with Equifax, you need to download and complete an application form and send your request by email or post.
Can you apply for a business credit card without a business?
Whilst it will be easier to apply for a business credit card if you have a limited business registered at Companies House and a business bank account, you can still successfully apply if you're a sole trader and meet all the eligibility criteria.
Can a business credit card have an impact on my own credit rating?
Yes, a business credit card can affect your personal credit rating, predominantly if you're a sole trader, when:
You apply for a card as very often a 'hard check' can be carried out on your personal credit files, especially if you have no business credit history, and can temporarily lower your rating
Your card application is unsuccessful and noted on your credit file - this can damage your credit rating for a good few months
You do not make a repayment on time or stop making payments
You fully utilise all of the credit you have available on your credit card(s)*
* According to forbes.com, financial experts recommend a small business owner should try to avoid using more than 30% of their credit card's available credit (known as 'credit card utilisation'). This means that if you have a business credit card with a limit of £2,000, then you should avoid spending more than £600 on that card.
How much credit should a small business have?
How much credit a small business can or should have will depend on what credit limit is offered by a card provider who will mainly look at a business's turnover, debts, credit utilisation and how long it's been trading.
More successful businesses with a high turnover, low credit utilisation and business longevity will of course be offered a much higher credit limit than a small startup that's struggling to get off the ground.
For example, a small business with a turnover of £10k will typically be offered a credit limit of £1,200, whereas a small business with a turnover in excess of £50k could be offered a credit limit of tens of thousands of pounds. However, bear in mind that for larger borrowing, a longer term business loan is usually a cheaper and better option.
However much credit you have, make sure you don't use all of it as this can affect your credit rating.
How to manage business and personal credit responsibly
The best way to manage your personal and business credit sensibly is to keep your personal finances completely separate from your business finances by:
Solely using a business credit card to pay for business expenses
Using a business bank account for all business related income How to build business credit fast
Open a business account
Apply for a business credit card
Regularly check your credit score(s) and reports
Avoiding utilising more than 30% of your available credit
Pay all your bills on time
Read more: How long does it take to build credit?
The best business credit cards
The best credit card for your business will depend on, amongst other things, what you want from a card and your limitations on choice.
We recommend comparing credit cards online and paying particular attention to business credit card interest rates and annual fees.
Martin Lewis's top picks for small business 'rewards' credit cards are Barclaycard Business for cashback or if cashback doesn't float your boat then the American Express Gold Business Card.
Related guides
---