What Does Adverse Credit Mean?
---
---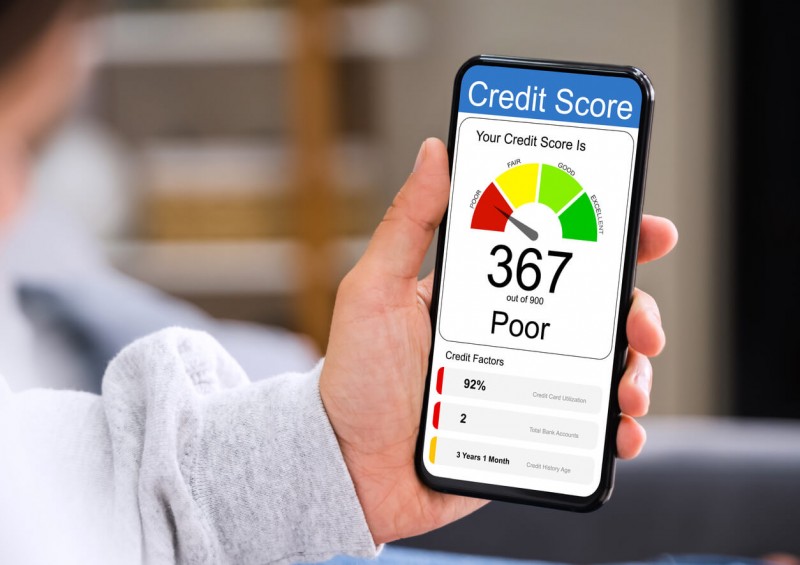 If you struggle to borrow money or only seem to get rubbish loans or credit card offers with high interest rates, you may have adverse credit.
In addition to applications for credit, an adverse credit check for job applications in the financial or legal sector (especially where a job involves handling money) can stop you getting a job offer.
If you don't know your credit score, check it now with multi-agency credit-checking site Checkmyfile by tapping the button below - it is free for 30 days, but after that, a monthly fee of £14.99 will apply - simply cancel your subscription anytime if you do not want to pay:
What is adverse credit?
Adverse credit meaning:
A negative borrowing history that is documented on your credit report and visible to other lenders. An adverse credit history will usually harm (lower) your credit score and hinder your eligibility for finance.
Causes or reasons for adverse credit can include:
Any type of outstanding debt

Late or missed loan or credit card repayments

Mortgage arrears and/or house repossession

Bankruptcy or Individual Voluntary Agreements (IVAs)

Identity theft
You might like: How to fix your credit after being scammed
Can I get a mortgage with adverse credit?
Yes, it can be possible to take out a mortgage with an unfavourable credit history but it will usually result in higher rates of interest (APRs) and typically necessitates a larger deposit.
You are much more likely to succeed with getting an adverse credit mortgage offer from building societies who specialise in mortgages for bad credit - some high-street banks will point-blank refuse.
According to research by Which?, one-third of 5,000 residential mortgage deals they studied were accessible to applicants with adverse credit issues. However, the research revealed the deals typically had a 75% loan to value (LTV) rate or less, meaning eligibility was dependent on an applicant paying a minimum deposit of 25% of a property's purchase price. In addition, the deals offered to bad credit applicants were fixed-rate mortgages that ended after two to five years.
You can also get a remortgage with bad credit but again, you're much more likely to get a better deal (a lower LTV and interest rate) if you seek to improve your credit rating before applying for an adverse credit remortgage.
If you know or suspect you may have a poor credit rating, before applying for any type of adverse credit loans for mortgages, to make sure you're in with a good shot and to get the best deals possible with lower APRs, you should check your credit report.
When you apply for a mortgage or any other type of credit, most lenders will use any one or more of the three main credit reference agencies in the UK, namely: Experian, Equifax or TransUnion (formerly known as CallCredit).
If you'd like to obtain a free report for all three agencies in one fail swoop (rather than having to laboriously apply to each agency individually), head over to Checkmyfile.
First of all, you should check your credit score and if this is below average, take a detailed look at the entries on your credit report for any anomalies, unsettled debts, defaults, late payments, CCJs, etc. If there is a bad credit entry that is 6 or more years old, you should contact the lender and request this is removed from your credit file. That said, most if not all entries are usually automatically removed from your report after six years have elapsed.
In addition to your own poor credit management history, not being registered on the Electoral Roll or unfavourable financial associations like having a joint account with someone with a poor credit history can also impact your credit score.
You might like: 14 Reasons why your credit score is important
How do I know if I have adverse credit?
The quickest and easiest way to find out if you have a poor credit history, without affecting your credit score, is to take a look at your credit score and report with the UK's main credit reporting agencies.
A poor credit score indicates negative credit activity is recorded on your credit file and this unfavourable activity is visible to other potential lenders when they conduct a hard search.
If you've already had an application to borrow money declined, it's highly likely you have a dodgy credit history. However, it's really not a good idea to risk finding out in this way as declined credit applications will further harm your credit rating.
This is because when you officially apply for a loan or credit card (i.e. you're not simply comparing quotes online), hard checks will be made and annotated on your credit file(s) by a lender.
If your loan or credit application is unsuccessful, this unsuccessful application can be seen by other potential lenders who will see you as a high-risk borrower and doubt your creditworthiness. Having several such annotations on your credit file(s) in quick succession will significantly harm your credit score.
Ideally, you should leave at least 3 months between credit applications and make no more than 3 applications within any 12 month period.
To obtain a free multi-agency report for the UK's three main credit referencing agencies, head over to checkmyfile.
How can I remove adverse from my credit report?
If you find anomalies on your credit report (i.e. entries for loans and/or credit cards that you know nothing about), it could mean you've been the victim of fraud. Take a look at our blog: How to fix your credit after being scammed for helpful information on how to try and remedy this and avoid further fraudulent activity.
If adverse entries on your credit report are genuine (belong to you), these will continue to be visible on your credit report for at least six years from the date of a default being recorded and should be removed automatically after six years has elapsed.
In the rare and unlikely event that an entry isn't automatically removed, you should approach the lender and the relevant credit reporting agency and request that the expired entry is removed.
If you do not agree with or wish to dispute certain adverse recordings on your credit file, for example:
You never fell into arrears or made a repayment late

Your lender stopped taking automatic payments (direct debits)

You only missed one single payment and not 3 months' worth

A default was added very late by the original lender or a debt collector
In the first instance, you should contact the lender (or debt collector in the case of a late default registration by them) and clearly set out why an entry should be removed. You should also provide documentary evidence where possible (i.e. account statements). If you are dissatisfied with the response and/or can't get a disputed entry removed, then you can take the matter up with the Financial Conduct Authority or Information Commissioner's Office.
To find how removing a default from your credit file affects your credit rating, check out our related guide: Does your credit score increase when you remove a default?
How long does adverse credit stay on your file?
Bad credit entries like missed or late payments, defaults, CCJs, IVAs or bankruptcies stay on your credit file for six years from the date of default, after which they are automatically removed.
If there is no default date for your debt, it will remain on your credit file for six years from the date the debt was partially or fully settled.
Despite what you may see advertised, there is nothing anyone else can magically do to remove accurate and genuine entries from your credit file before six years has elapsed.
To check a debt's default date, again, you should check your credit report.
Sign up to a 30-day free trial with Checkmyfile to get your credit score and a detailed report from all credit reference agencies in the UK - cancel anytime if you don't want to pay the £14.99 monthly fee:
Related guides
---