Default on Credit File: What is it?
---
---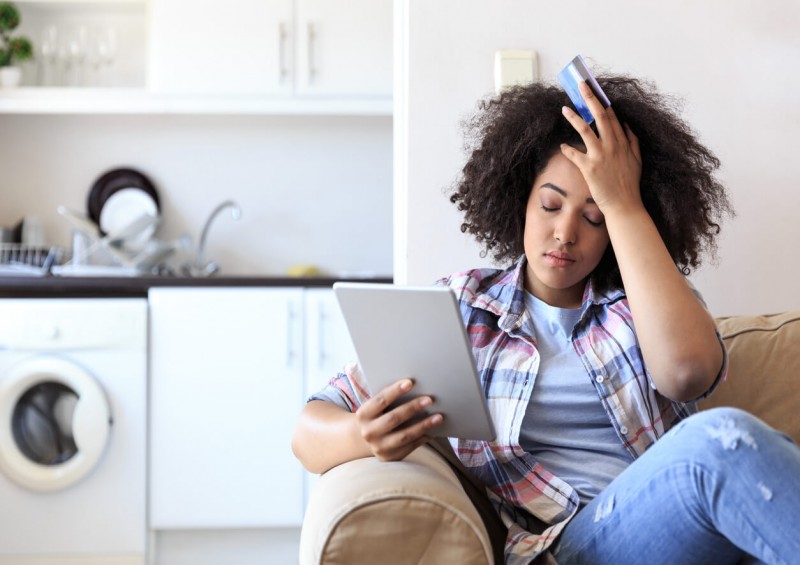 A default recorded on your credit file can damage your credit score and affect your eligibility to borrow money, which is why it's so important to keep on top of your monthly repayments.
Here's all you need to know.
What is a default on your credit file?
If you miss several payments on any type of credit account and, despite several attempts, a lender has been unable to contact you, they will usually close your account and place a default on your credit file.
A credit default is a negative mark on your credit report that can be seen by other lenders and that indicates you have an unpaid, outstanding debt. Such a marker will flag you up to other lenders as being an unreliable borrower who is struggling financially.
To request a free, multi-agency credit report, Checkmyfile offers a detailed credit report from all UK credit reference agencies. Read our Checkmyfile Review to find out more or sign up to the 30-day free trial by tapping the button at the bottom of this page (cancel before the trial ends to avoid paying the £14.99 monthly fee).
What happens after a default notice?
A default notice is an official warning a creditor sends asking you to settle a debt in full, in one lump sum payment within 14 days, otherwise a default will be recorded on your credit report.
When you receive such a demand, you can try to negotiate a payment arrangement whereby you pay the debt back in affordable instalments.
If you can't reach an agreement with the creditor and your original credit agreement is regulated by the Consumer Credit Act, the creditor can then proceed to:
Put a default on your credit file
Instruct a debt collection agency
Issue court proceedings
Reclaim a car or any other asset the borrowing was secured against
How bad does a default affect your credit?
Pretty badly. With an adverse credit history, you will not get the same calibre of credit offers you did prior to having a default-free credit report and you may not be eligible for certain types of borrowing like a mortgage.
Defaulted accounts will lower your credit score and your creditworthiness meaning any offers of credit will have a higher APR for smaller amounts than before as you will be considered a high-risk borrower.
There are things you can do to try and reduce the impact of a default. For example, you should try to settle the debt as soon as possible so a 'satisfied' note is added to the default on your credit file. You can also ask a credit reference agency to add a note to your file to explain the reason for the default; that it was beyond your control due to losing your job or a serious illness. You should also try to increase your credit score in other ways to lessen the impact of a default on your score.
I have a default on my credit report - Can I get a mortgage?
It's very difficult to get a mortgage with a default on your credit report. Besides other things, your eligibility will primarily depend on whether you have since settled the debt, how old the default is and what deposit you're able to pay.
If the default debt is still outstanding, the default is fairly new and you only have a small deposit, a mortgage offer is unlikely to be forthcoming.
Before applying for a mortgage, you should make sure you have settled the debt in full and provide evidence of this to the lender. Also make sure a 'satisfied' note is added to your credit file.
You might like: What credit score do I need for a mortgage?
How long does a default stay on your credit report?
A default and the 6 year rule:
A default stays on your credit report for six years and paying off the debt it relates to, even in full, will not lead to its removal; instead, a note will be added to say it's been 'satisfied'.
How to get a default removed from your credit file
Sadly, you cannot remove a genuine, valid default from your credit file; you just have to wait six years for a default to be automatically removed.
If the default is incorrect (i.e. you've been scammed or an error has been made), then you should contact the creditor to advise them of this and request its removal.
Does your credit score go up when a default is removed (how long does it take to go up)?
Yes, but only if there are no other defaults left on your credit file. Your credit score will only improve once all defaults on your credit file have been removed. Having one single default removed will have no impact at all if other defaults remain.
Debt Camel says that after all defaults are removed from or "drop off" your credit file, "your credit score will improve immediately."
For more detailed information, take a look at our guide: Does your credit score increase when you remove a default?
Can I get a loan with a default?
It is usually possible to get a loan with a default, especially loans for bad credit from specialist lenders with a shorter term and a higher interest rate.
However, most mainstream lenders will not consider lending you money when you have a low default credit score, especially Buy Now Pay Later scheme providers or mortgage lenders.
Will employers know that I have a default?
Most employers will never look at your credit report or be aware that you have a default unless you work in the financial or legal sector and are responsible for handling money.
If you apply for a job where you handle money and a credit check reveals a default, your job application may be declined. Likewise, if you already work for a lender and your job involves handling money, they may conduct checks at any time during your employment so defaults should be avoided at all costs.
For more information, advice and tips relating to your credit score, check out our handy guides below! If you don't know what your credit score currently is, we highly recommend checking it with Checkmyfile so you have an idea of your eligibility and whether or not you need to work on your money management.
Check your score now and see your detailed report from Checkmyfile by tapping the button below - sign up to a free 30-day trial and cancel anytime if you do not want to pay £14.99 per month for its services:
Related guides
---