A complete guide to jewellery insurance
---
---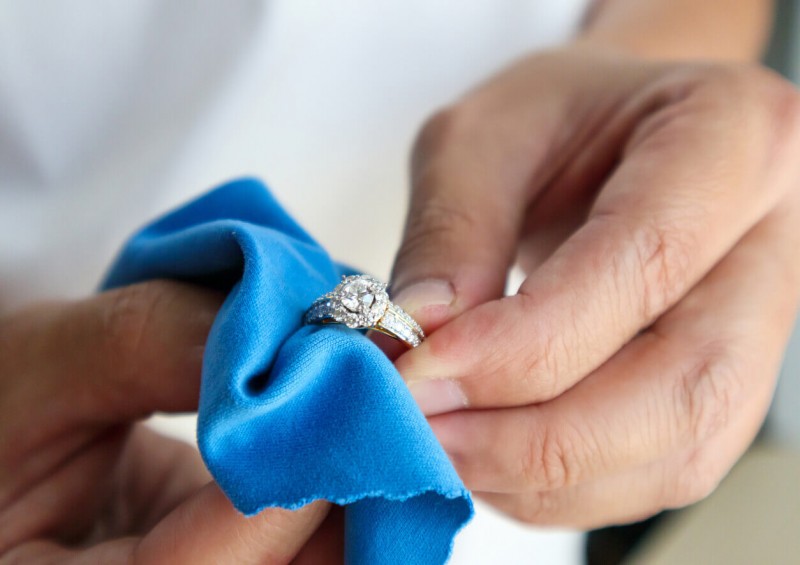 Because home contents insurance very often has a single item limit on how much you can claim for jewellery, if you possess high value jewellery with significant sentimental or monetary value, you should consider taking out specialist jewellery insurance.
Stand-alone jewellery insurance will usually ensure you are fully compensated should the worst happen and a treasured piece of jewellery or a watch is lost, stolen or damaged, inside or outside of your home.
What does jewellery insurance cover?
Specialist jewellery insurance in the UK provides cover for exceptional, valuable or sentimental pieces of jewellery or accessories including but not limited to:
Rings (i.e. a high carat diamond ring)

Necklaces or chokers

Bracelets

Earrings

Broaches

Watches (typically a luxury watch brand such as a Rolex)
Engagement ring insurance tends to be the most popular type of specialist jewellery insurance sought by those wishing to protect against the emotional distress and expense of having such a precious and meaningful, and very often valuable ring, lost or stolen. Other valuables you might be able to add to a jewellery insurance policy include antiques, works of art or collectibles.
Before you insure engagement ring, or any other valuables or expensive jewellery, you will need to get them professionally valued (see below).
Exclusions
Cosmetic damage / general wear and tear: if you lose a precious stone from an item of jewellery or precious metal becomes scratched, tarnished or dented, or a watch stops working because it has aged, then an insurer generally won't pay out for cosmetic damage or for general wear and tear.
No forced entry theft: if a valuable item is stolen as a result of you leaving a door unlocked or a downstairs window open, or an item was stolen by a guest staying in your home, you will not be covered.
Lost at home: if you lose a valuable at home and are certain that it's in the house but just don't know where, this will be classed as "misplaced" rather than "lost" by your insurer and again, a claim will usually be refused.
Not declaring jewellery to insurer: if you're relying on home contents cover for your jewellery, unless you specifically add jewellery to home insurance policy as a "high value item", when it comes to claiming on house insurance for lost jewellery, you may not receive what your jewellery is actually worth. It's therefore imperative you declare high-value items to your insurer if you want full cover for your jewellery.
Outside of home: Again, if you're relying on home contents insurance cover for insuring jewellery, most standard policies will not provide cover if your jewellery or valuables are lost, damaged or stolen outside of your home. You should therefore check with your insurer if they offer outside of home cover - this is typically an "add on" to a standard policy called "additional personal belongings cover" or "personal possessions cover." Specialist jewellery or travel insurance will usually cover jewellery outside of your home.
Do I need jewellery insurance?
If a piece of jewellery, watch or other relevant valuables have significant, sentimental value and/or monetary value meaning you would be completely devastated and distraught if such an item were lost then, yes, you should seriously consider taking out separate jewellery insurance.
You might have concluded, prior to reading our guidance, that your jewellery is sufficiently covered by your home contents insurance policy. However, as stated at the very beginning of this guide, there can be a single item maximum amount your insurer will pay out for on a contents insurance claim.
For example, if your home contents insurer has a single item limit of £1,500 and you have an item of jewellery stolen that is worth £2,500, then you could only expect your insurer to pay £1,500 compensation upon you making a claim on insurance.
If you want to receive significantly more than one or two grand for a highly prized item of jewellery that goes missing, then you should check with your home contents insurer what level of cover they can provide for high-value items. If the single item claim limit is not high enough, then you should shop around and compare quotes from other insurers for home contents insurance with a higher single item value limit and compare these against quotes for specialist jewellery insurance.
How much is jewellery insurance?
To try and gauge the average cost of jewellery insurance, we used T.H. March insurance broker's online instant quote tool.
In addition to how much an item of jewellery or watch is worth, where you live (your postcode) significantly affects the cost of your insurance premiums.
For example, Ideal Home reported in January 2021 that Birmingham was "the most burgled area in the UK." When we used a random Birmingham B5 postcode for Digbeth (B5 6BH) to get an instant quote for jewellery worth £10,000, the instant quote indication was £295.12 per year.
And for an item of jewellery worth £3,000 in the same Birmingham postcode, the instant quote indication was £89.32 per year.
In stark contrast, Policy Expert reports that properties in the SA9 postcodes for Swansea were the least likely to be burgled in the UK.
When we used a random Swansea postcode for Upper Cwmtwrch (SA9 2XG) for an item of jewellery worth £10,000, the instant quote estimate was just under half of that quoted for a Birmingham postcode coming in at £141.12 per year!
And for an item of jewellery worth £3,000 in the same Swansea postcode, the instant quote indication is only £57.12 per year.
So using the lower estimates for an item of jewellery worth £3,000 as a guide and assuming you live in an average crime rate area, we estimate the average cost of jewellery insurance in the UK is approximately £73 per year.
How to get jewellery valued for insurance
To get a jewellery valuation for insurance, you should:
Search for an Institute Registered Valuer (IRV) who is registered with and approved by the National Association of Jewellers (NAJ).
Once you've selected an IRV, ask the individual handling the valuation to confirm that they are specifically an IRV and that they're not conducting a valuation on behalf of an IRV registered firm or on behalf of another valuer.
Before arranging a valuation, check with your proposed jewellery insurer exactly what information they require to be included in the valuation and make your valuer aware of this required information at the outset. Most insurers will want a full, detailed description of a piece together with photographs. They will also want intricate details such as the type of precious metal, its weight, measurement and cut, the colour and clarity of precious stones, its hallmarking and for watches, the make, model and serial number.
The NAJ recommends contacting at least three valuers to request their fees and to find out exactly what you'll be getting as part of their valuation service.
Other ways of protecting your jewellery
Make sure your house is locked and secure at all times and keep windows shut (especially downstairs or in a bungalow) when you're out of the house, even if you're in the garden for more than a few minutes.
Consider installing an alarm and/or CCTV - you could easily buy a really cheap indoor CCTV camera and locate it in such a way that if someone were to break in and steal your jewellery or expensive watch, you have clear imagery of them doing so. This would not only help the police potentially catch the thief but is also concrete evidence of the theft that you can present to your insurer when making a claim.
Consider using a locked safe or cabinet to store your jewellery in and avoid storing jewellery in popular, obvious places like a dressing table or bedside drawer.
Never leave jewellery on full display to potential thieves by leaving it on a windowsill or close to a window - many thieves are opportunists!
Resist the temptation of sharing photographs of your jewellery on social media and then posting your holiday snaps (while you're still on holiday!) at a later date - someone who sees this could be tempted to steal from you.
If you rely on a contents policy for your jewellery and plan to leave your home unoccupied for 30 days or more and will be leaving valuable jewellery in it, make sure you take out temporary home insurance, more commonly known as "unoccupied house insurance." Most home contents' insurers will refuse to honour a claim for stolen jewellery if your property was left vacant for more than 30 days.
Related guides
---