The Average Home Insurance Cost in the UK
---
---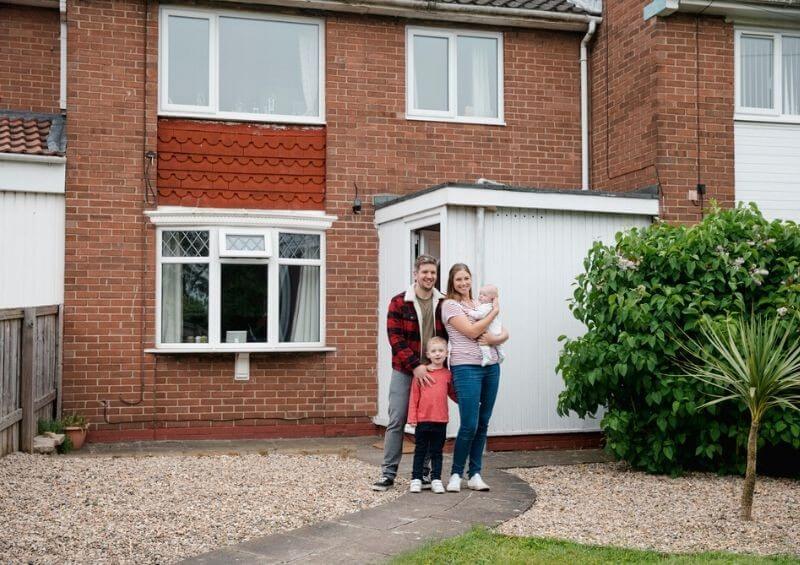 How much does home insurance cost on average?
In the UK, the average cost of a home insurance policy was £141 in the first quarter of 2021 according to MoneySuperMarket's Price Index regarding the most common combined 'buildings and contents' home insurance policy.
The average house insurance cost calculated here represents a decrease of 3% in comparison to the figures from last year in 2020, where the price of a combined home cover policy reached its peak at £146.
Is the price of home insurance worth it?
Yes. When you consider the fact that the contents of an average household in the UK is estimated to be £35,000, and the cost of the building itself usually costing a whole lot more, paying less than £150 to insure your home and the possessions inside it for 12 months is certainly worth doing.
Think about it; that's around £3 per week on average to insure your most valuable possessions and the building you call home.
Buildings and Contents Insurance Average Cost for 2021
So, we know the typical house insurance cost, but what about the price of purchasing two separate policies rather than a combined policy – contents insurance and buildings insurance?
How much is Buildings Insurance?
An annual buildings-only insurance policy costs an average of £110 in the UK according to MoneySuperMarket's data collected during the first quarter of 2021.
The price of average buildings insurance has increased slightly by 0.3% from 2020 to 2021, representing a very slight rise in price.
However, if you want to cover the 'stuff' inside your home as well as the actual property itself, you'll need adequate contents insurance cover. So, what does the average contents insurance cost in the UK as a standalone policy?
The average cost of contents insurance
The average price of contents insurance in the UK currently stands at around £61 per year (MoneySuperMarket) – that's around £5 per month. In quarter 1 of 2020, contents-only policies were an average of £64.52, showing a decrease in premiums this year in 2021. It also shows a decline of 5.3% year-on-year.
Typical contents insurance policies usually only cover items that are individually worth less than a set amount which differs with each quote, as outlined later in the article.
If you have very expensive items such as jewellery or gadgets, you may need to take out separate cover for those items as they may not be protected by standard home cover - always check with your home insurance provider to make sure you fully understand what you are covered for and what's excluded.
You might like: Personal Possessions Insurance Explained and A Guide to Gadget Insurance
What does home insurance cover?
Although we have established that the average price of home insurance is around £141 per year, you should know exactly what you're paying for before committing to a policy.
It essentially depends on which type of home insurance you take out, and there are typically three options – contents insurance, buildings insurance and combined buildings and contents insurance.
According to the figures from MoneySuperMarket, a combined buildings and contents insurance policy is cheaper than purchasing two separate policies - but of course, it is more expensive than if you were just to buy buildings-only cover, for example. Combined cover is generally the most popular type of insurance for homes in the UK as it provides a more extensive level of cover and the policyholder has peace of mind knowing that everything will be taken care of should the worst happen (as per your policy terms).
What level and type of cover you need depends on your personal situation, so be sure to speak to an expert home insurance adviser before committing to a policy. There's no use in over-insuring yourself, and under-insuring yourself could leave you facing an unsuccessful claim with no pay-out if the time ever came to do so, meaning that all the premiums you have paid will have gone to waste.
What does buildings insurance cover?
Typical home buildings insurance policies generally cover the entities that are categorised as being part of your home's structure – i.e. elements such as windows, walls and the roof. As well as this, buildings insurance includes cover for fitted kitchens, bathroom suites and any other static fixtures.
Despite each policy varying slightly, all of the best buildings insurance policies will cover your house in case of a:
Storm
Fire
Flood
Burst pipe
Burglary
Fallen tree
Subsidence
Subsidence is the term used to describe the ground underneath your house collapsing or sinking, causing the building's foundations to be damaged and become unstable.
The average buildings insurance policy will also cover you for things like vandalism, car and lorry collisions (with the house), and oil leaking from your heating. If your home has been damaged by any of the instances mentioned above, it's certainly worth getting in touch with your house insurance provider straight away to see whether you're entitled to a claim - you usually need to do this within 24 hours of the accident happening, but double-check this with your provider.
Unfortunately, general wear and tear is not covered by most buildings insurance policies, and neither are minor instances of leaking gutters, damage from frost, and so on.
Keep in mind that some policies may become invalid if your home has been left unattended for more than a month or two, but you can check this within your own policy's terms and conditions before signing on the dotted line.
Read more: What can invalidate your home insurance policy?
What does Contents Insurance Cover?
With a home contents insurance policy, you are essentially protecting the financial cost of your personal belongings within the house, such as furniture (curtains, chairs etc.), televisions, laptops and all electrical appliances, clothes, jewellery, and sports equipment.
Typical contents insurance policies often have a set 'individual item limit' – typically capped at £1,000. This essentially means that your items worth over £1,000 (or more, depending on the policy) will not be covered by the contents insurance, but can be covered as an optional extra.
Additional costly items – including expensive electrical systems, jewellery or collectibles – may be able to be added at an extra cost, with the amount depending on its value. You may even have to get separate, specialist insurance depending on the type of item you need to insure and the cost of replacing it.
There is also an option to purchase additional cover for going abroad, as many policies will become void if damage or loss occurs while you're out of the country. By having this optional extra, you avoid losing your pay-out for instances that happen while you're away, but you will also increase the overall cost of your home insurance premium.
Despite adding to the cost of your cover, it's certainly worth considering, especially for those who are keen travellers and go abroad at least once or twice a year.
If you find that an optional extra has been included automatically and you do not need it – for example, if you pay extra for cover while you're abroad but you never go overseas – be sure to contact your provider and ask to have it removed from your policy. Doing so should reduce the average cost of your home insurance policy.
Remember, when it comes to renewing your home insurance policy, you need to carefully consider whether or not you've added items to your home and how much it has increased the cost by, otherwise you risk invalidating your policy.
You might like: Your Home Insurance Renewal Explained
Why has the cost of home insurance premiums decreased?
As you can see from the average premium figures above, there seems to have been a steady decline in the average price over the past year.
The main reason for the drop in price can be attributed to the Covid-19 pandemic, as there were generally less home burglaries and 'escape of water' issues due to people being home and able to spot leaks before any major damage occurred. So as a result of a lot less claims being made, this has led to a drop in the average price.
Experts in the home insurance industry have also suggested that the market is getting more competitive, so many providers are offering cheaper premiums than others to attract more customers.
With more people being at home for longer periods, however, this could lead to another increase in premiums as there have been more claims for accidental damage, so we may see a fluctuation over the course of 2021.
How to get cheaper house insurance in the UK
The average cost of house insurance isn't necessarily cheap, but it can be affordable for most homeowners through the right provider and by working out the cost month-by-month and even week-by-week, it turns out to be cheaper than people realise.
Generally, the cost of home insurance in the UK does tend to be higher than most people assume, and this could be due to the relatively new Insurance Premium Tax as well as other factors including the weak pound, and electrical devices within homes becoming increasingly more valuable.
Some of the best ways to get the cheapest home insurance policy include increasing your voluntary home insurance excess (the amount of a claim you're willing to pay yourself), increasing the number of home security features you have, and living in a safer area (not that you should buy a house based purely on the cost of insuring it).
Below, we discuss some of the key factors that could influence the price of your home insurance premium.
It's also important that you understand what can invalidate your home insurance policy before taking out cover, to avoid any nasty surprises in the future.
Switching home insurance providers to save money
If you've been with the same insurance provider for a few years and you've simply let your policy auto-renew every year, it's more than likely that you're paying too much for your home cover - even as much as £300 extra, for no reason.
While insurance companies are being warned about charging existing customers too much for their auto-renewals, a lot of companies continue to 'price walk' their policies, a term used by Money Saving Expert Martin Lewis, whereby they charge their customers more every year for no valid reason and continue to offer new customer the best deals to entice them in.
To ensure you're not being charged over the odds, take a look at what you're paying now and your auto-renewal quote when the time comes, then compare quotes online with comparison sites to see what other insurers are offering (make sure it's for the right amount of cover you need).
You're more than likely to find a better deal, so if you want to stay with your current insurer, give them a call to let them know you've found a cheaper deal and see if they'll match or beat it. If not, politely let them know you don't want your policy to auto-renew with them and get a better deal with another insurer - that is, if you want to save upwards of £200.
Read our blog for further information: Golden Rules from Martin Lewis Help Save on Home Insurance
Is it better to have a higher voluntary excess on your home insurance?
When you take out a home insurance policy, you will agree on a voluntary excess amount that you would be willing to pay on top of the compulsory excess the insurer sets, should you need to make a claim.
The higher your voluntary excess amount, the lower your premium is likely to be, as you will be covering more of the costs yourself.
It's important to remember, however, that you will have to pay this amount towards damages should an accident happen, so always set the excess to an amount that you can afford to pay comfortably.
Previous Claims
Homeowners often wonder whether their home insurance will be more expensive if they have made a claim before, and it probably will.
Just like car insurance, if you have made a claim on a home insurance policy previously, you are more likely to receive higher premiums on your next policy as a result.
Unfortunately, it doesn't necessarily matter why you made a claim, that's just how insurance policies work due to the statistics showing that there is more risk of you claiming again if you have claimed before.
Address and type of property
If you live in a high-risk area – whether that is risk to theft and criminal damage, or storms and flooding – your insurance premiums are likely to increase.
Always take those factors into account when moving into a new home, but if you have lived at the house for years without making a claim, your current home insurance policy can be reviewed and you might find that you're offered a cheaper premium if you are being overcharged.
The size of the property (determined by the number of overall rooms) is also taken into consideration when insurance companies calculate your home insurance cost, as is the type of property – such as flats, bungalows, houses and studio apartments.
There are also rarer types, including thatched houses, which can understandably be quite costly to insure. Thatched house insurance generally costs more than others due to the increased risk of fires spreading, but precautions and preventions can be put in place which will allow your insurance provider to lower the premium.
How much does home security save on insurance?
Installing home security features can save you money on your insurance premium, including secure locks, up-to-date alarms and cameras.
Adequate home security could lead to you being offered a discount on your home insurance policy, as the house is more secure and therefore proves less of a risk to insure.
If you are considering adding modern security features to your house, however, and you want to get a discount on cover, you should check with your insurer to see if they require you to have certain models or makes, as they do not approve some and these devices will hardly make a difference to your premiums.
Do I need business insurance if I work from home?
Working from home could increase the price of your premium, basically because the value of your house rises due to it essentially being a 'workplace' as well as a home.
Most work-from-home occupations are covered by standard policies, but others do require specialist business insurance, so if you are now working from home as a result of Covid-19, it's worth checking with your insurance provider if you have the right amount of cover in place.
You might like: The impact of Covid-19 on home insurance
Paying too much for home insurance?
When your circumstances change, you can often be entitled to a cheaper insurance premium, so be sure to notify your provider of anything that you feel might lower the cost of your cover.
If you're paying above the average home insurance cost in the UK, be sure to bring the matter up with your insurer and enquire as to why that is. Alternatively, get a new, no-obligation quote today by using the button below, and see how much you could save!
Take a look at our simple guides to both contents and buildings home insurance for all the need-to-know basics before getting in touch with your home cover provider, to give you an extra insight into the various types of cover available.
Related guides
---