Smart Doorbells: Home Insurance Premiums and Risks
---
---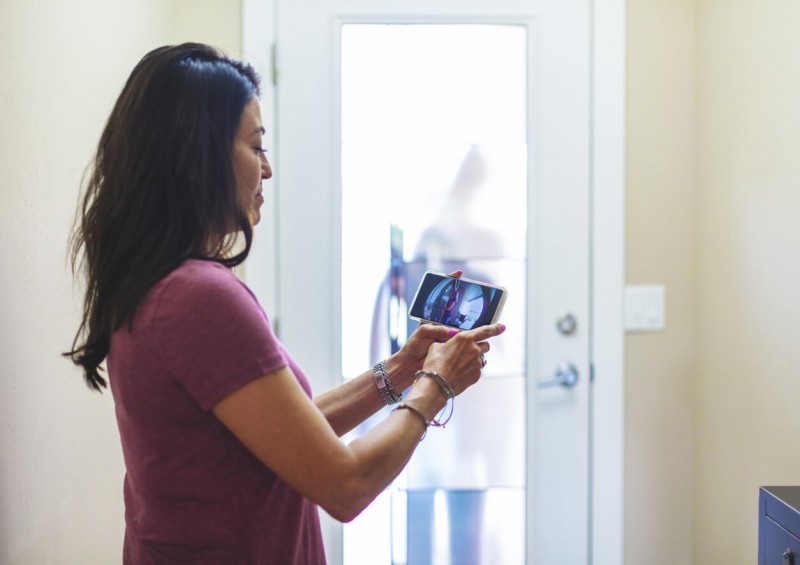 In this guide, we explain the high-security risks and issues that come with having a cheap, copycat smart doorbell, how having one can affect your home insurance premiums and whether or not they're worth it.
Copycat smart doorbells could be attracting thieves instead of deterring them
As smart doorbells are gaining rapid popularity as a measure of home security, a large number of consumers are eagerly snapping up cheaper, unbranded products online.
Unfortunately, some of these cheaper smart doorbells come with high-risk security issues that are leaving many homes vulnerable to burglars who can easily hack into the devices.
Many of these doorbells are sold on popular selling platforms like Amazon and Ebay, with many looking very similar to the branded 'Google Nest' or 'Amazon Ring' devices.
Which?, the Consumer Watchdog, purchased 11 smart doorbells and teamed up with NCC Group, global experts in cyber security and risk mitigation, to test the security effectiveness of these cheaper devices.
Alarmingly, all of the devices analysed were found to have 'high-risk' security issues. Two were rated as being 'critically vulnerable' and nine were labelled as 'high impact'. The analysis revealed that cybercriminals could hack into, switch off or steal the devices.
This credible research really gives you some crucial things to consider when purchasing a smart doorbell - after all, "you get what you pay for".
Can a smart doorbell lower your home insurance premium
?
Many consumers would expect smart home devices like 'Hive Home' to not only competently protect them from burglaries, but to also lower their home insurance costs.
Thisismoney.co.uk asked leading insurance companies in the UK if smart security technology (which smart doorbells fall under the umbrella of) can reduce the cost of home contents insurance.
Aviva said it does not offer discounts for smart devices, but the company is in the process of closely monitoring the use of smart technology.
Direct Line said it will discuss options with customers who are using smart home technologies.
LV= said it has started asking customers about smart devices and has begun analysing data.
It appears that none of the top UK insurers are yet offering discounts upfront to customers using smart home devices.
However, as reported by youtalk-insurance.com, a lesser-known UK insurer, PolicyCastle, has announced the first home insurance discounts for customers using smart home technology:
"Discounts are available for new or existing PolicyCastle customers who have installed in their homes qualifying surveillance or leak detecting smart devices from a range of manufacturers including Hive, Nest and Samsung."
Across the pond, NS Insurance in America reports how smart devices are already making a difference to insurance premium costs, including the popular Ring Doorbell. In the US insurance industry, these types of smart devices are commonly known as 'Internet of Things' (IoT). Yes, that's right, it's 'a thing' there.
Insurance companies and smart homes
Back here in the UK, one of the top insurers, Aviva, has taken a majority stake in Neos (smart home technology providers) to offer UK smart home insurance alongside Neos home security technology. This combination of smart home technology and insurance looks set to continue and we fully expect to see more insurance companies and smart homes to continue to compliment one another in this way.
Will the brand of a smart doorbell make any difference?
So we know that 'smart devices', per se, do not reduce your home insurance UK costs with the big insurers, but what about the high-end, branded products, i.e. does Ring doorbell save on insurance?
If you live in America, using a Ring Doorbell does make a difference to your insurance costs. One of the US's main insurers, American Family, has partnered with Ring and offers a 5% discount to Ring doorbell users. They're also offering customers a $30 discount on the purchase of a Ring Video Doorbell, so you don't exactly get a huge insurance saving but this is something we can hopefully aspire to in the not too distant future, as any amount of saving on insurance and bills is worth it.
Incidentally, Amazon purchased Ring in 2018 and is so confident about the device's performance, they offer to compensate home insurance customers for their insurance excess for up to $10,000 (£7,700) in the event of a claim following a burglary.
Unfortunately, using a 'Ring Doorbell' or any other reputable brand of smart doorbell in the UK currently makes no difference to your home insurance premiums (unless you're with PolicyCastle, of course).
This is surprising when high-end devices like Ring Doorbell are already proving a successful deterrent for thieves, as reported by the Suffolk Constabulary who continue to tackle burglary with the help of smart-technology, using the ever-popular Ring devices.
With the US already offering these types of discounts, the big UK insurers saying they're 'monitoring' the situation and one UK insurer already offering reduced premiums, it is always worth checking, when you next renew your home insurance policy, if there have been any developments in this regard.
We're confident that if you're using a smart doorbell, it won't be very long before all the most popular insurers offer reduced insurance costs.
This is already happening in the car insurance industry, with all main car insurance providers now offering discounts to drivers using car security devices like dash cams. Furthermore, they're also offering reduced premiums for black box car insurance users, as these devices have proven invaluable in disputed insurance claims.
That said, it took some time for smart device use in cars to influence insurance premiums. Historically, dash-cams were used by Texas Police in the 1980s, but they didn't really take off here until the early 2000s when drivers started to produce footage from their dash cams to assist car insurance claims.
Are smart home devices worth it?
Some of the many worthwhile benefits and advantages of using smart home gadgets and devices include:
Control

Convenience

Save money

Energy-saving

Problem-solving

Increased property value

Increased security

Safety

Time-saving

Accessibility
The disadvantages of smart home devices are:
Security issues (copycat merchandise)

Installation costs

Costs for maintenance and repairs

Compatibility problems (between smart devices)

Heavily reliant on the internet working

Stress if you struggle with technology
To us, the pros heavily outweigh the cons, unless of course you're a 'technophobe' - then perhaps you should steer clear of using smart devices altogether or seek professional help to install and manage them.
There's a huge buzz around using video doorbells and smart technology right now. Even the Mayor of London has approached the government requesting funding to pilot a scheme for a video doorbell burglary initiative. The Deputy Mayor for Policing and Crime wants to obtain government funding to enter into a sponsorship agreement with 'Ring' (yes them again!) to deploy 1000 video doorbells in London.
It's in your interests, in the long-term, to keep up-to-date with technology (and smart devices) as we're certain it's only a matter of time before using smart devices has an impact on all house insurance premiums.
For more advice and information on home insurance, be sure to read our articles below.
Related guides:
---