64% of Burglaries Occur While Someone is at Home
Get home insurance and stay protected this year.
---
---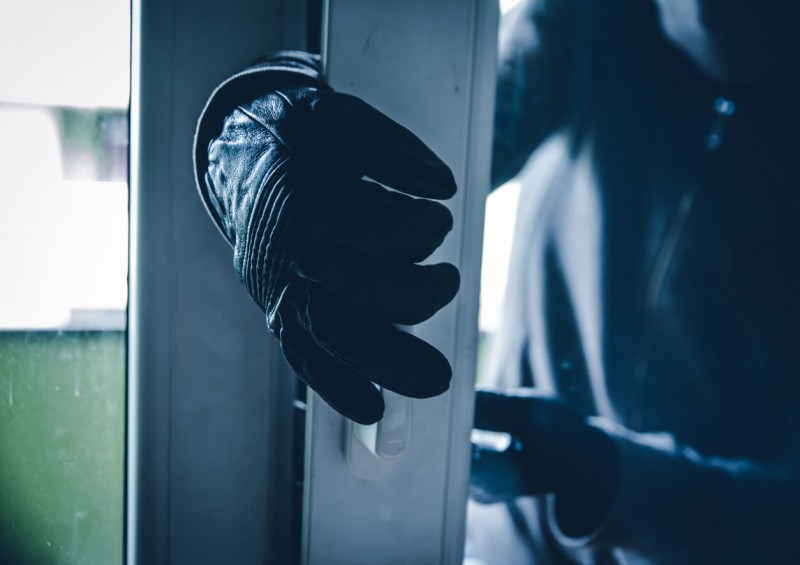 The number of burglaries that occur while a resident is at home has steadily increased over the past 10 years, going from 57% to 64%, according to the Office of National Statistics (ONS).
Consequently, households are being urged to remain vigilant during the most common period for home burglaries, which Aviva suggests is between October and November.
During these two months, home theft claims worryingly increase by 15%, on average.
Burglary statistics in the UK
Insurer Aviva has reported that over a quarter of people in the UK do not lock their doors while they are at home, despite ONS burglary statistics showing that 76% of home thefts in England and Wales were done by thieves entering through doors. In 24% of burglaries, the victims admitted that their doors had been unlocked at the time of entry.
Ironically, Aviva's study also found that people whose homes had been burgled before were less likely to lock their doors while at home than those who had not experienced a burglary, with 37% of people who had been burgled before still willing to leave their doors unlocked.
Almost half (45%) of UK residents leave their windows unlocked in unoccupied rooms while they are at home, despite 20% of thieves accessing homes through windows, according to the same burglary statistics from the ONS.
No one should feel unsafe in their own home, but the truth of the matter is that taking precautions is the most sensible and safe option.
One of these precautions should be a reliable home insurance package, designed to protect you against the cost of replacing your personal possessions if ever you are unfortunate enough to experience a burglary first-hand.
What has been said?
Insight and strategy lead at Aviva, Sarah Applegate, said: "We tend to imagine that burglaries happen when everyone is out, but the unfortunate reality is they can take place at any time, whether we're home or not. Most burglaries are opportunistic, so if a door or window is left unlocked someone can be in and out of a house in just a few seconds. And, if we're at home but on another floor or in another room, we may not even be aware of an intruder until it's too late".
On the apparent 'burglary season', Applegate warned homeowners: "Our claims data shows that thefts tend to increase during autumn and winter months, so it's really not worth taking a chance. Simple tasks like locking doors and windows on both homes and outbuildings can significantly reduce the risk of being burgled. We would urge everyone to get into the habit of locking up, even when at home".
Home insurance: Staying protected at home
Home insurance is split into two parts: buildings insurance and contents insurance.
Home buildings insurance is required for most mortgages, so it's likely that you already have this in place by the time you move into your home. This protects the structural aspects of your home – including walls, pipes and drains, for example – but it doesn't cover the contents within it.
In order to fully protect your personal possessions, you must take out a good home contents insurance policy.
Household contents insurance policies cover you against the loss, damage or theft of your personal possessions within your home.
So, if you're unfortunate enough to be burgled, you will usually receive a pay-out if any of the following are taken:
Furniture
Electronics (up to a certain value unless stated otherwise)
Entertainment
Jewellery
Ornaments and antiques
A certain amount of cash
We recommend getting a combined home and buildings insurance policy, as it covers all eventualities and you're likely to get a better deal than if you were to take out two separate policies. Of course, you should shop around and compare home insurance quotes before committing to any policy, which you can do right here:
Will your household insurance be invalid if you leave doors or windows open?
Most home insurance policies include a clause which states that you will only receive a pay-out for burglaries where entry to your home has been forced. This means that, if you leave a door or window unlocked and fall victim to a burglary, your already-bad situation could become even worse, as some providers will not cover the cost of the items taken and you might not receive a pay-out.
By failing to secure your property, you are more at-risk of being burgled and your home insurance could unfortunately become void.
In order to prevent this, be sure to take precautions and lock all doors and windows when they are not in use, but also check your home insurance policy to find out whether or not your cover would be invalid if a thief gains entry into your home through an unlocked door or window.
Read more: What Can Invalidate Home Insurance?
For more information and advice on home insurance, check out our related guides:
---