Golden Rules from Martin Lewis Help Save on Home Insurance
Find out the secrets to saving on your next policy
---
---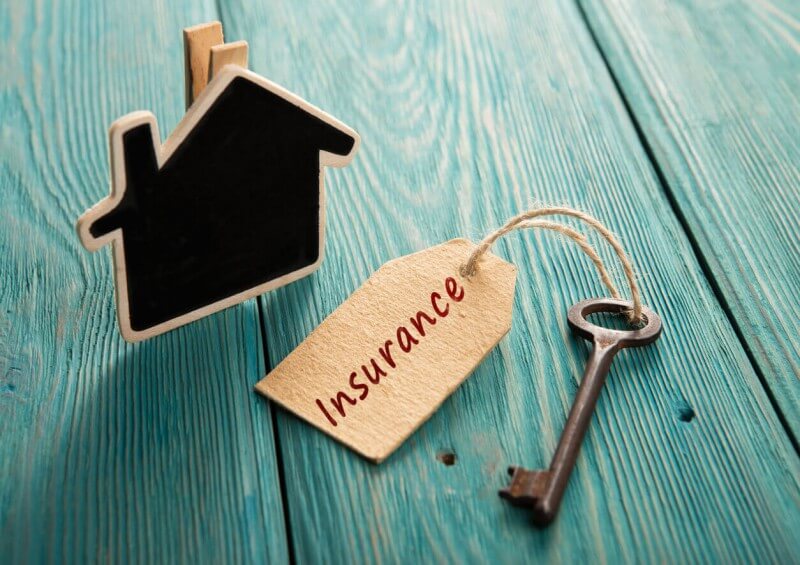 According to Martin Lewis, it seems that many homeowners in the UK are paying far too much for their cover for absolutely no reason, and without even realising.
When looking for home insurance as a first-time buyer or for your second home, your first quote for the first year is likely to be competitive if you've used a comparison site.
However, most homeowners tend to stay with the same insurer every year and simply let them auto-renew their policy, as they feel this the easiest option for arranging cover and think they still have a good deal with them, but does staying loyal to your insurance company actually benefit you?
Let's find out.
What's Martin Lewis' 'Golden Rule'?
MoneySavingExpert's Martin Lewis states that the secret to saving money on your home insurance policy is:
"Never just auto renew. Always go and check whether there are cheaper prices out there."
He says that your first home insurance quote is probably going to be a competitive price as you are a new customer, but staying with them every year after that will do nothing to help you save.
A lot of insurers know that people find auto-renewing convenient, as they simply don't have to do anything when the time comes to renew. However, some insurers will take advantage of this by ramping up the prices up, especially if you don't question it.
Mr Lewis says:
"Effectively, there is a fine for apathy, laziness and ignorance that insurers like to dwell on people.
"You have to be an active switching consumer to get the best deals."
He also states that home insurance is "one of the prime areas where insurers use a thing called price walking."
The price walking technique - premiums could increase by 50% in 5 years
If you stay with your home insurer after your first year with them, they will walk the price up to around 25% in most cases.
Every year after this, they will continue to slowly price walk the cost of your policy and increase your premiums.
Your premiums may not jump up drastically every year, which is why you may not notice the increase, but the price will continue to increase every year. In the fifth year, it could cost you as much as 50% more than your the original quote you were given in the first year.
He says that there is no particular reason for the soar in price; it is simply because you haven't taken the time to look for a better deal and your insurer has taken advantage of that.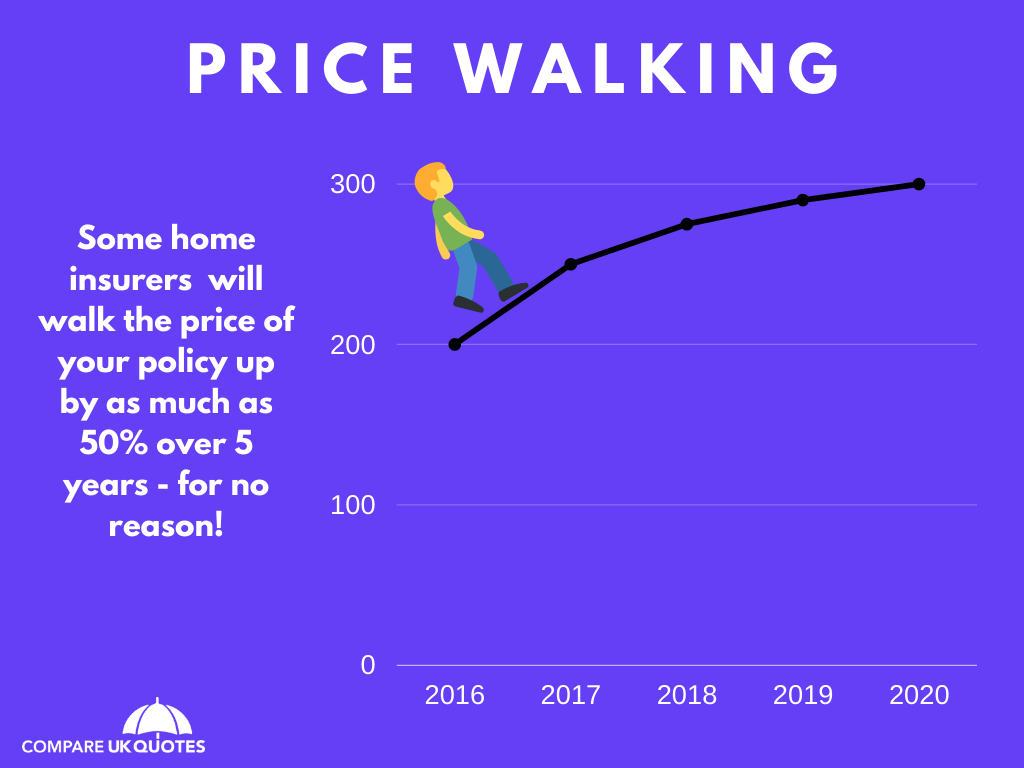 Use more than one comparison site - Price comparison site loyalty
Mr Lewis reveals another way in which customers are going wrong, and that's by always using the same comparison site to get your quotes.
It is important to remember that the main comparison sites may not use the same home insurance companies as each other, so you're better off using more than one comparison site to receive more options and compare more deals offered by different insurers.
So, instead of relying on the one comparison site, like comparethemarket.com, try also using another two, like confused.com and GoCompare, so that you're getting a wide range of quotes to choose from.
Once you've looked on those, you should also try companies that are not on comparison sites, like Aviva and Direct Line.
This way, you can identify the best place to get the cheapest deal and save on cover.
Remember though, you must make sure the policy is sufficient for your needs - don't just purchase cover because it's the cheapest, as it might not cover the things you really need it for and it could end up being invalid when the time comes to claim.
To get an idea of the home insurance prices you can expect to see, read our guide on the Average Cost of Home Insurance in the UK.
I'd like to stay with my insurer, but how can I get a cheaper deal?
Mr Lewis was asked by one home insurance customer what they should do if their current insurer is offering new customers exactly the same policy at a much cheaper price.
He advises that you should simply apply for cover with them as a new customer.
So firstly, contact your insurer to let them know you do not want to auto-renew your policy with them. Then, if your insurer is offering a better deal on comparison sites, just choose the new offer and apply as usual!
When is the best time to get the cheapest deal on home insurance? - The final secret
As long as you are using a few comparison sites, you are already taking your first step to getting cheaper cover.
However, Mr Lewis says that timing is crucial when looking for a cheaper policy, as prices change all-year-round.
The closer you get to your renewal date, the higher prices will be, so it is advised that you start searching for quotes around 3 weeks before your renewal date to get the best price on your home insurance.
Do your research & compare quotes now
To start comparing quotes now, tap one of the buttons below. Try to use each comparison site to get home insurance quotes to give yourself the best chance of saving money and finding the best deal.
It is also worth remembering that the same techniques can be used to find the best quotes for car insurance, too.
At Compare UK Quotes, we're always on the look-out for ways in which you can save money on everyday essentials, like insurance and car costs.
For more related advice, be sure to browse our website or take a look at our useful guides below.
Related articles
Home Insurance Terms Explained
What Can Invalidate Home Insurance?
How Loyalty to Your Car Insurer Could be Increasing Your Premiums
---