A Guide to Wedding Insurance
---
---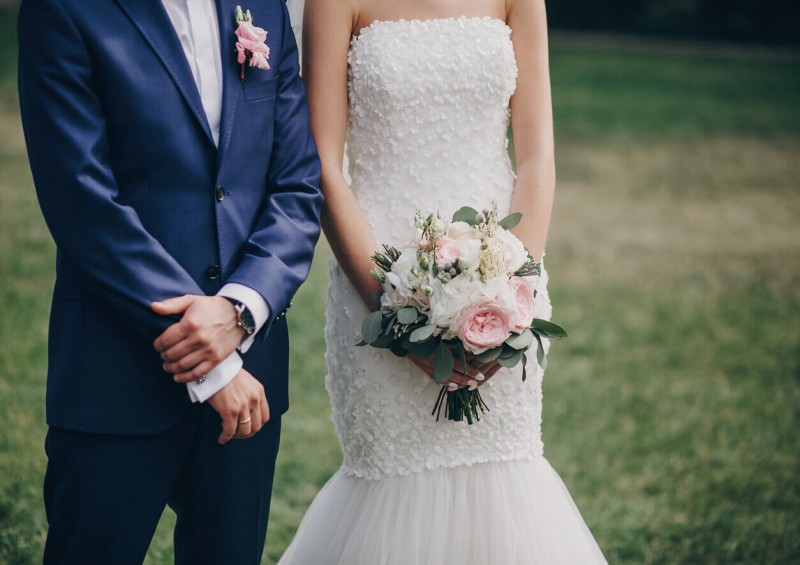 According to Yahoo!Finance, the British wedding industry suffered a whopping £4.8 billion loss through cancellations or postponements of weddings due to Covid-19 last year.
As a direct result of the pandemic, the volume of enquiries for UK wedding insurance increased by 900% from 8th to 14th March 2020.
In addition to many couples being left emotionally distraught at having to cancel their meticulously planned and special day, to add insult to injury, many insurers refused to pay out leaving many couples financially devastated, too.
As a result, the FCA issued guidelines for insurers concerning covid-related claims, but these guidelines will not stop some insurers from refusing to honour claims as this decision is still left to their discretion.
Since the start of the pandemic, some insurers have stopped providing new wedding insurance cover. According to Which?, Debenhams, Emerald Life, John Lewis and The Insurance Emporium have all currently suspended taking new applications for wedding insurance.
At the time of writing this guide (June 2021), Covid-19 infections are again increasing and a dreaded third wave could be on the cards, meaning your best-laid plans could still be scuppered.
To find out the Government's latest Coronavirus guidance for weddings and civil partnerships in the UK, visit GOV.UK or for Scottish Government guidelines, visit GOV.SCOT.
So, is wedding insurance worth getting in the current climate? To find out, read our comprehensive wedding insurance guide that will help you navigate this unchartered territory and find the best wedding cover you can't afford NOT to have, for your special day.
What is wedding insurance and what does it cover?
Wedding insurance provides a financial safety net should the worst happen and, through no fault of your own, your wedding doesn't go according to plan or is cancelled because:
You have problems with your wedding venue or it's cancelled
You have problems with a supplier or they cancel
A key wedding party member falls ill, is injured or dies
Your wedding clothes, rings, cake, flowers or gifts are lost, stolen or damaged
The photographer doesn't turn up or the photographs are faulty or inadequate
There's a problem with the wedding car(s)
You're made redundant eight weeks after the policy's inception
You and your guests cannot attend the venue due to bad weather
Most policies will also include personal liability and legal expenses cover.
The following are optional extras or add-ons you can pay for in addition to most standard policies:
Outdoors - if your wedding is outdoors or you hire a marquee, you might be able to take out cover with some specialist insurers for heavy rain ruining your event or for damage to the marquee and its contents.
Public liability - if you want to ensure all of your guests are protected in the event they accidentally cause an injury to a third party or accidentally damage any property, then ask for additional wedding public liability insurance.
Ceremonial swords - because these are typically worth a lot of money and are borrowed, you will need to take out additional cover for the loss or theft of, or damage to the swords.
What does wedding insurance not cover?
Like all insurance policies, there are certain circumstances and events this insurance policy will not provide cover for, including:
A change of heart
If either you or your husband/wife/civil partner change your mind at the last minute and the wedding is cancelled, this is not a valid reason to make a claim.
Your stag or hen party
Any arrangements for a stag or hen party or any disasters resulting from it (like being arrested for indecent exposure!) are not covered by your insurance. If you're having a party abroad, you should make sure everyone takes out adequate travel insurance that the policy includes cover for repatriation so none of you miss the wedding. You and your party should also ensure you have an GHIC (Global Health Insurance Card), formerly known as an EHIC. Check out our guide: Covid-19 travel insurance and healthcare abroad post-Brexit for more information.
Your honeymoon
Standard insurance policies do not provide cover for your honeymoon, but some insurers offer this cover as an optional add-on. If you're travelling abroad, separate travel insurance will usually be more comprehensive and afford better protection.
Inadequate services or goods
While you're covered for cancellation of services or damaged goods, if you're not happy with the standard of service or the quality of goods, you will have to take this up directly with the supplier. Citizens Advice provides helpful advice and guidance about how to complain and seek compensation.
Note: Always make sure you've got a written agreement or contract with suppliers before you pay a deposit and keep all receipts for payments safely stored.
Financial difficulty
If it transpires you can no longer afford to pay for the wedding and have to cancel, you cannot claim for the loss of any deposits or invoices paid as a result. However, some policies make provision for if you're made redundant, as long as this is a whole eight weeks after the policy start date.
Pre-existing conditions
If a key member of the wedding party falls seriously ill, has an accident or dies as the result of a pre-existing condition, most insurers will not pay out. You need to check the smallprint of your policy's terms and conditions to make sure you're aware of what's not covered.
How much is wedding insurance?
According to forbetterforworse.co.uk, wedding insurance cost can vary from as little as £19 for a basic policy offering up to £2,500 cover and up to £300 for a high-end wedding costing around £100,000.
Do I need wedding insurance?
Yes, especially if you're planning to get married in the next year or two and are paying out huge sums of money. Due to these unprecedented times, we feel that having wedding insurance is currently pretty essential.
Whilst using a credit card to pay for wedding deposits or full balances can be a good idea and offers some protection under Section 75 of the Consumer Credit Act, it doesn't provide all encompassing cover like insurance can for, say, personal liability or illness.
If you're planning a wedding abroad, specialist overseas wedding insurance is a good idea as not all policies will cover you abroad. These types of policies usually cost 10% more than standard UK-based wedding policies. You should carefully check the terms and conditions of a policy for weddings abroad as some don't provide cover for public liability if your wedding is in the US or Canada. And don't forget to arrange travel insurance!
If you're borrowing a friend's or relative's car to travel to your wedding, make sure the owner has appropriate wedding car insurance and that this fully covers the driver and occupants of the vehicle.
If you decide you do not want or need wedding insurance, certain items kept in your home can optionally be covered by your home contents insurance policy. For example, your contents policy can include cover for your engagement and wedding rings or even provide wedding dress insurance cover. If you have any high-value wedding items stored at home, you should check with your insurer if these are covered by your home contents policy. Remember, a standard contents policy will not usually cover items outside of your home and this would necessitate personal possessions cover.
When should you buy wedding insurance?
Ideally, you should purchase insurance for your wedding sooner rather than later as doing so doesn't cost you any more money and you'll be covered for anything that goes wrong, leaving you out of pocket, far in advance of the wedding day.
You can take out wedding insurance up to two years in advance with some insurers, although if you want to, you can arrange insurance in the week before your wedding or even the day before with certain insurers.
How to pay for wedding insurance
Unlike many other types of insurance, you are required to pay for wedding insurance in a lump sum, in advance, rather than by monthly instalments. Your policy will start from the date you pay your full premium.
Related guides
---