What does remortgaging mean and how does it work?
---
---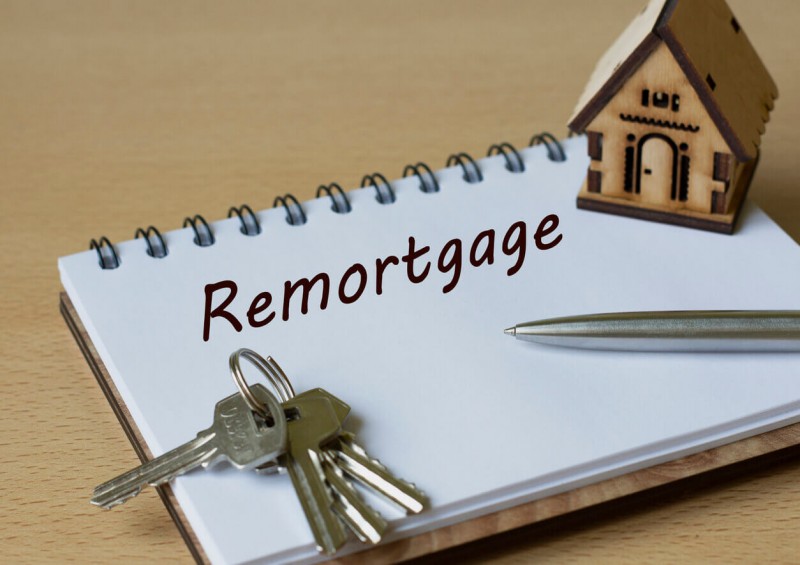 According to TSB, UK homeowners can save an average of £2,000 or more by remortgaging their property, and with interest rates at an all-time low, now is a good time to do it as you're more likely to get a low fixed-rate deal.
If you're contemplating remortgaging your house, you probably have a lot of unanswered questions, so to help you, we've put together this explanatory guide about the remortgaging process to explain what it means and how it all works.
How does remortgaging release equity?
How long does a remortgage take after offer?
How much does it cost to remortgage?
Does remortgaging affect your credit score?
What does the term 'remortgage' mean?
To remortgage means to replace an existing mortgage with a new one, without having to sell your property. When you do this, you either release equity from your property (in the form of a cash lump sum) or you get a better mortgage deal with lower monthly repayments.
Remortgages can be done with your existing lender or a new one.
How does remortgaging work?
If you're in a good position to remortgage (i.e. your house is worth more than you paid for it and your mortgage loan has reduced), then you should seek to find the best deal possible by comparing mortgage deals online or by asking a Financial Advisor to do this for you.
AiP
Most lenders will provide you with an Agreement in Principle (AiP) to provisionally confirm that it's likely they will lend you money, subject to full and comprehensive credit, financial, money laundering and identity checks being made.
An AiP is based on a soft credit check and doesn't guarantee you'll be offered a mortgage but it's definitely a step in the right direction!
Official Application
After receiving an AiP, you can then officially apply for a remortgage. Your potential new lender will require comprehensive details about your financial and personal circumstances, including details of all your income and outgoings.
You will also be required to provide proof of ID and address, and full anti-money laundering and full [hard] credit history checks will be conducted before an offer is made.
Valuation
Before an offer is made, your potential new lender will also arrange for a surveyor to carry out a valuation of your property.
If you have arranged your mortgage through a financial advisor, they will act as an intermediary between you and a lender and will oversee all of the above arrangements.
Conveyancing
A solicitor or conveyancer will need to deal with the legal paperwork on a remortgage. Some lenders offer this for free and let you use their chosen Solicitors or Conveyancers so you should check when applying as this could save you a good few hundred quid.
The instructed solicitor or conveyancer will request what is called a 'redemption statement' from your existing lender to show how much you need to pay to 'redeem' your existing mortgage.
They will also draw up all the necessary legal documentation and obtain your signature on a mortgage deed that will be sent to the Land Registry for registration on completion of your remortgage.
Completion
Once your lender and legal representatives have conducted all necessary checks and have received a valuation report, a redemption statement and your signed Mortgage Deed, your remortgage will be processed and funds released to your bank account.
Note: Applying for a remortgage with the same lender is usually more straightforward and less costly, so make sure you compare deals with your existing lender.
Why remortgage?
The top 5 reasons why people remortgage are:
To get a better, cheaper deal.
To buy another property.
To fund home improvements.
To consolidate debts.
To release equity.
Remortgaging for home improvements is one of the easiest remortgages to get, subject of course to your home's LTV (Loan to value) ratio* and your financial circumstances.
And remortgaging to buy another property is a popular remortgage option too, especially for homeowners who have sufficiently built-up enough equity in their property. If you want to remortgage to buy another property to rent out, there are specialist interest-only buy-to-let mortgages you can apply for too.
*Check out our guide How is interest calculated on a mortgage for more details about how an LTV ratio can influence your mortgage interest rate.
Is remortgaging a good idea?
If your current mortgage deal has come to an end (i.e. you're no longer on a fixed rate, tracker or discount mortgage), your home's value has increased or you want to borrow more money, then remortgaging can be a good idea.
The benefits of remortgaging
Saving money by getting a lower (fixed) interest rate
Releasing equity from your house to spend on whatever you choose
Making your mortgage term shorter
Making your debts more manageable by consolidating them
However, if your mortgage isn't very old, you haven't got much equity and your home's value hasn't increased since you bought it then remortgaging probably isn't a good option and you'll struggle to get a remortgage offer from a lender.
The disadvantages of remortgaging
Expensive early repayment charges on an existing mortgage
Putting your home at risk by having a larger loan on it
It can take a long time (usually several weeks) to process a remortgage
A refused application can negatively impact your credit rating
How does remortgaging release equity?
If your house value has increased since you bought your property and/or your mortgage liability has decreased, then you should be in a position where you can remortgage your home to release equity in it.
For example, if you buy a house for £200,000 but only need to borrow £150,000 to buy it (i.e. you've already got a deposit of £50,000), then when you complete your purchase, you will instantly have £50,000 equity in the property you have just bought.
Fast forward several years and if your house has increased in value by, say, £10,000 meaning it is now worth £210,000, and you have also reduced your mortgage liability by £10,000 meaning you now only owe your lender £140,000, the equity amount will have increased to £70,000.
At this point, if you remortgage your property and borrow £140,000, you could potentially release equity from your property to the value of, say, £20,000 while still leaving equity in your property of £50,000 (like you had at the start). And, if you get a better deal with a lower interest rate, your mortgage repayments should be much cheaper too.
The amount you can borrow and the equity you can release will of course depend on your individual circumstances, the LTV ratio and your mortgage product.
Do you get money back when you remortgage?
Yes, if you successfully obtain a remortgage to release equity in your property then on completion of your remortgage, a lump sum will be paid to your bank account.
How long does a remortgage take after an offer?
This will usually depend on the Solicitors or Conveyancers dealing with your remortgage (and how busy they are), but you can usually expect a remortgage to take an average of three or four weeks to process once a remortgage offer is received.
How much does it cost to remortgage?
We can't provide you with a set amount here as the cost to remortgage varies significantly, depending on your circumstances, and your existing and new lenders.
If you leave a mortgage deal early, you will usually have to pay an 'early repayment charge' and so most homeowners decide against remortgaging if they are still tied into a mortgage product with a high early repayment fee.
According to moneysavingexpert.com, other remortgaging fees can include:
An arrangement fee of at least £1,000 (payable to your new lender and usually added on to your mortgage loan)
An administration fee between £0 and £300 (payable to your current lender for redeeming your existing mortgage although some don't charge)
A booking fee of around £300 (payable to your new lender)
A valuation fee (this is very often free but check with your advisor or lender)
Conveyancing fees (can be free with some lenders so check this)
Does remortgaging affect your credit score?
Yes, remortgaging can affect your credit score, but if you're successful in a remortgage application and keep up with the repayments, then this can have a positive effect on your credit rating.
However, if you apply for a mortgage and are turned down, a hard credit check could be noted on your credit file and this could negatively affect your credit score. Equally, missing mortgage repayments or not paying your mortgage on time can affect your credit score negatively, too.
When you apply for a remortgage, a lender will carry out a soft credit check before offering an AiP and will conduct a hard check when and if you officially apply for a mortgage, so it's always best to check your credit score and file, with all four main credit reference agencies before applying for a remortgage. That way, you can try to iron out any anomalies and boost your score before applying.
Related guides
---