What Stops You Getting a Mortgage?
7 things that could hinder your mortgage application.
---
---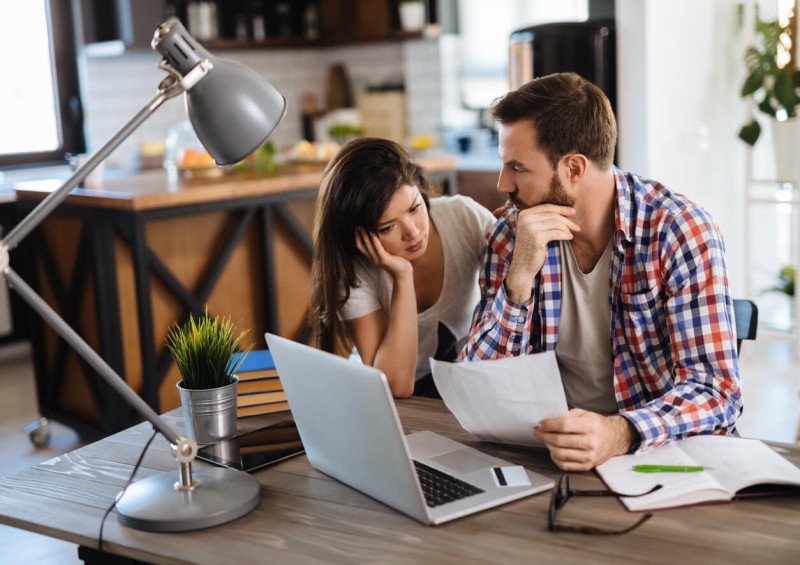 Taking that first step on the property ladder is rarely straightforward, and there are many potential stumbling blocks along the way.
There are an abundance of things that can stop you getting a mortgage, so to help you avoid them, you must first be aware of what they are.
What factors stop you getting a mortgage in the UK?
Many of the obstacles in your way when it comes to getting a mortgage revolve around your credit history – so, if you aren't familiar with the basics of credit scores and reports, see our guide: UK Credit Scores Explained.
1. Having a poor credit history
If you have a bad credit score, perhaps through missed payments or too many credit applications in a short space of time, mortgage lenders are far less likely to be willing to offer you the very best deals.
You may still be offered a mortgage, but it will not be as competitive as the deals being offered to the equivalent borrowers that have a good credit score.
This is because a poor credit history suggests that you are an unreliable borrower and may fail to meet repayment requirements consistently, so lenders will see you as a high-risk applicant.
Having no credit history at all – perhaps if you have never taken out a credit card, mobile phone contract or loan before – can sometimes be as damaging to your mortgage application as a poor credit history. If you have no credit history, lenders have no way of determining how reliable you are at making repayments and will be reluctant to offer you the best mortgage deals.
To avoid this, you should start building your credit history as soon as possible before applying for a mortgage, and use our tips to improve your credit score over time.
If you don't know where to start, consider taking out a credit-building card.
Read more: How to Build Your Credit Score with a Credit Card
Check your credit score from four major credit reference agencies with Checkmyfile, the UK's only multi-agency credit reporting website:
Can I get a mortgage with bad credit in the UK? It is possible to get a mortgage with a less-than-impressive credit score, but you are unlikely to be eligible for the very best deals, as these are only offered to those with excellent credit ratings. Some lenders may reject your credit application if you have a poor credit score, so it is worth using a mortgage eligibility tool before applying.
Read more: What Credit Score Do You Need for a Mortgage?
2. Excessive debt
Your mortgage application could be negatively impacted if you apply while you have a significant amount of debt.
Mortgage lenders will all conduct affordability checks before offering you credit, where they consider your income and expenditure, as well as loan or credit card repayments.
In order to optimise your mortgage application and paint the best picture of yourself as a borrower, clear any excessive debt first and close any lines of credit that you don't plan on using.
Read more: How to Manage Your Debt
3. Too many credit applications
When you apply for credit, lenders will usually conduct a 'hard credit search' to determine your creditworthiness, which will appear on your credit file.
If you apply for too much credit in a short period of time, lenders and creditors will see this as a warning sign and may assume that you have a heavy reliance on credit or are in a desperate situation.
Lenders may reject your mortgage application if you show signs of applying for too much credit in a short space of time, as you could end up struggling to manage repayments if you have other debts piling up.
4. Frequent changes to your personal situation
If you change jobs or move homes too often, your chances of taking out a mortgage can be damaged. Why? Because lenders like stability, reliability and certainty, so (if possible) try not to apply for a mortgage until you have been in your current job and home for at least a year.
Of course, moving house or changing jobs is a completely normal part of life, but mortgage lenders will look out for anyone moving around at an unusual rate.
5. Not registering to vote
Lenders often prefer applicants who are registered on the 'electoral roll' or 'electoral register' – a database which lists the names and addresses of everyone who is registered to vote in the UK.
When you're on the electoral register, lenders are able to confirm your home address easily, which, in turn, improves your credit score and your chances of being accepted for a mortgage.
6. Mistakes on your credit report
Errors on your credit report will not only impact your credit score, but they could also affect your chances of getting a mortgage.
For example, if there is a missed payment incorrectly listed against you, this could lead to a refused mortgage application if you do nothing about it.
The only way to find out if there is inaccurate information on your file is to check your credit report. If you find any inaccuracies or errors, be sure to chase them up, dispute them and get them removed from your credit file.
7. Errors on your mortgage application
Similarly to errors on your credit report, mistakes made by you on your mortgage application can also impact your eligibility.
Due to the amount of money involved, lenders can be very picky when it comes to the accuracy of your application, so it must be done with care.
When applying for a mortgage, make sure that all the information included is accurate and that you disclose everything that the lender needs to know.
How to get a better mortgage deal
In order to improve your chances of being accepted for a better mortgage rate, you should:
Clear excessive debt

Limit your credit applications

Avoid changing jobs or moving homes before applying

Register on the electoral roll

Make sure your application is accurate
Check your credit report
Here at Compare UK Quotes, we often preach about the importance of checking your credit report regularly. And, having established how important your credit history is to your mortgage application, why not take this opportunity to check your score and report?
For more information on credit reports and scores, be sure to check out our related guides:
---