Get 'Paid' to Walk With Activity Reward Apps!
---
---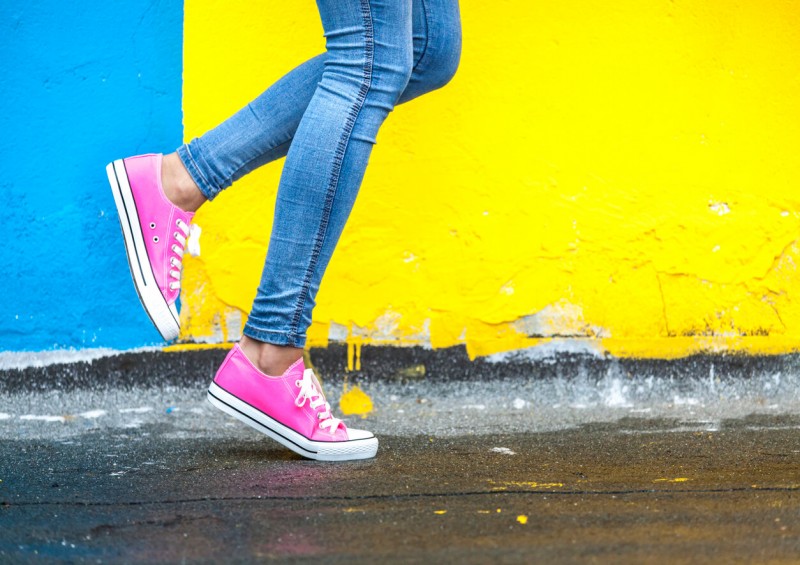 Get Free Vouchers and Make Charity Donations with Activity Rewards Apps
It's universally known that walking is good for us – it leads to various health benefits and it's an environmentally-friendly way of getting around. And now, thanks to free rewards apps, we can even be rewarded with monetary assets for our activities, whether we're walking the dog, strolling around the supermarket, or running in preparation for a marathon.
Although you don't necessarily earn solid cash through these apps, you could receive high-street vouchers, cinema tickets, free coffee, and you could even donate to some of your favourite charities with credit earned by simply being active.
These activity rewards apps track your activity for free, typically rewarding you with points, which you can then exchange for vouchers, deals, or charity donations.
All apps differ in terms of what they're able to monitor, with some recording walking only, and others tracking activities such as running, swimming, cycling and gym classes. They do so by using your phone's built-in GPS and pedometer, or alternatively connecting to a third party fitness tracking device (such as Fitbit or Garmin).
How to Start Earning
When you do activities, you are rewarded with a certain amount of points that is often determined by the length of activity and its intensity. The accumulative points that you accrue can be converted to various rewards (including vouchers and charity donations) and the more activities you do, the more points you'll earn and the better your rewards will be.
You could receive vouchers for a wide variety of companies, including John Lewis, Currys, Starbucks, NowTV and many others. You earn by simply moving and being active; regardless of how big or small, your efforts will be rewarded.
The average UK adult does 3,000-4,000 steps a day, while the daily target for a healthy heart is 10,000 according to the NHS, outlining that we as a nation need to get out on our feet a lot more than we currently do. So, why not reap the health benefits of being active while also getting the added gratification of giving to charity or receiving the occasional high-street voucher?
To start earning, take a look at the best free activity rewards apps available in the UK today, as reviewed below.
BetterPoints App Review
Accurate tracking

Charity donations or high-street vouchers

Easy to use and start earning
The BetterPoints app is available on both Android and iOS smartphones, providing users with vouchers and charity donations as rewards for their activity.
Signing up takes no less than five minutes once you've installed the app via Google Play or the App Store, and all you have to provide is your name, post code, email address and date of birth. You then click a confirmation link via email, and you're ready to start building up those points.
How to Earn BetterPoints
What activities BetterPoints monitors depends on your location and the local council's programmes, but most will find that they can track walking, running and cycling, with others in certain areas also able to track their use of public transport and car-sharing.
BetterPoints tracks your activity by using your phone's built-in GPS system, and you can either track manually by notifying the app of when you are beginning an activity, or automatically by enabling the 'Automatic Tracking' feature, which monitors your activity throughout the day but can drain your battery. We recommend manually tracking your activities, unless you're willing to sacrifice your phone's battery power for some extra points!
What Information Does BetterPoints Give You?
We went for a short walk to test the BetterPoints app using manual tracking, and it was surprisingly impressive. It provides the following:
Live map of your location
Amount of time the activity lasted
Distance travelled (miles)
Calories burned
How much CO2 would've been emitted if you did that journey by car
What rewards (points) you earned for that activity
For every minute of activity, you receive one ticket in the weekly points draw. You are able to win 5,000 points each week in the draw, and you are able to use these points in exchange for vouchers or charity donations.
Here are some examples of the rewards in relation to their worth in BetterPoints:
£5 Currys voucher (5,000 points)
£5 Sainsbury's voucher (5,950 points)
£10 Starbucks voucher (10,000 points)
£1 charity donation (1,000 points)
Charities available on the app when we checked were The Alzheimer's Society, British Heart Foundation, Cancer Research UK, and the Guide Dogs for the Blind Association.
If you earn around 700 points per week, you could get yourself a £5 voucher every six weeks on BetterPoints.
It's available completely for free, as it makes its money from partnerships with local authorities, public transport organisations, grants and sponsorships.
Sweatcoin Review
Easy to sign-up, no post code required

Impressive prizes (NowTV subscriptions)

'Marathon Offers' (iPhone XS, holidays) for premium users
The Sweatcoin app is available on Android smartphones and iPhone 5S onwards, using a very similar rewards-for-activity idea as BetterPoints. It's somewhat easier to sign-up to than BetterPoints, as it only requires your email address and phone number.
How Does Sweatcoin Work?
Sweatcoin tracks your outdoor steps only, meaning that those who are active and enjoy the outdoors (walking their dog, hiking, road-running) are better off here than gym-goers.
It does so by using your phone's built-in GPS and pedometer, combining both to verify your activity. It doesn't link to FitBit or other fitness trackers, but Apple Watch 2 and later models are able to connect to the app. The Sweatcoin app must be open while tracking your activity or you must allow it to run in the background, but that can rapidly drain your phone's battery.
Points rewarded on the app are called Sweatcoins – perhaps not the nicest of names, but rewarding nonetheless. 1,000 steps are the equivalent of around 0.95 Sweatcoins, but the free version will only allow you to track 5,000 steps a day.
Not every step is worth points due to difficulty tracking at times, with the company stating that around 65% of steps will count towards your rewarded points at the end of each activity.
What Can You Buy with Sweatcoin?
Rewards (or things you can buy with your Sweatcoins) change daily and are not quite as appealing as the high-street vouchers offered by BetterPoints. However, users have been able to bag temporary passes for websites such as NowTV and TV Player, as well as vouchers for Amazon and PayPal credit.
Sweatcoin also has a 'Marathon Offers' section, where users can aim for incredible prizes, such as an iPhone XS, Curved Samsung TV or a £1,000 Thomas Cook holiday for 20,000 Sweatcoins. Sounds good, right? Is it too good to be true? Kind of.
Even if you did the maximum steps on the free version of the Sweatcoin app each day, it would take you 11 years to reach 20,000 Sweatcoins! Who's to say Sweatcoins will even exist 11 years from now? As great as those big prizes sound, you're better off aiming for more realistic and achievable prizes.
However, Sweatcoin bosses want it to become a genuine type of cryptocurrency within a few years, similarly to Bitcoin, with members eventually being able to pay their bills with Sweatcoins. It's not totally out of the question, but certainly seems a long way away at this current time.
How Does Sweatcoin Make Money?
As well as making money from partnerships with brands (which pay to be featured on the app), Sweatcoin also encourages users to sign-up to 'paid' versions of the app. There are a few additional membership models, which upgrade the amount of steps you can log on the app each month, at the price of 4.75, 20 or 30 Sweatcoins per month.
Charity Miles App
Give to charity for your activities

40+ charities to choose from

Can change your charity at any time
Charity Miles is another free app that rewards your activity, but with charity donations rather than free vouchers and tickets. If you're already an active person, why not sign up to Charity Miles and give to charity by simply doing what you enjoy?
To sign up, you only have to provide your email address and allow the app to track your location, so it's quick and easy to start building up your points.
It uses your phone's built-in GPS and motion sensors to log walking and running both indoor and outdoor, although the indoor activities are logged less accurately. It also logs outdoor cycling, for those who travel via their bicycle to work or for leisure.
There's no automatic tracking option – you're required to press a 'Start Workout' button – which isn't all that bad, as it doesn't drain your mobile's battery quite as quickly.
When you initially sign up, you choose a charity that you want to support and then for every mile you walk, you earn money for your chosen charity.
There are over 40 charities to choose from based in the UK and USA, including the likes of Stand Up To Cancer, Save The Children and the World Wildlife Fund, and you can change the charity you're supporting at any time.
Vitality Active Rewards App
Prizes include free Starbucks, cinema tickets and Amazon Prime

Connects to most activity tracking devices

Very accurate tracking
The Vitality Rewards app is only available to those with a personal or business health or life insurance plan with Vitality, so it's not quite as accessible as the other apps listed above.
It logs users' walking, running, cycling and swimming, as well as activities like joining a Parkrun and working out at a Vitality partner gym. It's able to track such a range of activities because it requires linking to an activity tracking device, such as Apple Health, Garmin, or Fitbit.
The points you earn depend on the type of activity you do, with 40 points per week being the maximum. Prizes include free drinks at Starbucks and free cinema tickets, and you can also get free membership to Amazon Prime if you hit a target of 160 activity points each month.
160 points a month isn't easy, but for the reward, it's certainly worth considering if you're active as it is. However, if you fail to hit the 160 target after signing up to Prime, you will be charged the usual £7.90 for the following month's membership.
If you're a Vitality customer, the rewards app acts as a bit of extra motivation for you to stay active, while also making the most of pretty cool perks like Amazon Prime. It's certainly one of the more established, accurate and professional apps, as expected from such a well-renowned company, so we'd advise anyone with Vitality insurance to look into signing up!
Do Activity Tracking (GPS) Apps Drain My Phone's Battery?
Just like most apps or games on your smartphone, activity tracking apps that use your GPS can drain your phone's battery somewhat, but there are ways of minimising its impact.
It's certainly worth choosing to track your activity manually, by telling the app when you're starting an activity and when it has ended, rather than the constant automatic tracking options.
BetterPoints, Sweatcoin, Charity Miles and Vitality: Review Summary
These activity tracking apps reward you for simply moving and being active in your daily life, whether you take your dog for a walk, cycle to work or do a weekly Parkrun jog.
As most users would typically do the activity before having the app, earning points and prizes takes no time out of your daily routine and rewards you for doing what you enjoy by staying active. It also provides some extra motivation to get on your feet and do some activity, whether you're a fitness-fanatic or just starting out.
By encouraging and even rewarding its users for walking, these apps promote a healthy and environmentally-friendly lifestyle, while offering the added gratification of receiving a prize or donating to charity for your efforts!
---