London's Expanding Clean Air 'ULEZ'
---
---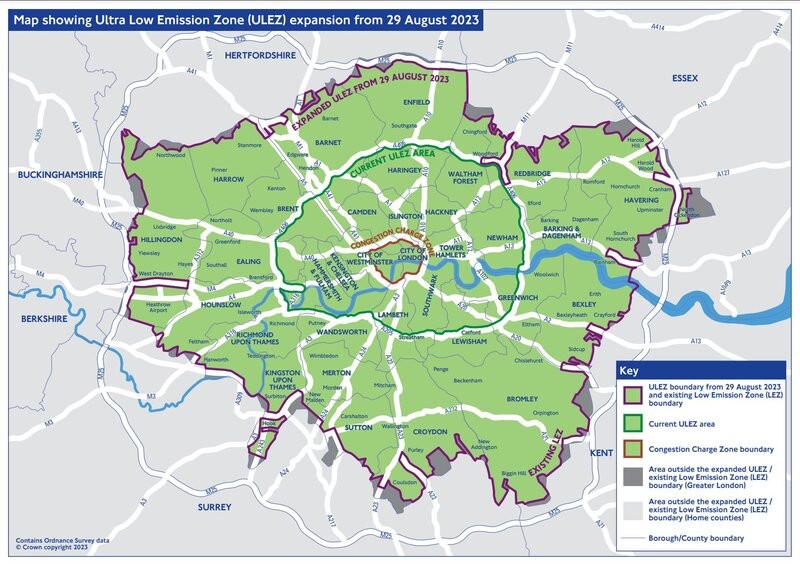 As of 29th August, the 'Ultra Low Emission Zone' (ULEZ) in London is set to undergo a significant expansion, encompassing all London boroughs. This extension will result in a £12.50 daily charge for drivers whose vehicles do not meet specific emission standards. While primarily affecting older car owners, there's a simple way to ascertain whether this charge applies to you. Read on to learn how to check and what to do if you encounter an unwarranted penalty.
Launched in April 2019, the ULEZ operates continuously, 24/7, throughout the year, except on Christmas Day. Initially covering the central London area equivalent to the 'Congestion Charge Zone' (approximately Tube Zone 1), it was subsequently enlarged on 25th October 2021 to include regions between the North and South Circular Roads. Now, with the upcoming expansion, the ULEZ will span all London boroughs. Commencing from Tuesday, 29th August, individuals driving within any part of London will need to confirm their vehicle's compliance with ULEZ regulations. For a clearer understanding of the extended ULEZ boundaries, refer to the Transport for London (TfL) map via this link.
Primarily Affecting Older Vehicles TfL reports that approximately 90% of cars traversing outer London already meet ULEZ emissions standards. The impact predominantly targets older vehicles.
Verifying ULEZ charge requirement
To determine whether you need to pay the ULEZ charge, access the TfL website and enter your vehicle's registration number. The following vehicle categories are subject to the ULEZ fee if non-compliant:
Petrol cars and vans not adhering to Euro 4 standards (typically those manufactured and registered with DVLA before 2005).
Diesel cars and vans failing to meet Euro 6 standards (comparable to vehicles registered before 2015).
Motorbikes not meeting Euro 3 standards (similar to bikes registered before 2007).
Registering your compliant vehicle
Instances of incorrect ULEZ charges, penalty charge notices (PCNs) for ULEZ violations, or misidentification of compliant vehicles by TfL's online checker have been reported. TfL attributes this to a four-week lag in receiving data from DVLA regarding new vehicle registrations. As a result, brand new vehicles or those with number plates transferred from non-compliant cars might be inaccurately identified as non-compliant. To preempt such issues or to update TfL's tool, contact TfL using their ULEZ contact form (enabling attachment of supporting documents) or by calling 0343 222 2222. Necessary details, like a 'Certificate of Conformity' from your car manufacturer, will be required.
Your responsibility for ULEZ payments
The existing ULEZ payment regulations remain consistent from 29th August onward:
The fee is £12.50 per day for most impacted vehicle types, including cars, motorcycles, and vans weighing up to 3.5 tonnes (nearly all cars fall below this weight).
If you're aware you'll be driving within the ULEZ zone, you can make payment up to 90 days before your journey.
Failure to prepay results in a payment deadline of 11:59pm on the third day following your journey.
The charge is applicable only while driving; it doesn't pertain to stationary or parked vehicles. It's also not dependent on your residence – no resident's discount is available.
Missing payment deadlines may lead to penalty charge notices: £90 if paid within 14 days, or £180 if paid after 14 days.
Various payment options
Multiple payment avenues are at your disposal:
Online: Visit the TfL website and register your vehicle if not done already.
Auto-pay: Establish an online account for automatic monthly billing of ULEZ charges.
TfL app: Utilise the app to set up auto-pay, monitor outstanding balance, make payments, or pay penalties.
Phone: Call 0343 222 2222 to make payments.
Vehicle registration is necessary for auto-pay accounts. For individual charge payments, vehicle registration details are sufficient.
Refunds and contesting erroneous penalties
If wrongly charged, you can:
Apply for a ULEZ refund: Confirm your vehicle's compliance and submit a refund request via the TfL website.
Challenge a penalty charge notice due to non-payment: Lodge a 'representation,' either online on TfL's website or in writing to 'Low Emission Zone, PO Box 553, Darlington, DL1 9TZ.' Include reasons for the challenge, your PCN reference number, and supporting evidence like a Certificate of Conformity. Challenges must be made within 28 days of receiving the PCN.
Seek compensation if a vehicle sale resulted from incorrect compliance information: While not guaranteed, TfL reviews cases where vehicles were mistakenly considered non-compliant. Initiate this process by submitting a formal complaint on TfL's website. If unsatisfied with the response, escalate the complaint by writing to:
Customer Correspondence Manager
TfL Road User Charging
4th Floor,
5 Endeavour Square
London
E20 1JN
Further escalation involves addressing the 'General Manager' in your letter for a final review. If still dissatisfied, contact the Local Government Ombudsman at The Local Government Ombudsman, PO Box 4771, Coventry CV4 0EH.
---