Finding the Finest Motorhome Insurance
---
---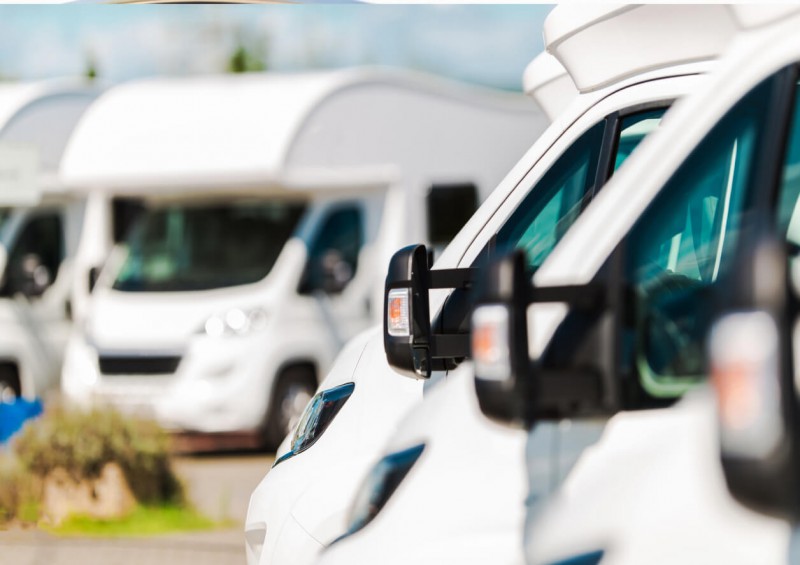 Most people would find it a pleasure to open their front door onto an enticing vista – lake in the foreground steps away, trees lining the edge as far as the eye can see, the tweeting of birds and the crisp morning dew. Perfection.
Motorhome owners get to experience exactly that.
More than that - their temporary home could open onto a beachfront, the foot of a mountain, or just the comfortable amenities of a first class caravan park.
The Joy of Comfortable Camping
Life with a campervan or caravan has the freedom to make every day a new adventure, but while it may seem like you have left society and its restrictions behind, there's still that need to keep your vehicle legal and insured.
Specialised motorhome insurance, including caravan insurance and campervan insurance, is a necessary part of owning a house-on-wheels, whether it's a small converted van, or a huge American motorhome (which are definitely more to insure, but wow, the luxury!).
Your regular car insurance company is unlikely to be the right choice for insuring your campervan or caravan.
So what can you do to ensure your motorhome insurance is as cheap as possible? Let's take a look:
Five Cheap Motorhome Insurance Tips
Be accurate with your mileage

If you use your motorhome sparingly, then give a true indication of your mileage – there's no point paying for travel that you don't even get to enjoy, is there? However, greatly underestimating your mileage can cause problems later on in the policy. If you find yourself getting close to your limit, contact the insurer to reassess.

Remember your no-claims discount

Mention your current car no-claims bonus to the advisor, as some specialist insurers are happy to match this when taking out a policy for motorhome insurance.

Have a safe place to store it

A secure storage location (such as a garage) is going to help keep your premium down a lot. Ensuring that your caravan or campervan is off the road during its time-off will save considerable amounts of money. The same is true with location – take your motorhome out of the city and store it in a rural area to bring those premiums down more. Perhaps see if you can ask a family member in a quieter location to store your vehicle while you don't use it.

Be alarmed!

Ensuring that your caravan is protected from thieves is key to reducing motorhome insurance premiums. Make sure it is fitted with a modern alarm system, and include GPS tracking to further deter thieves. While newer motorhomes come with such systems as standard, if you are driving an older campervan, be sure to update the security with state-of-the-art versions and replace ageing locks with something sturdy.

Avoid adding younger named drivers

Seems obvious, as we all know younger drivers have higher car insurance premiums, but it is often forgotten in a desire to share the driving duties with an eldest child on a holiday. Far better to take the driving hit and potentially save hundreds of pounds!
Here Are Some Other Things to Think About
Put safety first
While driving regulations change from country to country, keeping yourself and your family safe while driving your motorhome is a top priority. If in doubt, work from the basis that everyone should be sat in a front-facing position, on a professionally installed seat with a three-point seat belt.
It's definitely a no-no to drive while someone sleeps in a bed in the back - it could cause problems with your motorhome insurance should an accident (or unthinkably, a fatality) occur whilst travelling.
Be sensible and stay safe.
Travelling abroad
No doubt you want to take your campervan on an extended trip across Europe, through the mountains of Germany, across the stunning countryside of Northern Italy and into the picturesque lakes and woods of Serbia, perhaps passing through sunny Greece and following the Mediterranean coast line on the way back. Do mention all of that to your insurer though as making sure you have cover for the EU (and even, beyond) is essential.
Of course, if you plan to stay in the UK it's a lot easier on your motorhome insurance. Driving through the waterfall valleys of Wales, across the vibrant countryside of the national parks and up past Loch Ness to the Scottish Highlands is as spectacular as many European equivalents.
Size matters
Size is a huge factor when choosing your motorhome, whether it is for luxury (some even come with full sized baths!), or manoeuvrability on those windy country roads. Importantly though, the size of your vehicle also has an impact on the camper insurance, right down to the engine size. If you have a smaller budget for insurance, you'd be well advised to look at smaller vans and stay away from that Variomobil Signature 1200!
Make sure you are licensed
Check driving licence restrictions. A basic UK full driving licence will allow you to tow a caravan, or drive a small campervan, but once you start moving into the realm of converted light goods vehicles, minibuses and even mammoth trucks, you need to have the right qualification to legally drive them. In the UK, legal driving regulations are all detailed on the DVLA website - it will, of course, be impossible to get motorhome insurance to drive a vehicle you are not entitled to use.
Be careful with modifications
While it is tempting to take a VW Transporter, gut the inside, pop in a few windows, add a bed and a table and be off, the reality is that each modification needs to be reported to your insurance provider. Everything from an additional seat, to a sunroof should be checked before installation – and be sure to tell your insurer of any modifications that were part of the vehicle when you bought it. It's easy to forget that those back windows were not actually part of the original design - a mistake like that can be costly if not reported.
Enjoying the lifestyle
Whether your campervan is just for a few weeks during the summer months, or a true alternative lifestyle, with comprehensive motorhome insurance you can relax knowing that you are legal and protected as you explore the world.
Happy camping!
---