Specialist Travel Insurance
Travellers with medical conditions, aged over 65 or pregnant
---
---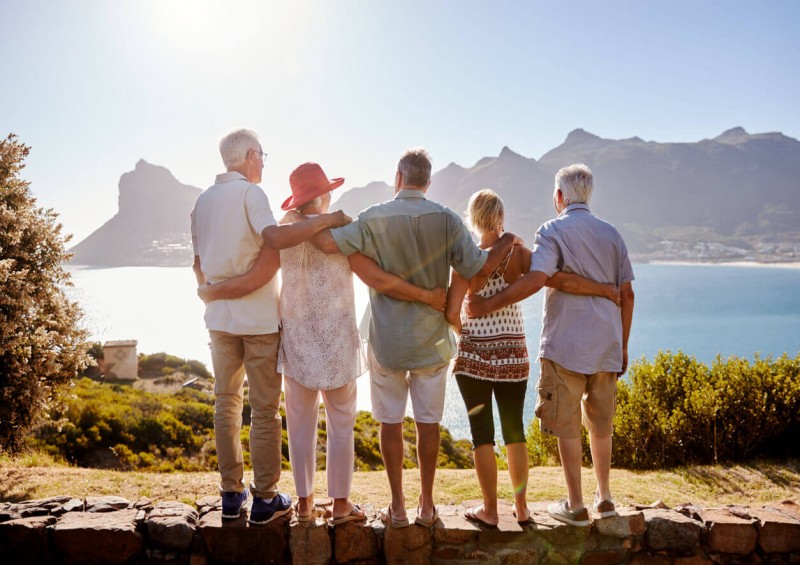 Getting travel insurance is usually an easy task, but for travellers who are pregnant, over the age of 60 or who have pre-existing medical conditions, it can sometimes seem like a difficult process. And since the Coronavirus pandemic, there are now other potential complications to consider when purchasing travel cover, making it seem all the more tricky.
Thankfully, there is specialist cover available for travellers who may pose a higher risk to insurers, depending on their needs and health status.
In this guide, we tell you what medical conditions need to be declared when applying for travel cover, what the different types of specialist travel insurance policies are and the penalties for not disclosing information to your insurer.
In this guide:
Why is travel insurance important and what does it cover?
What type of travel insurance do I need?
What medical conditions need to be declared?
What happens if you don't declare medical conditions?
Types of specialist travel insurance policies
Does travel insurance cover Coronavirus?
Why
is it
important to have travel insurance and what does it cover?
When going on holiday or travelling abroad for purposes other than leisure, it is important to have a travel insurance policy in place to financially cover you for unexpected events that may occur during your trip.
A travel cover policy will protect you if you experience any of the following situations while travelling:
Lost or stolen luggage

Cancellations (due to medical reasons)

Emergency medical costs
And most comprehensive policies will also provide the following:
Death and disability cover

Personal liability cover

Luggage cover

Cover if you've had to extend your trip as a result of bad weather
All travel insurance policies differ, however, so be sure that you fully understand what you are covered for and what you are not covered for before you purchase one. It is highly important that your policy is right for your needs, particularly as Coronavirus restrictions may now be included in policies.
While we are incredibly lucky to have the NHS in the UK, British people travelling abroad are very unlikely to have access to free healthcare, and even a small medical emergency could set you back hundreds of pounds - even thousands or millions, depending on your situation.
With a travel insurance policy, you get the peace of mind that you are covered for such high costs if something were to go suddenly wrong while abroad on your travels.
Read more: Travel Insurance Explained
What type of travel insurance do I need?
If you've planned a weekend away or a week abroad this year, then you will need a single trip travel insurance policy.
If you are travelling more than twice in one year, however, you will need either a multi-trip or annual holiday insurance policy. This type also tends to be more cost-effective than getting several single travel policies.
If you are a single parent, travelling as a couple or with your family, you should also be able to get tailored policies to suit your situation.
Generally, people tend to get standard travel insurance, but there are many instances where an individual will need a specialist policy.
Do I need a specialist policy?
If you are over the age of 60, you have a pre-existing medical condition or you are pregnant, then it is likely you will need a specialist travel insurance policy.
You may also need tailored cover if you are looking to take a more adventurous journey, such as a gap year, or you're planning on doing some extreme activities while abroad.
Many travel insurance companies will tailor their cover to suit your needs, while others may only provide standard cover, so you'll need to compare a range of deals and quotes offered by different companies in the UK to find one that provides insurance that suits you and your budget.
Alternatively, you can contact a travel insurance broker who will do this for you, by searching through a range of policies and companies to find you the best deal.
To see the different types of specialist cover available, see our list of policies below.
What medical conditions do you have to declare for travel insurance?
When buying travel insurance, the insurer will want to know about any pre-existing medical conditions, in addition to your age and whether or not you are pregnant, of course.
If you've experienced any physical or mental health conditions before, which you have seen your doctor about or which require you to take medication to manage and treat it, you must declare it to your insurer when purchasing cover.
Each travel insurer differs, so some may want to know more about your condition(s) and look further into your medical history than others. Either way, it is important that you are completely honest about any past health issues, because if you don't declare them, it could invalidate your policy when you need it.
Will my medical condition affect my premiums?
Each travel insurer will have a list of medical conditions that they provide cover for, and they will deem some conditions to be more serious than others. For more serious conditions, they may raise the cost due to the increased risk posed by the individual.
Some insurers may not even provide cover to suit your needs or medical condition, however, so you will need to get specialist cover from a specialist provider if not.
For less severe medical conditions that do not require ongoing treatment and aren't deemed to be as high-risk as other conditions, such as asthma, you might be able to get standard cover without an increase in price, but it completely depends on the insurance company and the severity of your condition.
Even if you don't personally deem your condition to be very serious, you should still disclose it to your insurer to ensure you are fully covered for your journey.
Coronavirus pandemic - Am I covered for Covid-19?
Due to the Coronavirus outbreak, it is even more vital that you disclose any health-related conditions, as your condition may affect you more if you were to have Covid-19.
If you have previously had Coronavirus, you must also declare this to your insurer as well as any other medical conditions, otherwise, you will not be fully covered and your policy may end up being invalid.
Read more: Refunds for Unused Travel Insurance During Coronavirus
What happens if you don't declare medical conditions for travel insurance?
If you haven't told the travel insurance company about your medical history, it is likely that any medical conditions you do have, no matter how serious, will not be included in your cover.
So, if you fall ill while abroad due to a pre-existing condition that you did not declare, you could end up having to pay a huge medical bill to cover the costs, as any claims you make on your policy will be invalidated.
Additionally, if you don't inform your insurer about any related illnesses that can occur as a result of your current condition, you will also not be covered for this.
For example, if you have asthma and develop a severe chest condition while abroad, you will only be covered for related medical costs if you told your insurer about your asthma.
Types of specialist travel insurance policies
Depending on your medical condition, your age and whether or not you are pregnant, this can all have a significant impact on the type of cover you need, as well as the cost.
Policies differ from company to company, so you may need to do your research to find an insurer that is offering cover for your specific needs, or indeed use a broker to do all the hard work and find a policy best suited to you.
In the UK, there are travel insurance policies available for people who need cover for:
Medical treatment abroad

Cancellations that occur due to the illness of a family member

General cancellations

One way trips

Travellers who have already left the UK

Backpackers

Business travel

Travellers who are over 60 and 70 with medical conditions

A child who is travelling alone

Travellers who are disabled

Women who are pregnant

Expats

Taking part in extreme sports

People who want to take a gap year

International students

Non-UK residents

Sports tours

War zones

Working abroad

Group travel
There is also specialist cover for specific medical conditions (including operations) such as:
Arthritis

Asthma

Breast cancer

Cancer (including those with leukaemia and in remission)

Cystic fibrosis

Mental illness (depression, anxiety, psychosis, etc)

Diabetes

Diverticulitis

Enlarged prostate

Epilepsy

Heart conditions (heart attack, heart failure, stroke, heart bypass, heart stent, valve repair, valve replacement)

Hernia

High blood pressure

High cholesterol

Joint replacement

Transplant (kidney, liver, etc)
And it is also possible to get specialist cover:
Whilst awaiting diagnosis or treatment

During or after chemotherapy

Before or after radiotherapy
Does travel insurance cover Coronavirus?
As the global Coronavirus pandemic alters and continues to affect travel plans, travel insurance companies are also constantly changing policies and terms to account for the crisis and the impact it's had. If you have an existing travel insurance policy, such as annual cover for example, then you should contact your insurer to see where you stand.
If your annual policy is due to be renewed, you should still be covered for problems relating to Coronavirus, provided you renew with the same company - but you should still check this with them. If you renew with a different insurer, you are unlikely to be covered for Covid-19.
If you are looking to purchase a new travel insurance policy, it is important to remember that many companies will have exclusions regarding Coronavirus in their policies, so you must be sure to check with your insurer and make sure you fully understand what you are covered for and what you are not.
Again, your best bet may be getting in touch with a travel insurance broker who can search the market to find you an insurer that offers policies covering Covid-19.
Insurance advice with Compare UK Quotes
It is important to remember the seriousness of disclosing medical conditions when purchasing cover, as the Coronavirus pandemic has understandably brought about many complexities and uncertainties regarding health and insurance.
With any type of insurance, it's always crucial that you remain truthful and open when purchasing cover, otherwise you risk voiding the policy if you ever need to make a claim, which defeats the whole purpose of getting cover in the first place.
For more information regarding insurance, medical conditions and Coronavirus, see our related guides below.
Related articles
---