A Guide to Will Writing for New Parents
---
---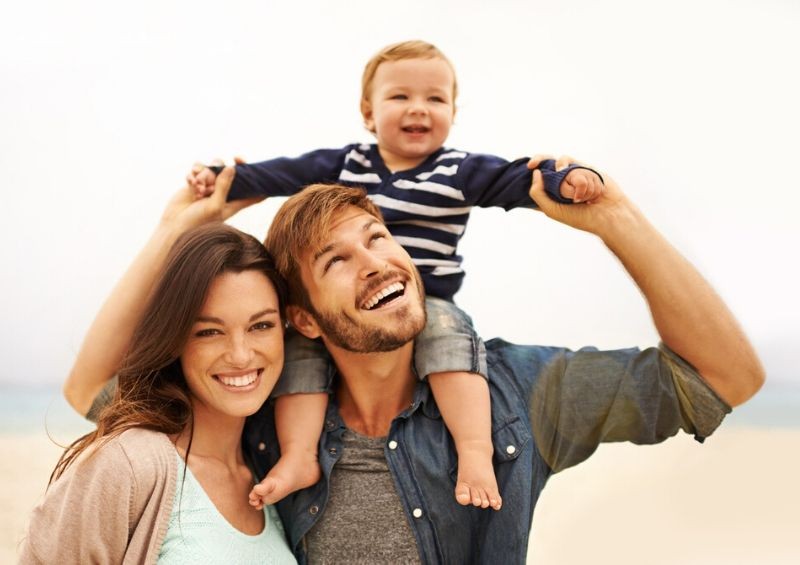 Being a new parent is an exciting adventure, but it also comes with many responsibilities and duties.
One of these responsibilities includes the need to protect your family's finances and assets, which can be done by writing a legally valid will.
Putting plans in place while you're still fit and healthy is crucial as you never know what's around the corner, and passing away without a will could lead to all sorts of problems for those you leave behind.
It isn't the most thrilling of tasks, but there are ways to write a will with very little effort on your part.
Here's our guide to will writing for young couples, young parents or simply anyone looking to protect their estate and loved ones.
Why new parents need to write a will
There's no 'right time' to write a will, but we always recommend doing so if you have any dependants or substantial assets.
Therefore, it's usually worth writing (and updating) your will when you reach a significant milestone in your life, for example, when you:
Have a child

Buy a house

Get married
Writing a will is unlikely to be at the forefront of your mind as you begin your new life as a parent, but it's something that needs to be done in order to protect your loved ones if the worst should happen.
With a legally valid will in place, your family is protected and you can rest easy in knowing that your assets will be handed over to the right people, in line with your exact wishes.
Dying without a will – also known as dying intestate – could lead to your loved ones and dependants facing financial hardship and uncertainty.
Read more: Who Inherits an Estate When There is No Will?
What happens if you die without a will in the UK?
If you die without a will in the UK, your estate will be distributed in line with pre-determined guidelines known as the rules of intestacy.
These rules mean that your personal wishes will not be considered when your assets are shared out and that they could therefore be handed over to the wrong people.
Dying without a will means that…
Your married or civil partner will not automatically inherit everything

Unmarried partners are not entitled to any of the inheritance

The guardianship of your children may be determined by a court or local authority

Step-children or foster children will be left without anything
Making a will allows you to determine exactly how your estate should be distributed, so that you can provide for your child (or children), your partner and any other loved ones.
It's not all about money though, as you can also use your will to appoint your child's legal guardian if both parents pass away, which provides you with peace of mind in knowing that your child's future will not be left in the hands of a local authority or a court.
The benefits of having a will from an early age
Setting up a will as a new parent is crucial in order to plan for the future and protect both your estate and your family, as we unfortunately never know what's around the corner.
Along with the peace of mind that it provides you with, the main benefits of writing a will include the following:
You can choose the way your estate will be distributed

Funeral arrangements can be made in line with your preferences

You're able to ensure that your loved ones are financially secure

You can appoint trustworthy and reliable guardians for your children

Some advisors will help you save on your inheritance tax bill

The dreaded intestacy rules are avoided
Mirror wills: the perfect solution for parents?
If you and your partner are both looking to write a will to protect your child or children, mirror wills may be worth considering.
Mirror wills – sometimes referred to as bloodline wills – are essentially two almost-identical wills that are set up by a couple, usually with the purpose of leaving all of their estate to the surviving partner and then their child thereafter.
How to write a will: solicitors, online will writing services, or DIY?
There are a few different ways to write a will in the UK, including:
Writing a will with a solicitor

Writing a will online through a will-writing service

Writing a will yourself using a DIY will template
Some methods are cheaper than others, some are more extensive, and some are more time-efficient – your choice depends on what you want.
There are pros and cons to all methods and the cost varies with each one, so be sure to do your research and explore your options before deciding how you're going to write your will.
Writing your own DIY will is high-risk due to the amount of things that could go wrong; there are also a number of complex legalities and it requires a lot of time and effort.
Even the smallest of mistakes within a will can make them invalid – meaning that the rules of intestacy would be applied – which is why using a DIY template is usually not worth it.
We therefore recommend against doing so and suggest that you let an expert handle the process on your behalf.
Making a will online through a legal will-writing service can be done quickly and easily – you simply enter your personal details and complete the provided form (with guidance and explanations throughout), and then the company's expert advisors will take care of the rest, ensuring that your will is legally-binding as per UK law.
What to think about when writing a will
As a new parent, knowing what things to consider when writing a will can be difficult and sometimes overwhelming, as you may never have thought about it until now.
Here are a few things that should always be included in your will to protect your loved ones and the assets that you will leave behind in the event of your death:
Executor(s) – the people in charge of applying for probate and managing the will when you pass away.

Beneficiaries – the people who will benefit from your estate.

How assets should be distributed – who will get what part of your estate?

Guardianship order – who will be the legal guardian of your children if both parents die?

Value your estate – list all of your assets and their value, including your properties, businesses, savings and insurance policies.

Funeral arrangements – any special requests or preferences for your funeral.
Read more in our full guide to 'making a will checklist'.
Writing a will online
Here at Compare UK Quotes, we recommend writing your will online through a professional will-writing service online.
You can set up your will online from the comfort of your own home, without any lengthy telephone calls or meetings, and it can be done in just three simple steps.
Making a family will online is often cheaper and more time-efficient than doing so through a solicitor, and it is far safer than doing it yourself using a DIY template. Just make sure that the service you use includes having a legal expert look over your will for any potential mistakes.
Get started today or find out more about will-writing by reading out related guides:
---