Caravan Insurance Explained
---
---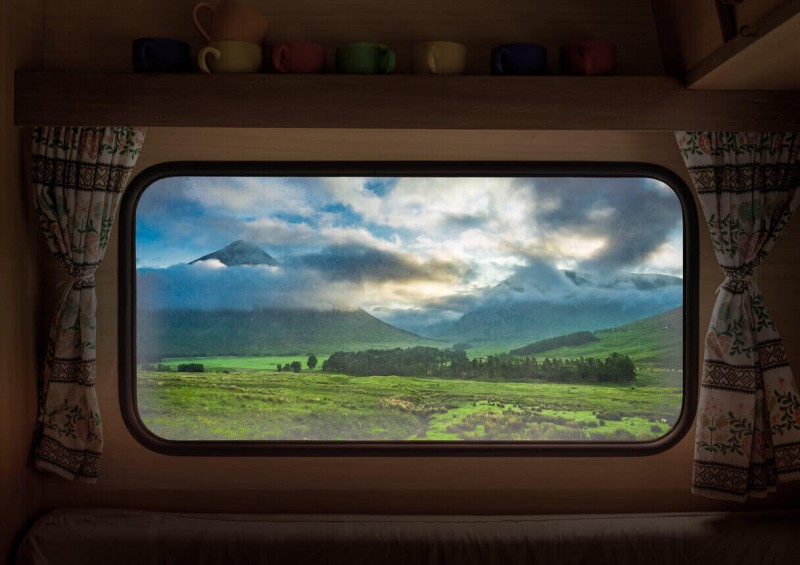 Caravan insurance can help to protect your caravan from various incidents such as theft, damage or accidents when travelling in the UK.
In our guide to caravan insurance, we'll take you through everything you need to know about touring caravan insurance, static caravan insurance, plus how to find the best caravan insurance companies and where to find cheap quotes online.
What insurance do I need for a caravan?
There's no actual law in place that says that you need to have caravan insurance, but having a policy in place can help give you peace of mind, whether you have a static or touring caravan.
Caravans aren't covered by your car insurance policy either, so if you're involved in a traffic accident when transporting your touring caravan, you will have to pay for any damage caused. Therefore, it's worth considering taking out a caravan insurance policy to ensure that you're protected in such events.
Below, you can find some of the different types of caravan insurance, plus caravan insurance optional extras that you might choose to add to your policy.
Types of caravan insurance
You can get caravan insurance for touring caravans, static caravans, and trailer tents, and/or folding camper insurance.
Within those types of insurance, you will either get a 'new for old' policy or 'market value cover'.
New for old
This type of caravan insurance policy will provide you with an exact like-for-like model of your caravan if it is stolen or damaged beyond repair. It usually also applies to your personal belongings and equipment inside the caravan so these items will usually be replaced with brand new versions as well.
Market value cover
With market value caravan insurance, the insurer will pay out for the current value of your caravan at the time of the incident. Therefore, if your caravan is 20 years old for example, the insurance company will only compensate you for how much it's worth at the time.
While this type of caravan insurance is usually a bit cheaper, it also means that you might not be able to replace your caravan with the same model and you might end up having to buy a cheaper model with the compensation offered by your insurance provider.
How does caravan insurance work and what does it cover me for?
The type of policy you take out will depend on exactly what you want your caravan insurance policy to cover you for.
Typically, most caravan insurance policies will offer you cover for the following:
Internal damage - if there is a leak inside your caravan and it becomes damaged, your policy should cover you.
External damage - this will cover you if your caravan has been damaged in extreme weather conditions such as floods or storms, for example, or if it is damaged during a traffic collision.
Theft - while it might seem like quite the task for someone to steal a caravan, it can happen, so caravan insurance will cover you if your caravan is stolen while it's detached and parked either outside your home or at a campervan or caravan site.
Third-party liability - this will cover you if a member of the public or property is damaged as a result of your caravan causing damage after an accident, for example.
How much is caravan insurance roughly?
The average caravan insurance cost will differ depending on numerous factors such as the value of your caravan, whether it is a touring or static caravan, where you live, and how/where you store your caravan when it's not in use, plus more.
Touring caravans are usually much cheaper to buy than static caravans, but the cost to insure them is usually higher as there is thought to be more 'risk' involved due to accidents or collisions when transporting them.
The average cost of touring caravan insurance is approximately £300 per year for a £20,000 caravan.
The average cost of static caravan insurance is approximately £300 per year for a £45,0000 caravan.
However, these figures are likely to differ between insurance providers and other external factors.
What is not covered with caravan insurance?
Just like with any type of insurance, caravan insurance doesn't cover you for everything, including:
If there is damage caused by general wear and tear.
If your caravan is stolen or damaged due to lack of care or security (such as leaving it unlocked with the keys inside).
If damage is caused by an insect or vermin infestation.
If it becomes damaged while you're using it as a permanent residence.
Does towing a caravan affect your insurance?
If you're towing your caravan, your car insurance policy will cover you for any damage to your car, but it usually won't cover your caravan in the event of a collision or accident. Therefore, it's always best to have proper caravan insurance in place when towing your caravan so that you're fully covered for all eventualities.
What do I need to get caravan insurance?
If you're looking to take out a caravan insurance policy, you will have to provide details of the following when making your application:
Your name and address.
Relevant details about the caravan you're insuring such as make, model, registration, its value, age, and how often you use it.
What kind of security measures you have in place (if any), such as security cameras, additional locks, etc.
Whether you've made any previous claims on caravan insurance.
Where you store your caravan when it's not in use.
The type of cover you're looking for.
The best caravan insurance providers
If you're looking to find insurance for your caravan, it's always best to look around and compare caravan insurance quotes amongst different providers in order to find the right policy for you.
While comparing car insurance and home insurance is usually quite straightforward, you might not know where to start when it comes to finding the best caravan insurance companies.
Take a look at some of our recommendations below on the best caravan insurance providers.
Safeguard UK Insurance

Caravanwise

Shield Total Insurance

Simple Caravan Insurance

Saga
Related guides
---