American Motorhome Insurance
Insuring an RV in the UK.
---
---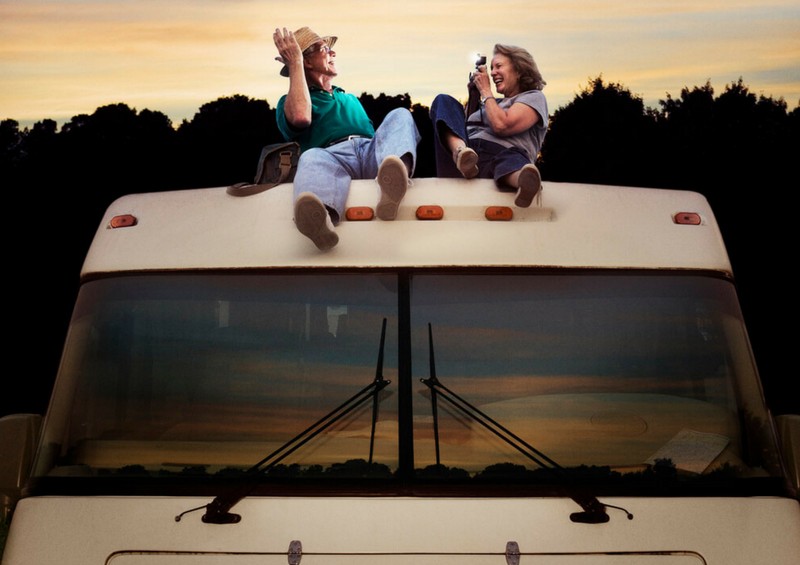 American motorhomes and recreational vehicles (RVs) are becoming increasingly popular in the UK – especially given the surge in staycations since the Coronavirus outbreak – but not everyone knows how to insure them properly.
Whether you're thinking about importing a famous Winnebago or a top-of-the-range Damon, you will need a certain level of motor insurance to get behind the wheel of an American RV on UK roads.
What is American motorhome (RV) insurance?
Like all vehicles, luxury American motorhomes and RVs need to meet certain legal requirements in order to be driven on UK roads.
Not only does that mean ensuring that the electrics and other systems have been properly and professionally converted to UK road-safety standards, but also that the vehicle has a sufficient level of motor insurance.
There are many specialist car insurance policies in the UK, and RV insurance is becoming one of the most popular among British holidaymakers.
However, it's always worth shopping around and comparing quotes before committing to a policy, as it can prove expensive without proper research and understanding.
It's important to note that not all motor insurance companies will be willing to insure a personally imported American RV. This is because insurers want to be assured that the vehicle has been converted to UK standards properly, without cutting any corners.
Often, all you need to do when you apply for cover is provide evidence of a professional standard of conversion.
Many motor insurance providers will only provide cover for American style RVs purchased from recognised UK dealerships.
Try to look for dealerships that are fully approved by the National Caravan Council, but be sure to shop around because there are a range of companies that insurance providers will consider.
What level of insurance do you need to cover an American RV?
It's a legal requirement that you insure your motorhome if you plan on driving it on UK roads.
From Fleetwood to Fourwinds, Monaco to Winnebago, the variety of RVs available is substantial and continues to grow – while we may not have access to the hundreds of options available stateside, the UK RV market is increasing every year.
Picking the right RV will affect the type of insurance you need and the cost of your premiums.
Factors such as physical size, value and engine power all play their part, but it is important that you buy the vehicle that is right for you, whether it's the size of a converted coach, or a more manoeuvrable Class "C" vehicle.
However, you must adhere to the UK road-safety measures that are in place.
UK law stipulates that the maximum legal length to drive an imported American motorhome is 12 metres (which is a little over 39 feet) and 2.55m wide (8 feet). It also requires you have a class C UK driving license if the weight is over 7.5 tonnes. There's no height limit, but if your RV is over 3 metres, you will need to have a visible sign warning the driver of the fact and some of the quainter areas of the British countryside may become off limits due to bridges.
For more detailed information on the requirements that must be met to drive a motorhome on UK roads, be sure to check out the government's website.
What is a motorhome?
A motorhome is a type of RV that offers mobile living accommodation. RVs, motorhomes and campervans are often used interchangeably, but they may differ slightly in definition, depending on your insurer.
There are some notable differences between motorhomes and campervans. In summary, motorhomes are typically:
Purpose-built

Larger vehicles

Have more storage space

Have more clearly defined areas for living and driving

Come with additional features (over-cab space for large beds)
Here is a table of some of the most popular RV motorhomes:
| | |
| --- | --- |
| Make | Model |
| Winnebago | Itasca Meridian, Journey, Destination, Sightseer, Outlook, Vista, Aspect, Access, View, Adventure |
| Safari | Trek, Cheetah |
| Georgie Boy | Maverick |
| Monaco | Cayman, Lapalma, Knight, Diploma |
| Holiday Rambler | Arista, Augusta |
| Four Winds | 5000 |
| Roadtrak | 170, 190 |
| Damon | Daybreak, Challenger, Astoria |
| Coachman | Miranda, Concord |
| Forest River | Forrester, Sunseeker, Georgetown, Lexington |
American motorhome breakdown cover
RV breakdown cover is an essential policy to consider if you're planning on travelling across the country (or beyond) in your motorhome.
Breakdown cover is sometimes added to your insurance as an optional extra, but it is more common for it to be purchased as a separate, standalone policy.
You may think that you can change a tyre on your daily runabout, but maintaining an American motorhome is a giant step up from a normal car or campervan.
Make sure that you get rescue and breakdown cover for your RV – no matter how well made your vehicle is, some things just happen and can ruin a holiday if you're not prepared.
If you only plan on using your motorhome for a short amount of time, you could also consider short-term breakdown insurance to cover you during your trip.
Here at Compare UK Quotes, we recommend European breakdown cover for RVs as it will protect you when driving across countries in your motorhome.
You might like: The Best Breakdown Cover Providers in the UK
How much does motorhome insurance cost?
The price of motorhome or RV insurance depends on a variety of factors, including:
Your age: younger drivers will get cheaper cover.
The make, model and value of your motorhome: larger, more expensive models may cost more to insure.
Where you live: some areas are typically offered cheaper premiums than others.
Your driving experience: if you are an experienced motorhome owner, you may get a cheaper deal.
Any previous claims: those who have a longer no-claims bonus will usually be offered a discount.
Annual mileage: a lower annual mileage usually equates to cheaper premiums.
Other vehicles: having access to other vehicles is likely to be favourable, as you may be charged more if you use your motorhome for business or commuting.
Named drivers: adding named drivers can reduce your premiums considerably, as long as they are not high-risk drivers.
However, because motorhomes vary so much between models, the only way to find out exactly how much you might pay for cover is to compare quotes.
Read more: How is Motor Insurance Calculated?
How to get cheaper American RV insurance
There are many ways to get cheaper motor insurance in the UK, including:
For more information on related topics, be sure to browse our website and check out our guides:
---