Short Term Breakdown Cover: A Guide
---
---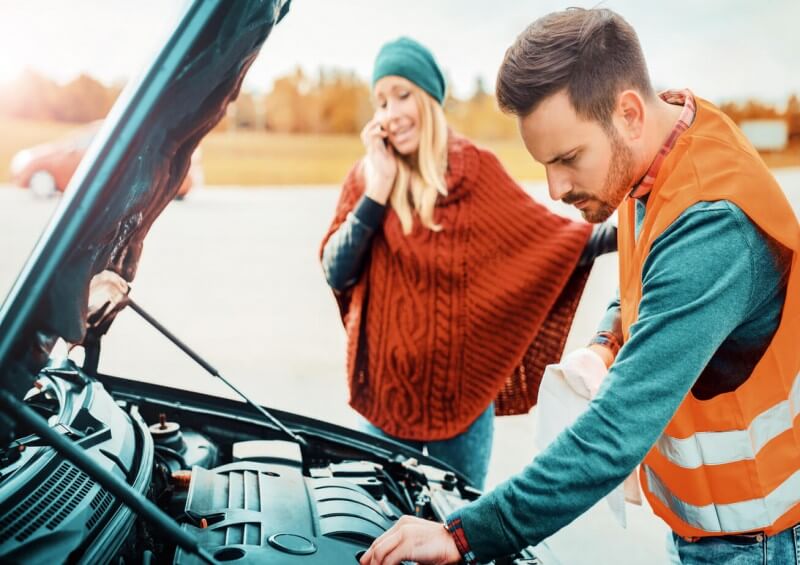 Breakdown cover isn't legally required to drive on UK roads – as car insurance is. It is usually offered as an optional extra that could get you out of very tricky situation if ever your vehicle gives up on you during a journey. Especially as it has been reported that one in three cars will breakdown over the next 12 months
It's entirely possible, however, that you don't want annual cover and may only want it for a short-term period – perhaps just one journey, one day or one month. If this is the case, then short-term breakdown cover will be ideal for you.
Head over to our full guide to breakdown cover if you're looking for annual insurance.
What is short term breakdown cover?
Short term breakdown cover – also known as breakdown and recovery – is a type of policy that covers a vehicle or a driver for a pre-agreed amount of time. It is a useful alternative to annual breakdown cover if you only need protection for a limited period of time, whether it's a day, week or month. It can also save you hundreds of pounds compared to if you breakdown with no cover in place.
Short term breakdown cover can be bought as a standalone product, or as an optional extra as part of your full car insurance package (whether it's a temporary or annual).
What does short term breakdown cover in the UK include?
The level of protection provided by your breakdown cover depends on the terms of your chosen policy, as there are often various options available from each provider.
Most UK short-term breakdown cover policies will include some, if not all, of the following:
Roadside assistance

Vehicle recovery

Onward travel

At-home breakdown
Roadside assistance means that a mechanic will try to fix your car on the side of the road, and will take you to a nearby garage if this isn't possible.
Vehicle recovery allows you to choose any location for you and your vehicle to be towed if it cannot be fixed roadside.
Onward travel refers to the cost of continuing your journey, whether that includes a replacement or courtesy car, overnight accommodation or alternative public travel.
At-home breakdown means that you can get a call-out if your vehicle breaks down at home.
Short term car breakdown insurance is therefore an ideal policy for those who are:
Going on a long journey

Borrowing a friend or family member's vehicle

Using a van to move to a new house

Driving an older or unreliable car
Be mindful that there are often exclusions with breakdown cover, including some of the following:
Needing assistance on private land

Breaking down after having an accident

Breaking down from lack of basic maintenance

Breaking down abroad if you have a UK-only policy
The cost of breaking down without breakdown cover
Sterling Rescue has reported the below costs that can be incurred by drivers that breakdown without cover in place:
Vehicle recovery can start from £65 and increases to £75 after 6pm. On weekends and bank holidays this cost can increase further to between £80 and £100.
Local garage recovery can charge from £1.50 per mile your car is towed.
If the police attend to recover your vehicle from the motorway they can charge you a £150 fee.
If you are away from home and have no onward travel following a breakdown, a hotel can cost you upwards of £80 a night.
Short term European breakdown cover
Many basic breakdown cover policies only provide protection for journeys you make in the UK, which means that you may need to add temporary European breakdown cover if ever you plan on taking a trip outside of the country.
European breakdown cover can be bought as an annual policy alongside your car insurance package, but it's likely that you won't need it for the entire year, so it may be worth buying temporary or short-term breakdown insurance so that you're only paying for cover when you need it. For example, you could take out five-day European breakdown cover if you were going on a weekend trip to France.
If, however, you drive in Europe on a regular basis, it may be more cost-efficient to add European cover to an annual breakdown insurance policy.
It's worth noting that most European breakdown cover policies will only accept vehicles registered in the UK and it will usually cost slightly more than UK-only insurance.
What does short-term European breakdown cover include?
European breakdown cover provides almost the same protection as UK breakdown cover policies, but across the continent rather than only the UK. This includes, but is not limited to:
Vehicle repatriation*

Home start (if your vehicle breaks down before your trip begins)

Roadside assistance

Onward travel
*Vehicle repatriation refers to the cost of returning your vehicle to the UK if it is not fixable in the country you are travelling in.
Which countries are covered by short term European breakdown insurance?
Which countries your short-term breakdown insurance covers depends on which provider you took out the policy with and also the level of cover you opted for.
Most short-term European breakdown cover policies will include the 44 countries within the European continent, rather than only those within the European Economic Area (EEA). Be wary of certain short term EU breakdown cover policies, as these may only cover EU-members (which doesn't include all of Europe as a continent).
Check your policy's terms and conditions, as this should include a list of all countries covered. If it doesn't, get in touch with the provider and they should be able to help.
Where can I get short term breakdown cover?
Many providers of annual breakdown cover will also offer a short-term or temporary alternative.
Some of the most popular breakdown cover companies include:
Co-op
Green Flag
Liberty Cover
RAC
Recover Cover
Temporary breakdown cover vs. Annual breakdown cover
You can either get temporary or annual cover, depending on your needs and preferences. There are many different types of temporary breakdown insurance policies, including the following:
One day breakdown cover

Single trip breakdown cover

Five day UK breakdown cover

One month breakdown cover
If you need cover for a longer period, you should consider annual breakdown insurance.
How much does short-term breakdown cover cost?
MoneySuperMarket recently reported that the average cost of breakdown insurance in the UK was £37.60 for local cover, £42.31 for national cover, and £66.61 for European cover.
Temporary breakdown cover is, however, cheaper on average, but its cost-efficiency depends on your situation. Take an example of European breakdown cover; if you only plan on driving in Europe once or twice in a year, short-term or single-trip breakdown cover could be cheaper than paying for annual insurance. But, if you are going to drive in Europe multiple times in a year, you will probably be better off getting an annual policy.
The cost of your short-term breakdown cover depends on a variety of factors, including:
The type and level of protection you take out
The optional extras you choose
How many vehicles are covered
The make and model of your vehicle
While you don't necessarily need breakdown cover, having it in place could help you both financially and practically if ever your vehicle breaks down unexpectedly. If you are going on a trip or need additional cover temporarily, short-term breakdown cover could be the perfect safety net for you.
For more car insurance and financial advice, be sure to read our related guides:
---