4x4 Car Insurance
A guide to cover for 4WD vehicles
---
---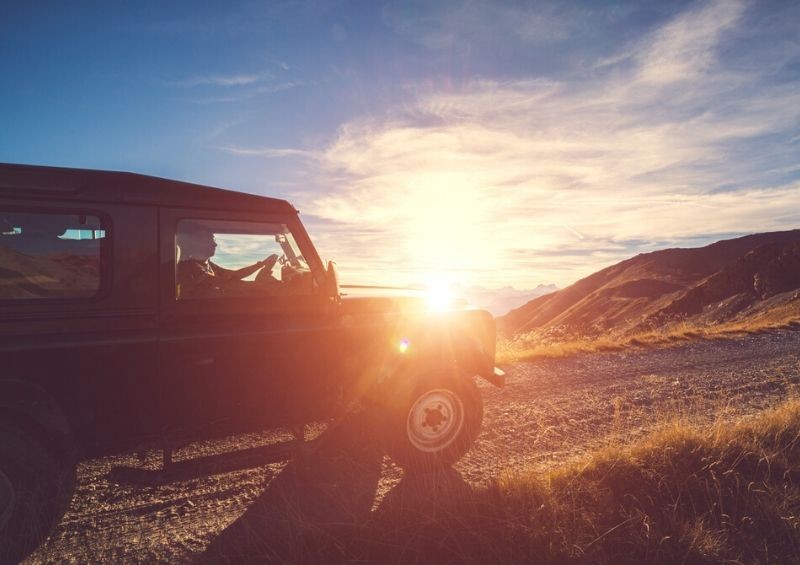 Finding a cheap-to-run 4x4 can be difficult, as they typically consume a lot of fuel, have a high road-tax bill, and can be expensive to insure due to the size of their engines.
While 4x4 insurance may be more expensive than cover for smaller cars, this doesn't mean that you should accept the first quote that you're offered. With our help, you won't need to pay over-the-odds for your 4x4 car insurance.
In this guide:
What insurance does a 4WD vehicle need?
As with all vehicles that are driven on UK roads, you must have cover in place for your 4x4 at all times, as motor insurance is a legal requirement. The only exception is for those who have obtained a Statutory Off-Road Notification (SORN), which officially declares your vehicle as being 'off the road' and means that you don't need insurance or car tax (as long as it isn't kept on public land).
Don't mistake this with off-road vehicles or 4x4s though, as these still need at least third-party only insurance as it's likely that they are going to be used in public places or on the road occasionally.
A 4x4 can refer to a range of different types of vehicles, so the type of insurance you need may vary slightly depending on your needs and how you plan on using it.
There are a few different levels of insurance in the UK (including third party cover, third-party, fire and theft cover, and comprehensive cover) and three classes of use (SDP, SDPC, and SDPC + business use).
Which type of policy you choose depends on your personal circumstances and how you use the 4x4, so be sure to read our guides to find out the best option for you.
If your 4x4 is driven in public places or on the road, it needs to be covered at all times – how frequently you drive it does not matter.
However, if you only use your 4x4 or SUV occasionally, you could save money by getting a pay-as-you-go insurance policy if you want to pay per mile or per hour.
Do you need specialist 4x4 insurance?
You don't necessarily need specialist 4x4 insurance to drive every vehicle that could be described as a 4x4, as standard motor insurance should usually be sufficient for most 4WD cars.
This does, however, depend on how you use the vehicle, as you may need specific off-road 4x4 insurance if you plan on using it on dirt-tracks and so on.
It's also worth noting that the term '4x4' is used broadly and can be used to describe many different vehicles – this includes pick-up trucks, which may be classed as commercial vehicles and may need van insurance.
You will need to enter your vehicle's registration plate and/or make and model to get a car insurance quote online, so the insurer should let you know if your vehicle is eligible for cover at this stage.
How much is 4x4 insurance?
All vehicles in the UK are assigned a car insurance category, ranging from 1 to 50, in relation to how much they cost to insure. As a rule of thumb, the higher the vehicle's insurance group is, the more expensive its premiums will be.
4x4s are usually placed near the top end of the 50 insurance categories and are therefore more expensive to cover than most other types of vehicles.
Car Wow recently listed the best 4x4 vehicles of 2020, so let's take a look at how the top five ranked in terms of their car insurance groups:
Land Rover Discovery: Insurance group 33-42

Mercedes G-Class: Insurance group 50

Range Rover: Insurance group 45-50

Fiat Panda Cross: Insurance group 7-10

Suzuki Jimny: Insurance group 13-14
It's true that the more luxurious and higher range models – such as the G-Class and Range Rover – are up there with the most expensive vehicles to insure in the UK. But, as shown above, 4x4s vary significantly in terms of their insurance groups as there are so many different types available.
We recommend that you check a car's insurance group before buying or leasing it, as this will have a significant impact on how much it costs to run the vehicle.
Why is 4x4 insurance expensive?
There's no denying that 4x4 insurance is, on average, more expensive than most other types of vehicles, but why?
There are many factors that determine the cost of your car insurance, and one of them is the type of vehicle you drive, its value and the size of its engine.
Read more: How is Car Insurance Calculated?
Because 4x4s typically have larger engines, insurers often deem them as higher-risk vehicles.
If you are quoted expensive premiums, it is usually based on statistics – for example, a notably high number of people have made a claim when driving your vehicle in the past. You can find out more about this in our full guide: Why Has My Insurance Gone Up?
However, it isn't guaranteed that your cover will be expensive, and there are ways to find cheap 4x4 insurance, as explored below.
Finding the cheapest 4x4 to insure
There are, as mentioned previously, some 4x4s which are placed within lower (more affordable) car insurance groups.
Here are a few examples:
Mitsubishi Outlander: Insurance group 19-20

Fiat Panda Cross: Insurance group 7-10

Suzuki Jimny: Insurance group 13-14

Skoda Kodiaq: Insurance group 12-17
Shopping around when looking for a new 4x4 (or any vehicle for that matter) is very important, as you could end up saving yourself hundreds of pounds on insurance in the long-run. You may not get a powerful pick-up truck within an insurance group below 30, but you could get a solid and well-built 4WD vehicle with very affordable premiums.
Read more: The Best, Cheapest Cars to Insure
Cheap 4x4 insurance for young drivers
Young drivers face the most expensive car insurance premiums on the market, which is largely due to the fact that they do not have enough experience on the road and haven't built up a no-claims bonus – neither of which is through any fault of their own.
4x4 insurance can be expensive for the most experienced of drivers, so 4WD cover for young or inexperienced drivers is often very costly due to their powerful engines and so on.
It's almost guaranteed that a typical hatchback will be cheaper to insure than a 4x4 pick-up truck, and if you really want to drive a 4WD vehicle, that's simply something that you will need to come to terms with. But, there are always ways to reduce the cost of your car insurance, as listed here.
To get started, get a quote with us today using our easy-to-use car insurance comparison tool by tapping the button below:
Modified 4x4 insurance
If you own a modified or classic 4x4, you may want to consider getting a specialist insurance policy in order to ensure that it is fully protected.
These policies usually cover off-road and green lane driving, and are only offered by specialist providers such as Heritage Car Insurance.
They usually come with some requirements that must be met in order for your car to be eligible for cover – for example, classic or modified 4x4 car insurance with Heritage only covers vehicles that are over 10 years old, have three or more off-roading modifications, and an annual mileage of 5,000 miles or less.
How to get cheap 4x4 insurance
The best way to get cheap 4x4 insurance is to shop around, use comparison sites, and get quotes from both basic car insurance providers and specialist 4x4 insurers.
There are many ways to get cheaper insurance, including:
To get your free car insurance quote today, simply tap the button below and complete our short form to start comparing quotes today:
For more information and advice on motor insurance, read our related guides:
---