Is shared ownership a good idea?
Here are the pros and cons to help you decide...
---
---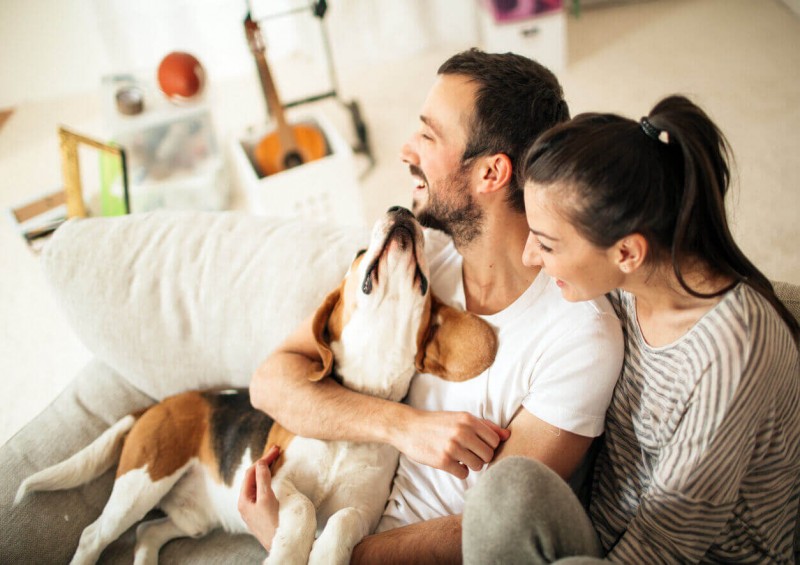 If you're struggling to afford a property purchase, shared ownership could be an affordable compromise. But, if co-ownership is an option you're considering, you should fully consider the pros and cons before committing to this type of purchase.
So what does shared ownership mean, is it a good idea and are there any downsides? Read on to find out.
What is shared ownership?
A shared ownership scheme is something a housing association offers to people who want to be homeowners but are struggling to get on the property ladder.
If you want to buy a property but can't afford a large deposit, shared ownership allows you to take out a much smaller mortgage and pay a more affordable deposit by only owning a part share in a property.
How does shared ownership work?
Instead of fully owning a property, you will only own a percentage of it (usually between 25% and 75%) and the housing association will own the remaining share.
In addition to paying your mortgage, you will also be required to pay 'rent' on the percentage of the property owned by the housing association.
The eligibility criteria for shared ownership can vary between housing associations but usually stipulates that you should:
Be 18 years old or more

Not own a home already (i.e. first-time buyers)

Earn no more than £80k (or collectively if a joint purchase)

Be unable to afford the home you need (i.e. one big enough for your family)

Not be in rent arrears

Have a good credit record

Be able to afford the combined monthly mortgage and rent payments
What are the advantages and disadvantages of shared ownership?
Whilst this type of ownership is a great solution for those struggling to buy their first home, there are many pros and cons you should consider before committing to it. We've listed them below to help you make an informed decision...
| | |
| --- | --- |
| Pros | Cons |
| Small deposit: A smaller mortgage means you can pay a smaller deposit of, say, 5%. | Ground rent (aka service charges): A shared ownership property is always treated as a leasehold which means that even if you buy a house, you may have to pay ground rent for the upkeep of the communal grounds. Some housing associations require payment of this from the outset and some don't charge ground rent until you fully own the property. |
| Property tax: Stamp duty on shared ownership can be paid on the percentage share you're buying only or on the full property value which is useful if you intend to own 100% of the property in the future. Being able to pay a smaller amount of stamp duty helps struggling borrowers as if the share they're buying costs less than £125k (the Stamp Duty threshold), then no tax is payable at all. | Property tax: If you decide to buy a larger portion of the property at a later date and didn't opt to pay the full stamp duty at the outset, you will have to pay stamp duty on any future shares. If you plan to own 100% of the property in the future, you should discuss this with a financial advisor to decide if it's better to pay the stamp duty at the outset or at a later date, when the property could be worth more. |
| Equity: If the value of the property you buy a portion of increases, this means you will build up equity in the property. This could mean you're in a position to buy a larger share in the property or use the equity as a larger deposit on another property. | Rent: By having to pay rent on the share of the property you don't own, you can very often have to pay more than what you would if a property was fully mortgaged. This can make this type of ownership too expensive for some. |
| Staircasing: If you want to and can afford to increase the share in the property you own, you can eventually own up to 100%. This is known as 'staircasing' and this can be done up to three times during your tenancy. You can increase your ownership in affordable chunks of, say, 25% each time. | Staircasing: If you decide you'd like to buy a larger share of the property at a later date, a new valuation of the property will take place. If the property has increased in value, you will have to purchase a further share at the new market value. You should therefore assess whether properties similar to your own have been sold for a higher price before deciding to staircase; timing is key. |
| Selling: When selling a shared ownership property, you are obliged to inform the housing association who will try to find a buyer before your property is put on the open market or may even buy the property back from you, potentially saving you the hassle of finding an estate agent and dealing with the sale yourself. | Mortgages: A shared ownership mortgage will only be available through certain lenders and can sometimes mean higher interest rates. |
| Locality: If you want to buy a property in the area you already live and/or work in, then you could stand a much better chance of getting a property than if you had no local connection at all. | Building defects: Some shared owners have described their shared ownership nightmare experiences after the property they bought was found to have major defects, requiring costly repairs. Panorama investigated this issue which revealed that "many shared ownership tenants now face financial ruin due to the cladding scandal, being unprotected from building defects." One owner told Panorama she was left with a £20,000 repair bill! |
| New builds: Not all shared ownership properties are brand new but many are. Most new build properties are not only in popular locations, they are also usually much cheaper to heat and run and come with a 10-year warranty against defects. | Restrictions: Because you will not own all of a property, you may have to seek special permission from the housing association for any major cosmetic changes and will most certainly be restricted on carrying out any major structural alterations. |
Can you make a profit on shared ownership?
Yes, it is possible to make a profit if the value of the property has increased since you bought your share in it.
As mentioned in an article by Martin Lewis on shared ownership, your property can't be sold for less than what it has been valued at but it can be sold for a higher price which means you'd make a profit when you sell, IF you find a buyer and your property is worth more than when you bought your share in it.
Can I buy another property if I own a shared ownership?
Eligibility for a shared ownership property depends on whether or not you own any other property. However, according to a discussion on reallymoving.com, if you manage to staircase up to 100% and fully own a freehold property (that was previously shared ownership), you may be able to purchase an additional property.
We recommend you check with the housing association who originally owned the property if it's possible for you to buy another property and also seek advice from a mortgage broker.
What are your rights if you're in a shared ownership?
The good news is that you have slightly better rights as a shared owner than what you would do as a standard renter because a housing association cannot evict you for non-payment of rent. That said, they can usually get a Court Order forcing you to settle outstanding rent or sell your share in the property to do so.
For more related information, check out our articles below!
Related guides
---