The stages of purchasing a house (UK)
---
---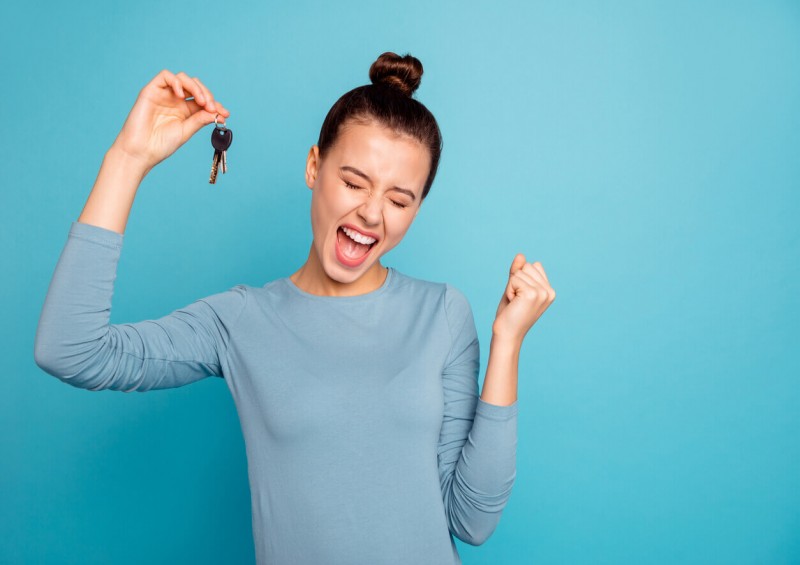 If you're contemplating buying a house for the first time or haven't moved house for donkey's years, you're probably incredibly anxious about it and have no idea about timescales or about the different stages involved when buying a house.
That's why we've put together this comprehensive and simple guide explaining all that you need to know about the process of buying a house, from when you make an offer through to completion.
In this guide:
How long does it take to buy a house?
How long does a mortgage application take?
How long for a mortgage to be approved?
What credit score do I need for a mortgage?
What happens after the mortgage offer?
Is it a good time to buy a house?
How much do you need to buy a house?
How long does it take to buy a house?
If you're incredibly lucky, the house-buying process in the UK can be completed in as little as six weeks from an offer being accepted, but you can typically expect the process to take between 3 and 6 months.
Currently, Covid-19 limitations mean that everything is taking longer than normal, so this could increase these estimated timescales.
There is never a guaranteed timescale and how long it takes to buy a house depends on a multitude of factors, mainly hinging on how quickly each stage of the process is dealt with and how efficient all involved parties are.
ESTATE AGENTS
The estate agents should send out a 'sales proforma' or 'memorandum of sale' notifying all parties about the agreed sale within 1-2 days of your offer being accepted and a sale being agreed.

Note: An estate agent is also responsible for chasing up both parties or their solicitors for outstanding information or documentation. So if things slow up, give the agent a call and see if they can help.
YOUR CONVEYANCER
Upon receipt of the agent's sale memo, your conveyancer should almost immediately send out their initial letter to you containing their terms of business and various other documentation for you to read, sign and return.
You will also be asked to produce original photographic ID and proof of address to either your conveyancer or estate agent (if your conveyancer isn't local). Furthermore, you will need to send a payment on account to your conveyancer to cover third-party expenses like search fees, which is usually around £200-£300.
Your conveyancer will also send out a letter to your seller's legal representative to confirm they are instructed on your behalf.
YOUR SELLER & THEIR CONVEYANCER
When your seller's conveyancer receives a notification of sale from the estate agent, they will send out their initial paperwork to the seller for completion and return. How promptly your seller completes and returns this documentation and how long their conveyancer takes to send out draft contract documentation to your conveyancer significantly impacts timescales. If your conveyancer hasn't received draft contract paperwork within 7-10 days, contact the estate agent.
PRE-CONTRACT ENQUIRIES
Once your conveyancer receives draft contract paperwork, they will apply for searches. Upon receipt of those search results and all title documentation, your conveyancer will raise any enquiries with your seller's conveyancer. It can take a couple of weeks for a seller to deal with pre-contract enquiries, so this is another significant step that should be expedited in the conveyancing process.
MORTGAGE OFFER
Upon receipt of your formal mortgage application, mortgage lenders will arrange for a survey of the property you're purchasing. How quickly the survey is arranged and carried out can vary and can impede the conveyancing process. If you're using a mortgage advisor, they should be able to oversee this arrangement and keep you advised. Once a satisfactory survey report has been received, your lender will then send out a mortgage offer to you and your conveyancer.

Ideally, before you proceed with buying a property, you should seek to obtain, either through a mortgage advisor or directly from a lender, an Agreement in Principle, also known as a Decision in Principle (DIP) for a mortgage as this can help speed up the whole mortgage offer process.

Buying a house with cash obviously means no mortgage is necessary and will significantly speed up the conveyancing process.
EXCHANGE OF CONTRACTS
Once replies to pre-Contract enquiries have been received by your conveyancer, they should then fully report to you on the title to the property and arrange for you to sign all the necessary paperwork and pay a deposit ready for exchange of contracts. A suitable moving date will then be agreed between all parties so Contracts can be exchanged and everyone commits to moving on the 'completion date'.
LENGTH OF CHAIN
How many houses are in the chain has a HUGE impact on timescales.

When you buy a property, the seller will typically want to tie in their sale with the purchase of another property. Likewise, their seller will also very often want to tie in their sale (to your seller) with the purchase of another property, and so on and so forth. This is what is called a 'chain' and if you end up in a long chain of property sales and purchases (several houses or more), then this can delay your purchase considerably.

For example, sometimes absolutely everyone in the chain can be ready to exchange Contracts and then, at the eleventh hour, one party drops out of a sale or purchase in the chain and the whole thing collapses. This then means a seller (not necessarily yours) will have to re-advertise their property for sale and find another buyer which could take several months or an infinite period of time before the chain is complete once again!

If you're lucky enough to be buying a house with no chain and there are no issues with the title to the property you're buying, you should easily be able to complete your purchase within several weeks, subject to receipt of any necessary mortgage offer and how efficient your conveyancer (and the seller's conveyancer) is.
How long does a mortgage application take?
You can usually expect to spend a good few hours filling in documentation and providing documents for a mortgage application, either online direct to a mortgage lender or via a mortgage broker.
Using a mortgage broker can simplify and speed up the mortgage application process as not only will they be able to source you the best deal, but they can also complete and submit a mortgage application on your behalf making the process less stressful.
You might like: What is an insurance broker?
How long does a mortgage take to be accepted?
The general consensus of opinion is that you should expect a mortgage application to take an average of four to six weeks. However, due to the restrictions of the Covid-19 pandemic, this could take longer.
Instructing a mortgage broker to act on your behalf usually speeds up the process as does promptly providing all of the necessary documentation and information a lender needs (i.e. ID, proof of address, bank statements and wage slips).
An Agreement in Principle (where a lender provisionally agrees but doesn't guarantee they will lend you a certain amount of money) can take from as little as a few hours to a few days.
What credit score do I need for a mortgage?
There is not a set credit score you should have to guarantee a mortgage offer, but it goes without saying that a good to excellent credit score will put you in good stead.
However, what is deemed as a good credit score with one credit reference agency may not be considered 'good' with another as there are four UK agencies, all with their own unique scoring system, and a lender will look at more than just your credit score when assessing whether to lend you money, including your income and creditworthiness.
Before applying for a mortgage, it's always a good idea to check how healthy your credit reports are with all three main UK credit reference agencies. You can do this for free via checkmyfile.com.
Read more: What credit score is required for a mortgage?
What happens after the mortgage offer?
Once your mortgage offer is received by your conveyancer or solicitor, they will need to ensure they comply with all your mortgage lender's terms and conditions and provide all necessary information and documentation that they require, including anti-money laundering checks.
Once your lender is satisfied that all of their conditions have been met, your conveyancer or solicitor will arrange for you to sign the mortgage deed in readiness for the exchange of contracts.
Just prior to the exchange of contracts, you and your conveyancer will need to ensure home insurance is arranged and put 'on risk' (activated) so that should the house burn down to the ground between the exchange of contracts and completion, your lender knows that the cost of rebuilding the house is covered by insurance!
Is it a good time to buy a house in the UK?
Yes and no!
Yes, it is for first-time buyers struggling to get a foot on the property ladder because the UK government has recently introduced a new 95% mortgage scheme. The scheme means that you could secure a mortgage to fund purchasing a property with just a 5% deposit.
In addition, the government has also extended the Stamp Duty freeze until the end of June 2021, meaning you do not have to pay Stamp Duty on any house purchased under the value of £500,000.
Another reason it's a good time to buy a house is because interest rates are at an all-time low, meaning you should be able to secure a really good deal on a mortgage.
Having said this, now also isn't necessarily the best time to buy a house in the UK as property values are at an all-time high, meaning that if you max out on a 95% mortgage, you could easily end up with negative equity in your home should the housing market dip.
How much money/deposit do you need to purchase a house?
As outlined above, the government has introduced a 95% mortgage scheme to encourage lenders to loan mortgages to buyers who only have a 5% deposit to pay on the purchase of a property.
The average price of a house in the UK is currently £250,000, so to purchase a property of that value on a 95% mortgage, you will need to save a deposit of £12,500.
You will also need to pay a solicitor or conveyancer to act on your behalf, which can cost around £1,000.
Mortgage fees are usually absorbed (added on to) your mortgage loan, Stamp Duty is only payable on properties costing more than £500,000 and estate agents fees are only payable by a seller (not a buyer).
Apart from moving-in costs (this can be done cheaply if you hire a 'man with a van' or run into thousands if you use a high-end removals company), you'll then need additional funds to pay for home insurance.
For more information, take a look at our related, useful articles below.
Related guides
---