The Cheapest Ways to Travel in London
Save money on travel when visiting the capital
---
---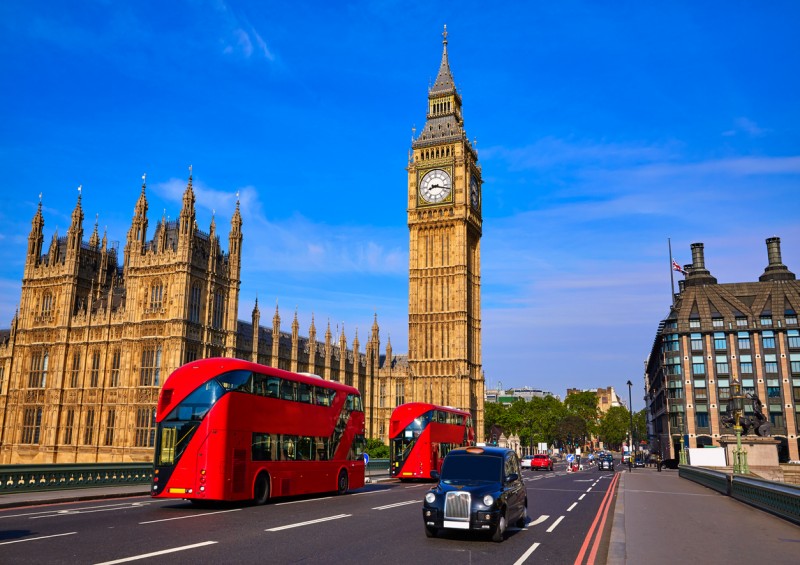 One of the great pleasures of our busy capital city is the fantastic public transport system. Though it can be overwhelming for anyone coming to London for the first time, travelling around London can be done cheaply and become part of the experience itself.
Whether you are planning a visit as a tourist or have to drive to the capital for business, understanding how to travel in London can save you time, money and – most importantly – stress!
Here's our guide to enjoying your time travelling around the UK's biggest city.
Walking - the cheapest way to travel in London
Probably the most overlooked form of transport in central London is your own feet! Unless you have a real need to get somewhere quickly (and often, even if you do), walking around the city is a fantastic way to experience the capital.
When you are walking, you can see the life that makes up the capital with everything from impressive architecture to street art on show. It's walking that lets you experience hidden gems that can turn a by-the-numbers trip into something truly special. Pick yourself up some street food rather than heading to a chain restaurant, drop into a museum or art gallery that you didn't even realise was there and find your way into a dimly-lit bookshop to find something special and inspiring.
London offers so much that just jumping on a tube to get to a destination bypasses so much. Also, walking is often quicker than the other options on the table. Take Marylebone to Baker Street as an example, walking from one station to the other actually involves less steps than it would be to go down the stairs at one, across to the platform, and up the stairs at the other – and that's without taking into account the few minutes it takes for the tube to arrive!
Walking around London is strangely less tiring than other places too, and the miles trip past without you really realising that you've done them. There's so much to divert your attention that you are never focussed on the walk itself, and before you know it you're at your destination. If you do get tired, it's a matter of nothingness to jump on a bus or tube to finish off the trip.
If we haven't already persuaded you to throw on your comfiest trainers to hit the streets of London, you might be interested to know that you can actually get paid for all of your walking. There are a number of activity tracking apps that earn you points for simply being on your feet.
So, try walking – you'll be healthier and richer from the experience!
The Oyster card – blipping your way around the city
When the Oyster card was introduced in 2003 it was a revolution for public transport. Travel in London became so effortless that it was almost so exciting to use your Oyster that you'd go on extra journeys just for the fun of it! Tube tickets were a thing of the past. Almost.
Today, contactless technology and contactless payments are so second nature that the revolution of the Oyster card is easily forgotten about, but it still forms a central part of the best way to travel around London.
Is Oyster just for the London Underground?
No. In addition to being an underground pass, Oyster is the true London travel card and works on all forms of TFL (Transport for London) public transport in the capital, including buses, trams, the clipper service (boat on the Thames) and even the Emirates Air Line cable car!
What is Oyster pay as you go? Is it cheaper to get a Travelcard or Oyster card? How does Oyster contactless work?
At their core, Oyster cards are a top-up pay-as-you-go contactless card for travel purposes. When you go to get on a tube, bus or tram, you simply touch your card on the way in (and on the way out in the case of a tube) and enjoy the journey without thinking about the cost. There are no tickets and the system happily tracks your travel around London, calculating the cheapest fares as you go.
Oyster cards have a daily cap, after which point it won't charge you any more for travel. As this cap is lower than the price of a day travelcard, it's usually never worth getting anything other than an Oyster card.
Oyster pay as you go vs season tickets
Pay as you go (PAYG) cards can hold up to £90 – plenty for a week's constant travel for most people, but if you are travelling regularly then a season ticket is a worthwhile addition. You simply register your Oyster card and pay in advance for a season ticket and that's loaded onto your card, saving you over an extended period.
Without a season ticket, a PAYG card will top out at £7.00 a day for just zones 1-2, £10.10 for zones 1-4 and £12.80 for an all-inclusive run all the way to zone 6. These zones, managed by Transport for London, radiate from the city centre. Most popular attractions (including Buckingham Palace, Big Ben, the London Eye and Piccadilly Circus) are in zone 1.
Oyster visitor cards
Getting an Oyster card if you don't have one costs £5, so remember to add that to the costs of your travel!
Oyster vs. bank contactless cards
With the contactless technology now ubiquitous across all payment systems, you are free to use your standard bank contactless card as an Oyster PAYG card. Other than the inability to load travelcards onto it, it works in exactly the same way. There are a few things to look out for though:
Card clash – if you have more than one card in your wallet, simply bashing your wallet onto the reader could cause the wrong card to be read. If this happens, it will count as a different transaction and both cards could end up being charged with the full daily cap – especially true if you touch in with one card and touch out with another! Take care to separate the card you are using for travel and never mix-and-match.

Foreign transaction fees – if you are using a non-UK bank card then you may find yourself paying exchange fees and transaction fees every time you use your card. If you only have non-UK contactless cards then it is best to buy an Oyster card while you are in London for travelling.

Missing out on offers – the Oyster card comes with some promotional offers that might benefit you during your stay, such as discounted entry at selected attractions, money off sightseeing excursions and cheap food in London. It may be worth the extra fiver to take advantage of these!
Driving and parking in London
London is a big city and sometimes you will want to drive in, especially if you are bringing the whole family or need to arrive in perfect condition after an air-conditioned drive.
Parking
In the past, parking in London has been one of the main reasons to avoid using your car in the city. Costs can be extreme and finding somewhere to park that you trust that is also within budget can be difficult at best. Thankfully, the clever people at Just Park have you covered!
With the Just Park app you can plan your parking in advance and find a registered location that suits your purpose, often getting you closer to your destination that you thought possible. It's a great way to take the worry and stress of parking out of the equation and will save you substantially – we can heartily recommend the service, and not just for London, as Just Park covers the whole of the UK!
Don't try to park anywhere you are unsure about, as penalty fees can be extremely expensive and in some cases can even exceed the value of your car!
The congestion charge
If you need to drive into central London between 7am and 6pm Monday to Friday then you will be facing the congestion charge. You also need to be aware of the LEZ (low emission zone) and ULEZ (ultra-low emission zone) where you will be charged extra if your vehicle fails to meet the emissions criteria.
The LEZ really only affects those coming in with a larger van, minibus or heavier vehicle, but the ULEZ can affect anyone. If your car is older and not particularly environmentally friendly, then the combined congestion (£11.50) and ULEZ (£12.50) charges can mean paying £24 a day just to drive into the city!
The stress of driving
Charges aside, driving in London can be quite nerve-wracking for people not used to the high volume of traffic or geography of the area. It's usually far better to avoid the drive altogether and treat the city as a public transport zone. In fact, a huge majority of Londoners don't even own a car, finding it an expensive waste of time!
The London Underground – how to travel in London like a native
The tube is used by 2 million people every day, totalling 5 million journeys with 270 stations. It's efficient, easy to use and safe. For most uses, it's the best way to get around London.
But to a newcomer travelling from a rural area, the underground can seem frightening, so here's a few tips to make it more pleasant:
#1 – Use an Oyster or contactless card
It's mentioned above in detail, but an Oyster card really is the way to go. It stops you holding up queues, lets you put money to the back of your mind and enables you to enjoy your day of travelling without concern.
#2 – Plan your journey
Even if 'plan' only means a quick look at the map five minutes before entering the station, make sure you have a good idea of where you want to go, what lines and changes you need and which direction you are headed in. Stopping in the middle to stand on a platform and try to work out where to go next is all well and good, but you'll feel a lot more comfortable if you have it all in your head before joining the crowd.
#3 – Stand on the right, walk on the left
When using an escalator (and there are lots!), make sure you stand (and keep your baggage) to the right-hand side, allowing busy commuters and hurrying Londoners to pass you on the left. Nothing upsets a regular tube-user more than finding a confused tourist blocking their path on the wrong side of the escalator.
#4 – Trust the signs
The London underground is very well signposted. Keep your eyes open for the signs that tell you what tunnels and stairs to take and you will confidently move through the system.
#5 – Let people off the train before you crowd on
There'll be another one in a minute! Don't rush and be polite – shoving gets you nowhere.
Bonus tip – Know where you are
You'll be surprised how helpful you will find it to have an idea what the aboveground version of your location looks like. Many people get so engrossed in the genius simplicity of the tube map that they begin to believe it represents the truth of London above them – yet the truth is very different. By understanding where the stations are in relation to each other in the real world, you can often save time coming off the tube at a different stop and not spending time changing lines and going up and down more escalators to replace what would have been a two-minute walk!
Save money on travel in London with a classic bus ride
A double-decker red bus is a worldwide symbol of London, so why not try it while you are visiting? Bus rides are significantly cheaper than tube journeys, with a daily cap of only £4.50 if you keep to the buses. Other than walking, catching a bus is the cheapest way to travel in London.
It's also a great way to see the city. Rather than the monotonous run of endless tunnels, a bus ride lets you see a vast swathe of the landscape and will pass from one borough to another bringing you a diverse and interesting look at London life.
So why doesn't everyone just use the bus? In truth, it's a bit slow. Despite dedicated bus routes and lanes, travelling from one end of London to the other on a bus can take up to three times as long as the equivalent tube journey. You're saving money, but you are losing in time.
When it comes to a quick run along Oxford Street or a skip to some of the areas not well served by the tube system though, the bus is a great way to travel. You can hop on and hop off at will, without ever worrying about distance. Unlike most systems across the UK, the London bus system is based on trips and not distance – it costs £1.50 to jump on the bus and will remain £1.50 until you get off, whether that's the next stop or one an hour and a half later!
You will need an Oyster or contactless card though – London buses have been 100% cashless for years to speed up the embarkation process. Coins will get you nowhere here!
Santander cycles – effortless bicycle hire across the city
Popularly nicknamed 'Boris bikes' after the Mayor who introduced them, Boris Johnson, you can hire a bike for £2 per day and cycle across the city. Eco-friendly, healthy and giving you a unique insight into London, the cycle scheme is an excellent way to travel around. It's easy to use and requires no pre-booking – you can just download the app and pay through it, taking a bike from any of the docking stations across town and leaving it at a similar location when done.
With dedicated cycle routes across the city, cycling is a great way to get from A to B in London and will mean you see parks, canals and other areas of the capital that you would otherwise miss.
Does London have Uber? Cabs around the capital
Despite a tumultuous time regarding licensing, Uber operates alongside the classic London Black Cab and many registered hackney cab (minicabs) services as taxis across London.
As a means for getting around, the various taxi services provide an efficient and effortless way across the vastness of London, as well as performing a central role in getting visitors to and from the many airports that service the city, however they can be quite expensive and if you are looking to save on costs around London, it's rare that a taxi is the right way to go.
For getting home late at night while tired, however, a pre-booked taxi is a very welcome sight! Just make sure to never get into a cab that you didn't order – only a black cab can be hailed in the street and an unlicensed minicab is illegal, uninsured and potentially unsafe.
Enjoying the eclectic means of travel
Fancy visiting the Tower of London by boat? Or going to a concert via cable car? How about grabbing a rickshaw to see the sights of Soho? London has it all.
Sometimes travel can serve two jobs at once, taking you to your destination while being the entertainment in itself. London has plenty of ways to travel around that are rare to unique in the UK and some of them (like the Thames Clipper service) are as efficient as getting the tube!
It's worth taking some time out to look at alternative means of transportation when planning your day out – you may find the journey more fun than the destination.
London for the family – transportation costs in London for children
Many cities aren't well set-up for families, making car travel the only real viable option once there's four or more of you. Train prices and bus fares across the UK can make travelling on a budget impossible once you have a few kids, and the cost of holidaying in the country is often thrown by the unfortunate reality of paying for transport.
London, quite pleasantly, throws off this problem with a city-wide level of free travel for children. It's a system so ingrained that Londoners who leave to try life in other areas of the UK are quickly shocked by the idea that they have to pay for their kids on a bus.
Children under 5
The simple rule here is that any child under five travels for free at all times on buses, the underground, docklands light railway (DLR) and trams.
Children under 11
The free travel continues here assuming the child is accompanied by an adult. Children travelling unaccompanied will need a valid 5 to 10 Zip Oyster photo card for tubes and DLR.
Children under 16
The Zip Oyster card for children 11 to 15 provides free bus travel and discounted child rate travel on the tube – a 50% saving on adult fares.
Getting a visiting Zip Oyster card
If you are travelling to London with children 11 to 15 then you will need to get a discounted Oyster card (equivalent to a Zip card) for your teenagers. Simply tell the ticket office staff that you need a card for your 11 to 15 year old and they'll apply the discount to any standard Oyster card.
London on a budget
Despite an easy assumption, the public transportation cost in London is among the most economical in the UK. Though accommodation may be pricier than other cities, once you have somewhere to stay in London it is very easy to get around and enjoy the capital on a small budget. Many major attractions such as the Natural History Museum or National Gallery are free to enter, and there are plenty of ways to feed a family without breaking the bank. Enjoy a picnic in Kensington Gardens or opt for some of the tasty food in the smaller cafés from Soho to Southbank.
Transport for London (TFL) have made great strides from pioneering contactless tickets to dedicated TFL weekend travel that will see you safely home no matter the time of day or night – and each year it just gets better.
Just don't expect to see it all in one visit – even those who have lived in London for decades have only scratched the surface of this modern, yet impressively historical city.
Related articles:
Save Money Before Your Holiday
---