Witnessing a Will Legally Using an Online Video Call
Virtual witnesses for wills are temporarily made legal.
---
---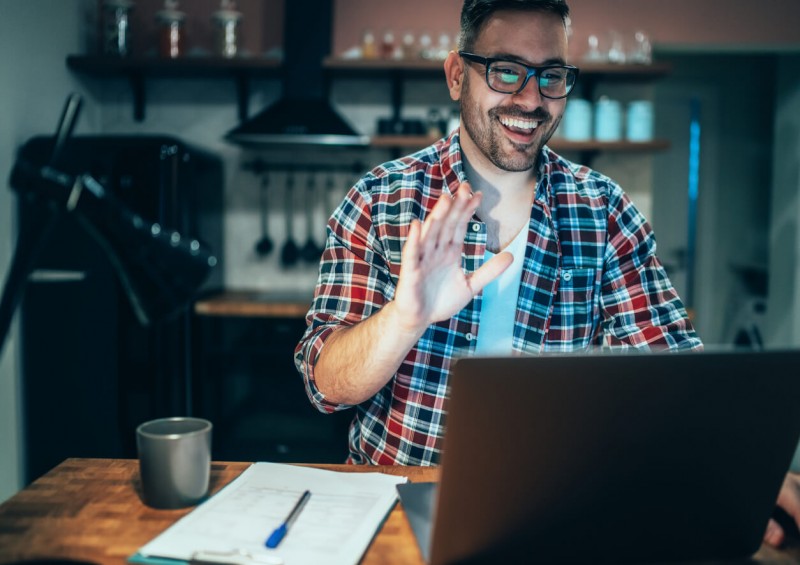 As a way of making it easier to write a will online amid the Coronavirus pandemic, it has now been made temporarily legal to witness a will online through video conferencing.
This means that you no longer need to be with witnesses physically when they sign, as a Skype or Zoom conference call or even a simple FaceTime will now suffice, providing certain conditions are met.
Making a will online is now, therefore, easier than ever, as almost every step of the process can be done from the comfort of your own home.
New laws: Who can witness a will?
For a will to be legally valid, it must be signed in the presence of two or more witnesses. With Coronavirus putting a stop to near-enough all forms of contact with our friends and family outside our households, this has proved difficult and many people were unable to set up a will during the first half of 2020.
This law (the Wills Act 1837) has been temporarily amended, meaning that witnesses can be 'present' through an online video link, if it isn't possible to meet physically. The new legislation applies to wills made in the UK from the 31st of January 2020 (when the first Covid-19 case was recorded in England and Wales) until the 31st of January 2022 – this two-year period can be shortened or extended if it becomes necessary.
There are some exceptions in terms of which wills are eligible, including:
If a Grant of Probate has already been issued
If the probate application is currently in the process of being administered
Once these temporary rules are ceased – which is due to be the 31st of January 2022 if everything goes to plan – all new wills will need to be made using the traditional method of having two witnesses physically present.
What makes a will valid?
The new law concerning UK wills and witnesses does not affect the existing requirements for a will to be valid. So, in order for a will to be legally binding in the UK, the following conditions must be met (among others):
The will must be made 'in writing and signed by the testator or by some other person in his presence and by his direction'.
It must appear that the 'testator intended by his signature to give effect to the will'.
The signature must be 'made or acknowledged by the testator in the presence of two or more witnesses present at the same time'*.
All witnesses must either attest or sign the will or acknowledge his/her signature in the presence of the testator, but no form of attestation shall be necessary.
*The new legislation means that virtual presence is now temporarily considered a valid form of presence.
Wills also include some other general requirements, including that the person making the will (the testator) is of sound mind and understands their intentions and what the will includes.
Social distancing: Can you witness a will from a distance?
Under traditional will-writing laws, a witness must have a 'clear line of sight' of the testator signing his/her will and must understand that they are witnessing and acknowledging the signing of the document. This rule is in place to reduce the risk of fraud and applies to all wills in the UK, even if they are being witnessed virtually.
If you wanted to make a will and have it witnessed in-person during Covid-19, while adhering to social distancing rules, it could be done by witnessing through an open door of a house or vehicle, from a corridor or adjacent room, or in a garden.
Before this new law was introduced to allow for the witnessing of wills to be done via video-link, doing so in-person from a distance was your only option.
Witnessing a will online (Skype, Zoom and FaceTime)
While the temporary new legislation has been passed to allow people to witness a will online through a video call, it's important to note that the Ministry of Justice has stressed that this should only be used as a last resort.
The government's official website has, however, reassured testators that the device and type of video-conferencing method used is 'not important, as long as the person making the will and their two witnesses have a clear line of sight of the writing of the signature'.
If you are the testator, you could use a statement similar to the following one to ensure that your will is legally valid and to prove that the witnessing is legitimate:
"I, FULL NAME, wish to make a will of my own free will and sign it here before these witnesses, who are witnessing me remotely using a live video link", for example.
Doing so on record should help avoid any legal disputes, which is important as the number of contested wills are reportedly at an all-time high, according to the Financial Times.
You should record the whole signing and witnessing process if possible, perhaps with the help of a family member or cohabitant. This will help in the event of the will being challenged or disputed, as it provides video evidence of your will being witnessed in a legally valid way and shows that you were not unduly influenced or subject to any fraud.
The witness must view the will being signed in real-time – so sending a video of you signing the document over WhatsApp (for example) won't be adequate.
The quality of the sound and video must also be "sufficient to see and hear what is happening at the time".
Step-by-step: Online will witnessing
The government recently released a step-by-step guide to follow when witnessing a will using a video conference call. This, in short, is as follows:
Step 1: Ensure that the witnesses can see you (the will-maker), your actions (signing a will) and each other. This will require a camera angle that shows your actions, rather than just your head and shoulders.
Step 2: Ask the witnesses to confirm that they are able to see and hear you, and that they acknowledge and understand their role as a witness. Sign your will in clear view.
Step 3: The document should be taken to the witnesses to sign within 24 hours (ideally).
Step 4: A will is only valid when the testator and witnesses have signed the document and acknowledged their signature (or have been witnessed signing it). In order to do this remotely, you should deliver the document to the witnesses and then have them video call you in order to witness them signing it. Again, you should record this session if possible.
Step 5: It is not a legal requirement for both witnesses to sign the document together, but it is recommended. If the two witnesses are not physically together when signing your will, you will need to do step 4 twice in order to witness both witnesses signing the will.
Regardless of how you decide to write a will – whether you do so online, through a solicitor or yourself using a DIY will template – you need to make sure that it meets the legal requirements in the UK.
If you die without a legally valid will, your estate will be distributed in relation with the rules of intestacy, which may not represent your true wishes and could lead to all sorts of issues.
Read more: Who Inherits an Estate if There is No Will?
Electronically signing a will
Despite the temporary legislation allowing the virtual witnessing of wills in the UK, the government is not permitting witnesses to sign the document electronically as the risks of undue influence and fraud would be too high.
There is, however, a law reform project being undertaken by the Law Commission, which includes the consideration of allowing electronic wills in the future.
You might like: How Much Does it Cost to Write a Will?
Making a will online
This new legislation means that making a will from home or online is, therefore, easier and more convenient than it's ever been.
Writing a will online can be done easily through a professional will writing service, allowing you to document your wishes without the hassle of lengthy phone calls or meetings.
Get started today, or head over to our related guides for more information on wills and probate:
---