Home Insurance & Subsidence - What you need to know
---
---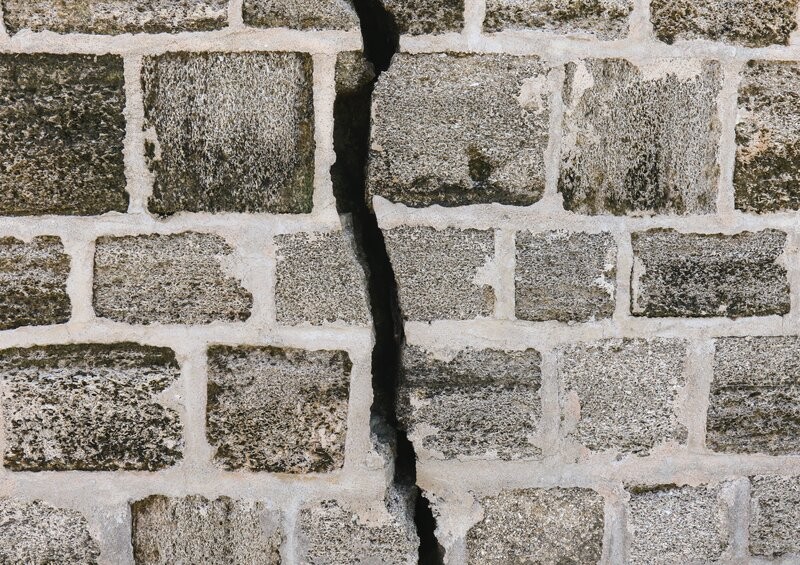 Alongside expensive property problems like rising damp, dry rot, dodgy electrics and Japanese Knotweed, another home owner's worst nightmare is discovering that their property has subsidence, heave, landslip or settlement.
(To clarify: 'subsidence' means a property is sinking downwards; 'heave' means the foundation movement is upwards; 'landslip' means a small movement of rocks and soil down a slope sideways and 'settlement' means vertical movement of the ground compacted by the weight of a property and is very often a problem with newly built properties. For simplicity, we will continue to use the word 'subsidence' throughout this guide to collectively refer to any of these structural issues.)
With research indicating up to 20% of homes in England and Wales could be susceptible to subsidence and that subsidence can reduce a sale price by approximately 20%, it's alarming that only one in five property buyers pay for a structural buildings survey prior to buying a property.
What's more, many homeowners do not always have adequate subsidence cover for their properties and in the event that they have to make a home insurance subsidence claim, may have their claim rejected as a result.
So, does house insurance cover subsidence sufficiently or do you need to pay for extra cover? Here's what you should know about domestic property subsidence and home insurance.
How do you know if your home has subsidence?
First things first (before you go into complete panic mode) is knowing for sure if your home has a subsidence problem.
When you bought your home, if you chose to pay for a full structural survey (in addition to a basic valuation survey carried out by a mortgage lender's surveyor) then this should have revealed whether your property has a history of subsidence problems or underpinning works.
However, if you didn't pay for a full structural survey, you could be in for a nasty, costly surprise and should look out for the following visual signs of subsidence in your home:
Diagonal cracks

that are wider at the top than they are on the bottom and appear:

on internal or external walls, ceilings or around doors and windows

to be thicker than a 10 pence piece (3mm or more)

where an extension joins the original house

suddenly after a prolonged period of dry weather

Sticking doors and windows:

subsidence will affect the shape of door and window frames making doors and windows 'sticky' more difficult to open and close.

Wrinkly wallpaper:

but only be concerned if you're sure damp isn't the issue
You can check for subsidence problems in the area where you live (or are thinking about living) by looking at Geobear's subsidence hotspots map. This map is by no means pinpoint accurate but viewing the map can help flag up extremely prone areas, especially those shown in red with a yellow outline.
Does building insurance cover subsidence?
Partially - the majority of standard building insurance policies will only provide cover for the cost of 'repairing' subsidence damage and will not help towards the costs of preventative maintenance works.
You should thoroughly check what buildings insurance subsidence cover you have, especially if you have an older property susceptible to subsidence. 'Prevention is better than cure' as they say and you will want to be able to claim for preventative works, should they be necessary.
Note: Not many policies will provide cover for preventative works; they very often only cover repairs - check the terms and conditions of your buildings insurance policy.
Read: Home insurance add-ons - What extra cover do you really need?
Can you get insurance for property with subsidence history?
Yes, there are certain insurers who provide competitive underpinned house insurance but not all mainstream insurers do or, if they do, the insurance premiums will be sky high and the policy will very often contain a long list of exclusions.
Note: Unfortunately, there is no such thing as 'subsidence indemnity insurance' so you can't ask a seller to provide indemnity insurance cover for potential subsidence issues when you buy a property and can only rely on a structural survey report. Even if you are buying a house with minor subsidence, most mortgage lenders will not offer you a mortgage.
How much does subsidence insurance cost?
According to recent research the average cost of home insurance where a property had subsidence is £320.06 a year.
Read: The Average Home Insurance Cost in the UK
How long do you have to declare subsidence for insurance?
There is no time limit on when you have to notify your insurer about subsidence (with a view to making a subsidence home insurance claim). But, of course, it makes sense to report a suspected issue sooner rather than later to avoid the upheaval of more costly and disruptive repairs.
How much excess is payable on a subsidence claim?
A subsidence excess is typically around £1,000 although this can be higher with some insurers so keep an eye out for this when comparing quotes.
What to do if your subsidence insurance claim is rejected
If you try to make a subsidence claim on your home insurance and you think your insurer has unreasonably rejected your claim, you can raise a complaint with the Financial Ombudsman.
If you'd like some examples, real-life case studies of rejected subsidence claims can be found on the Financial Ombudsman's website.
You might like: Most common UK homeowners insurance claims
Will a subsidence claim increase home insurance premiums?
Usually, yes. Just like any other type of insurance, home insurance premiums will typically increase after a successful claim has been made.
Can you get home insurance for subsidence after a claim?
Most insurers should continue to offer insurance after a subsidence claim but some may refuse. If they do, you can complain to the Financial Ombudsman.
To compare affordable insurance for your home – get a quote today by tapping the button below and see how much you could save:
---