How do car insurance claims work?
---
---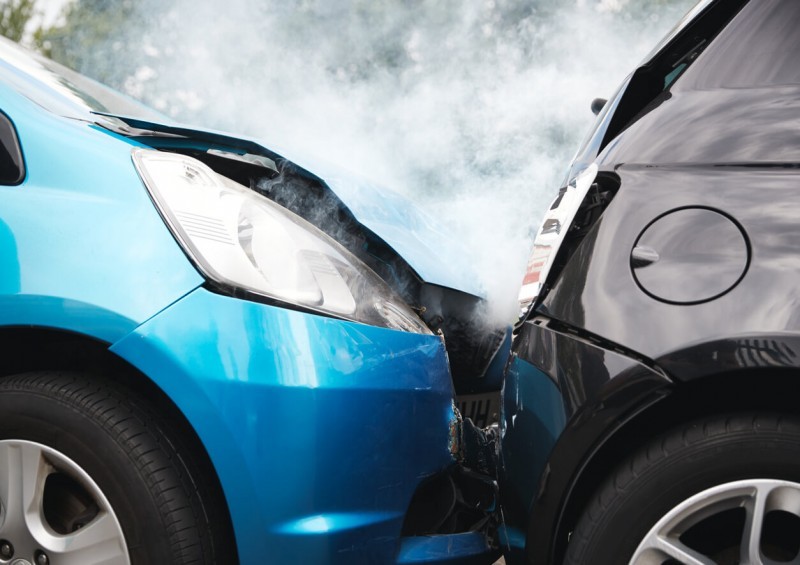 Nobody ever likes to think about being involved in a car accident, but unfortunately, car accidents do happen and while you hope that you never have to deal with the consequences of being in a collision or incident, it's a good idea to be as prepared as possible if it happens so that you know how to go about making an insurance claim on your car insurance policy.
In our guide below, we've put together our helpful top tips all about the car insurance claim process, so that you know what to expect if you ever need to make a car insurance claim.
How to claim on car insurance
If you're involved in a car accident or collision that requires you to make a claim, there are several steps you'll need to take in order to file it correctly so that you're able to receive a payout (if necessary).
Of course, the first thing you need to do if you've been involved in an accident is to ensure that any passengers of your own car and the other vehicle involved in the collision are OK. If anyone is injured, you should call for an ambulance and the police right away.
Once you know that everyone is safe and taken care of, you will need to gather all the information surrounding the incident such as:
The name of the other driver/s involved if applicable
Their car insurance details
The make, model and car registration
The names and details of any passengers in the vehicle/s
Names and details of any witnesses
You should also take photographs of the collision or accident so that you can provide solid evidence to your insurance provider.
If the crash happened with lots of people around, you can ask witnesses to provide a statement if they're willing to so that they can provide an unbiased first-hand encounter of the accident.
How to make a claim
Once you have all the necessary information, you will then have to contact your car insurance provider. The easiest way to do this is probably via telephone but double-check your policy documents to see if they have a prefered method of being contacted.
You will then need to provide your car insurer with all the details and information gathered at the accident and then they'll start the process of arranging your claim and payout if they think it's worthy.
Even if you speak to them on the phone at first, your car insurance provider may ask you to fill in a full claims form so that they have all the information.
How do insurance companies pay out claims?
Car insurance companies will pay out claims depending on your policy details and the amount of damage caused to you, your vehicle and anyone else involved if the claim needs to cover the costs of the other driver involved as well.
How long do insurance claims take?
The length of time it can take for car insurers to payout depends on several factors. If you managed to gather a lot of information at the source of the accident, such as the name, address, phone number and insurance details of the other person involved, then it should help to speed the claims process along. You should hopefully receive the payout from your claim within a matter of weeks.
However, if you don't have all the information or the insurance company feels that they need to investigate the incident further, then it may take much longer for your claim to be paid out.
It also depends on whether anyone suffered from any injuries, how badly damaged the car/s was and whether someone admits fault for the accident. If a further investigation needs to be carried out, then it could take several months or even over a year to settle your claim.
Do I need to make a claim if I'm involved in an accident?
If you're involved in a minor accident or incident and there was little to no damage caused to you, your vehicle or anyone else involved, then it might not be necessary to make a claim, especially if it would be cheaper to fix the damage yourself, rather than going through your insurance provider.
However, you must still tell your car insurance provider that you were involved in an accident, even if the damage was very minimal. This is because your insurance policy will likely state that you have to inform the insurer about any accidents or incidents or you could end up invalidating your policy, which in turn could make it very difficult for you to obtain car insurance in the future.
Therefore, it's always best to tell your provider just in case, even if there is no need to make a claim.
When should I make a claim?
Each car insurance provider differs on when they expect you to inform them of an accident, but you should try and tell them within 24 hours so that the incident is still fresh in your mind and you have all the necessary documents and information to be able to make a claim.
Why has my car insurance claim been rejected?
Unfortunately, just because you pay for car insurance and you've made a claim on your policy, doesn't necessarily mean that it will be accepted and that you'll receive a payout from your insurance provider.
Your claim may have been rejected for several reasons, including:
If the

insurer finds inaccuracies in your policy that you failed to disclose

when you first took the policy out such as your address, any modifications to the vehicle, the number of miles you drive or your job.

If

your vehicle was found to be unroadworthy at the time of the accident

, the insurer may not payout.
Start saving on car cover with Compare UK Quotes today
---