A Guide to MOT Insurance: Do You Need it?
---
---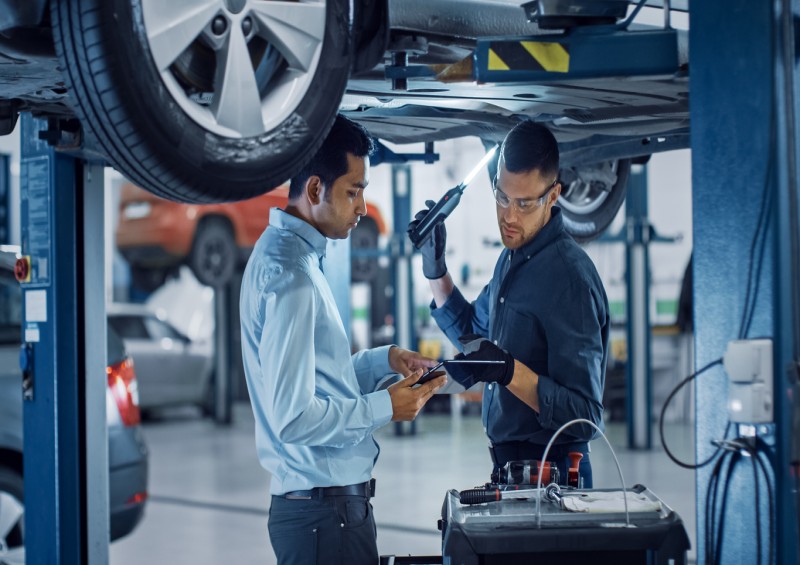 If you're concerned about whether or not your vehicle will pass its MOT test, whenever that may be, it might be worthwhile having an MOT insurance policy in place to cover any costly repairs.
If your vehicle fails its MOT check as a result of a fault that's categorised as 'major' or 'dangerous', you will not receive a valid certificate and you will not be able to drive it until everything has been repaired and your car can be declared roadworthy again (as per UK law).
Sometimes, repairs can be unexpected and costly, so you may want to think about getting MOT insurance to cover you if you can't afford to cover the costs yourself when your MOT is due.
In this guide, we explain what MOT insurance covers you for, why you might need it and where to get the cheapest deal.
MOT insurance explained
MOT cover protects you in the event that your vehicle fails its routine MOT test and results in you having to fork out for expensive repairs. Generally, the policy will pay out after a claim to help cover the costs, meaning that you'll get your money back and won't need to deal with the stress of being out of pocket.
If you buy a second-hand vehicle from a dealership, you may be offered MOT insurance as part of the deal, as the risk of a failed MOT check is higher with older cars due to them having covered more miles over the years.
You can also purchase MOT insurance with third-party insurance providers, just like you would with standard annual car insurance. There aren't as many MOT insurance providers available as with standard car cover, but this does make it a little easier when it comes to comparing policies and quotes online.
What does MOT insurance cover you for?
Before answering this question, it's important to know that every provider and policy will come with its own terms and conditions, so always make sure you are fully aware of what you are and are not covered for when purchasing cover, as with any other type of insurance.
Generally, MOT insurance offers the basic protection of paying out a pre-agreed lump sum in the event that your vehicle fails its MOT test and you need to make a claim on the policy to cover the cost of all repairs needed to make sure the vehicle is legally roadworthy.
However, it's also important to know that there are likely to be exclusions; events or parts that your policy will not cover you for, such as:
If your tyres are worn down to a level that's considered illegal
If you need new brake pads (discs)
If your vehicle's exhaust system has blown
If your lights and lighting system fail in the MOT check as a result of an accident or vandalism, the policy will not cover you
Also, windscreen wipers are generally covered with most policies, but you'll often find that the blades are not.
Again, remember to always check the inclusions and exclusions when comparing quotes and purchasing a policy, as the one you choose may differ to what's listed above.
The cost of MOT insurance
The price of an MOT insurance policy will differ from provider to provider (or dealer) and the cost will largely depend on what the policy does and doesn't cover you for.
So if you find a cheap deal for MOT cover, that's great! But just be sure to check the terms and conditions so that you fully understand the situations in which it will pay out and the situations where it won't.
Generally, you'll be looking to pay within the range of between £30 and £150. If you want to get the best deal, it's worth contacting each provider and getting a quote from each one so that you can compare.
Unlike with standard car or home insurance, you cannot use a comparison site to compare MOT insurance prices yet, so your best option is to contact the providers yourself, and be sure to read a range of reviews to see how other people have found their services.
Do I have to pay excess?
Like with most insurance policies, you are required to pay an excess amount in the event of a claim, which is pre-agreed during the application process.
With MOT insurance, you are likely to be required to pay an excess if you need to make a claim, but it's unlikely going to be too much - it may even be as low as £10, but again, this will differ depending on the insurer and the policy.
Do I really need MOT insurance?
Getting MOT insurance is not a legal requirement in the UK, unlike standard car insurance, so you do not have to purchase a policy.
It is a type of optional insurance cover, like breakdown cover or pet insurance, but many people choose to purchase it to have the peace of mind that should their car fail its MOT check, they won't be left out of pocket, especially if they're driving around in an old banger.
You might like: What insurance do I need?
How do I get the cheapest deal on MOT cover?
If you're interested in getting MOT insurance, make sure you compare quotes, policies and reviews from as many providers as possible.
This may involve having to email or call each company directly, but it'll be the only way to get the best price and best policy suited to your needs as well as your budget.
Just remember that just because a policy is the cheapest, it doesn't necessarily mean that it's the best one for you. Always be sure to check what you are and what you aren't covered for.
Also, if you are planning on buying a car from a used-car dealership, ask them if this is something they offer; either included in the deal or as a standalone, separate policy. This will also help give you a guideline when comparing prices.
If you'd like to find out more about your vehicle's MOT or car insurance policy, check out our useful articles.
Related guides
---