What is the Average Cost of a Full Car Service in 2022?
---
---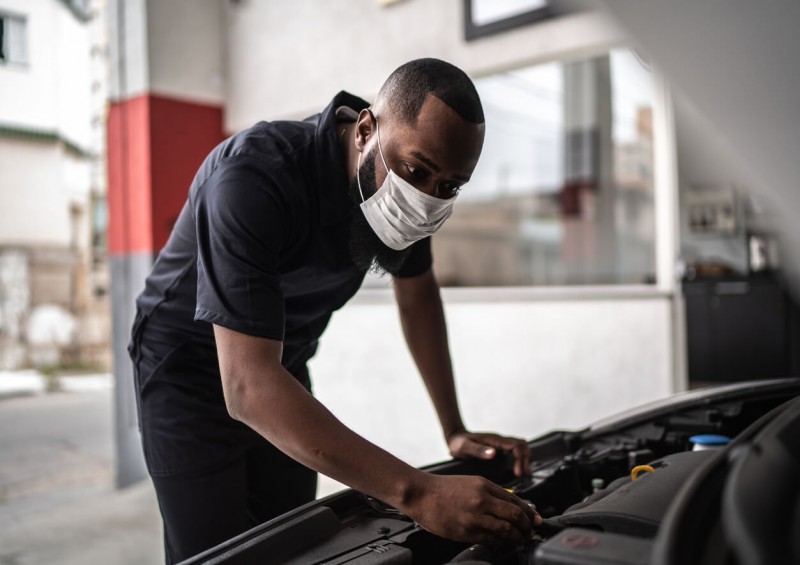 Having your car serviced regularly helps your car run more efficiently, retain its value and avoid any problems (such as breakdowns) and potentially expensive repairs down the road.
On top of that, cars that come with a regular service history are generally easier to sell as they are more appealing to second-hand car buyers.
It's important to know that if you don't have your car serviced and maintained regularly, you could be invalidating your car insurance policy, which means you may be driving around illegally without insurance and possibly face penalties and driving convictions. The same goes for having a valid MOT certificate, which ensures your vehicle is safe to be driven on UK roads.
Generally, you are expected to get your car serviced annually or every 10,000 - 12,000 miles, whichever comes first, but this will depend on what type of service your car needs, how many miles you cover and a few other factors.
As there are a few different types of car services and a number of places you can go to get your car serviced, it's hard to know exactly how much you'll be expected to pay.
In our guide below, we explain all you need to know about:
different types of car services available

how much a car service should cost on average

how often you should have your car serviced

frequently asked questions
so that you can be well-prepared before attending your car service.
What is included in a car service?
What's included in car servicing depends on whether you have an interim service, full service or major car service.
The type of service your car needs depends on the age of your car and how much mileage you cover; if you're not sure which type of service you need, be sure to ask your finance company, dealership or local garage.
Usually, the manufacturer of your vehicle will have specific recommendations for when to service the car in order to keep it in the best condition possible the older it gets, so by contacting the company where you bought the vehicle, they should be able to help you.
What is an interim service?
An interim car service should include:
Oil change
Oil filter change
50 detailed checks of major parts (steering, clutch, hoses and pipes, etc)
If you generally drive more miles than the average driver (more than 12,000 miles per year), it is recommended that you have an interim service every 6 months to make sure all parts are functioning as they should be and to ensure it's safe for you to drive.
What is a full service on a car?
A full car service should include:
Engine oil change
More comprehensive engine checks than in an interim service
Oil filter change
Air filter change
Brake checks
Checking of drive belts
Heating and cooling system (air-con) checks
As a full car service is more comprehensive than an interim, around a total of 80 point checks will be carried out on your car. For drivers that cover an average number of miles per year, their car should have a full service every year.
What is a major service on a car?
In a major car service, the mechanic will check parts that are usually recommended to be replaced every two years. A major car check should include the following where applicable:
Engine oil change
Oil filter change
Air filter change
Pollen filter change
Cabin and fuel filter change
Brake fluid and coolant replacement
Spark plugs checks
Up to 80 point check
If your car needs a major service, it will involve the same checks carried out in a full service, but everything will be looked over in even more detail.
When is my car due to have a service?
Most vehicle experts recommend the following as a guide for when to get your car serviced:
Interim car service: every 6,000 miles or 6 months
Full car service: every 12,000 miles or 12 months
Major car service: every 24,000 miles or 24 months
For example, if your car has covered 12,000 miles in less than one year, it will need to be booked in for a service. If not, you can just wait until it's been 12 months after its last service and then book one in.
How much should a car service cost?
The average cost of a car service can be affected by the type of car you have, where you live, where you take it (dealership, chain or local) and whether you have an interim, full or major service.
If you live in London or 'down south', costs are usually much higher than if you live up in the north of the UK, for example.
Dealerships are usually more expensive and some drivers mistakenly think they're obliged to take their car to a dealership for a service to keep its warranty cover, but this is not the case.
Large chains like Halfords and Kwik Fit are competitive on pricing, but we'd recommend 'shopping around' locally too for competitive comparables.
If you got your car on finance, you may wish to service it with them just to make sure they use approved replacement parts for your specific vehicle and manufacture if you want peace of mind when handing the car back once the contract ends - the choice is yours. Just make sure you keep proof of your service every time.
Taking all of the above into account, overall, the average car service cost in the UK is as follows (on average according to checkatrade.com):
Interim car service average price in UK: £100
Full car service average price in UK: £155
Major car service average price in UK: £210
The above figures are approximate and do not cover the cost of repairs or replacement parts (other than filters included in the basic service).
If your car is electric or is smaller/less powerful than average models, these prices should be cheaper and conversely, if your car is larger and more powerful, you can expect to pay more.
Overall, the cost will depend on the:
Type of service your car needs

Remaining vehicle warranty

Size of the car's engine

Make and model of the car

Location

Date and time

Quality of the service (the place where it's carried out)
As the price can differ from place to place, it's worth shopping around to find the best price and reading reviews of the company to make sure your vehicle is going to get the best quality service.
Note: Some places may even let you spread the cost of a car service if you are struggling to pay for it all upfront, so be sure to look out for this, too.
How long does a car service take?
It's hard to put a specific time bracket on a car service as each garage may vary and it will, of course, depend on how busy a garage or dealership is on that particular day.
When you book a car service, most garages will ask you to leave your car for half a day for an interim service and sometimes a full day for a full or major service.
The average time taken to conduct a car service is:
Interim: 1-2 hours
Full: up to 3 hours
Major: 3+ hours
If you want to have an MOT at the same time as a full car service, then you should allow 2 to 4 hours.
If you need to travel during the day for work or social purposes, you will need to arrange a rental car - in most cases, the place that is carrying out your car service can arrange this for you at a low cost.
Want to know when your MOT is due, test history or if your car will pass its next MOT? Visit Will It Pass? to find out.
How to get the best price for your car service?
When you are comparing car service prices, whether you do so online or by contacting places directly, you will need to take into account what is actually offered in the car service (they should be able to provide a checklist).
Many people feel that a more expensive service will offer a better service and more checks, but it's important to bear in mind that while a service may be more expensive than others, it may not include more checks or specific part replacements as standard, so you will need to make sure that you're getting value for money.
Always be sure to read their service checklist and that you understand what costs are included and what is not (replacement parts, etc).
You may wish to look out for a premium car service that has more vehicle checks and includes the cost of any replacements; you should, of course, expect to pay more for for a service like this, but remember it will save you money in the long term as you're car shouldn't experience any problems such as breakdowns or faulty parts after the service has been carried out.
For more information relating to car costs, check out our related guides below.
Related articles
---