What is an MOT?
Everything you need to know
---
---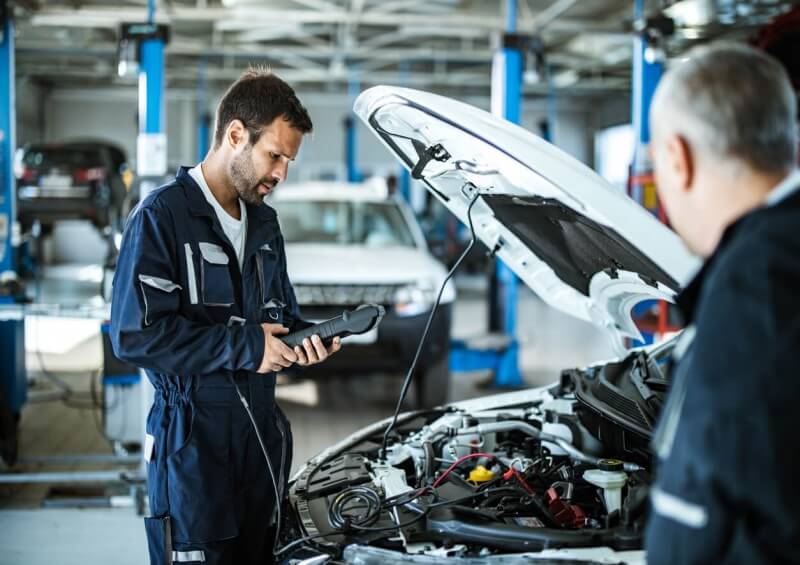 To be able to drive legally on UK roads and to avoid facing penalties such as fines and driving bans, you must have each of the following commodities in place as per UK law:
Car insurance

Road tax

MOT certificate
In this guide, we walk you through the definition of an MOT as well as explain what is checked in an MOT test, how long it takes, how much it costs and what happens if you drive without one.
In this article:
What is an MOT test and how does it work?
MOT extensions due to Coronavirus
Can you drive your car away if it fails the MOT?
What happens if you drive without an MOT?
What does MOT stand for?
In the UK, an MOT stands for the Ministry of Transport test, and it involves checking the roadworthiness of your vehicle.
As per section 47 of the Road Traffic Act 1988, a person who uses a vehicle or lets someone else drive a vehicle that has no valid test certificate "is guilty of an offence".
What is an MOT and how does it work?
An MOT is a test that checks how safe and roadworthy your vehicle is, by looking at several aspects of the car.
Things like brakes and lights are checked thoroughly during an MOT, to make sure that the vehicle is completely safe for you to drive as well as other drivers on the road. Ultimately, an MOT is there to make sure that the risk of you or anyone else being involved in a road traffic accident is reduced.
Unlike tax and car insurance, an MOT does not have to be carried out annually, at least not in the first few years. It must, however, be tested once your vehicle is three years old (unless you live in Northern Ireland, in which case it is four years), and every year thereafter to ensure it isn't harmful to the environment and it meets the UK's road safety standards.
If you're not sure about your vehicle's MOT history or how old it is, you can check its MOT status via willitpass.com, GOV.UK website or by doing an HPI Check.
When you arrange for your vehicle to have an MOT, the test will then determine how safe your vehicle is and it will either pass or fail. If it fails the test, it will have to stay at the garage or test centre until any issues are fixed.
How much is an MOT?
The costs of an MOT test have been set by the Vehicle and Operator Services Agency, and the price depends on your vehicle. Official testing centres are not allowed to charge more than what is set by the VOSA.
The maximum MOT fee for a car is currently £54.85. To see the prices for different types of vehicles, visit the GOV.UK website here.
When arranging your MOT test, you may find a garage that will charge you up to 50% less than this amount, so it may be worth looking up MOT offers and discounts online if you're looking to save money.
MOT extensions due to Coronavirus
If your vehicle's MOT was due on or after 30th March 2020, you automatically have a 6-month extension as a result of the Covid-19 pandemic. This means that your current MOT is still valid during the extra 6 months, but you will need to book your MOT when the extension period comes to an end.
For example, if your MOT expired on 15th May 2020, you will need to arrange an MOT by 15th November 2020.
If your MOT expired on or before 29th March 2020, you are not entitled to the extension.
Find out more in our blog: Coronavirus Crisis Causes Six-Month MOT Extensions
What is tested in an MOT? What does an MOT check? - A checklist
Here is a list of all vehicle parts that are checked during an MOT:
Brakes

Tyres and wheels

Lights and reflectors

Electrical equipment and wiring

Mirrors

Windscreen wipers and wash

Battery

Horn

Steering

Suspension

Seat belts

Vehicle body

Vehicle identification number

Speedometer

Registration plates

Exhaust and emissions

Fuel system

Oil

Towbars

Seats

Doors

Boot

Bonnet
An MOT test does not include looking at your vehicle's:
Do they check tyre pressure and oil?
During an MOT test, the mechanic will check that the tyre pressure monitoring system (TPMS) is functioning correctly - only with vehicles that were first used on or after 1st January 2012.
They will also need to check the oil as this helps to determine the emission levels of your vehicle.
Why do MOT tests include a strict exhaust emission test?
Your vehicle's emission levels must be checked during an MOT test to make sure that your car isn't emitting too much pollution into the atmosphere, and that it is running as clean and efficiently as possible.
If your vehicle gives off a high level of harmful CO2 emissions, it is likely to fail the MOT test.
How long does an MOT take?
An MOT can take up to an hour to complete, maybe even less depending on your vehicle.
If your vehicle fails the MOT test and it needs to be repaired, however, then it will probably last longer.
Can you drive your car away if it fails the MOT?
No. A test centre or garage is not permitted to let you drive away in your vehicle if it has failed an MOT. It will need to stay there until any issues with the vehicle have been resolved and repaired.
Depending on where you get an MOT, they may require you to leave the car with them until it's ready, so you might be unable to drive the vehicle all day.
What can fail an MOT?
Before getting an MOT, you should check the vehicle over to ensure that it is in good condition and to avoid having a failed MOT.
You should also regularly keep a check on your vehicle to ensure it is as safe as possible to drive at all times.
Here are some of the main reasons for vehicles failing their MOT tests:
Emissions too high

Not enough screenwash

Warning lights appearing on dashboard

Dirt and mess in the car, including dirty windows and stickers which may be obstructing the driver's view of the road

Issue with registration plate (personalised plates must adhere to DVLA law)

Lightbulbs not working

Tyres in bad condition

Tyre pressure

Wipers not working or affecting view

Unclean mirrors
In many cases, failed MOTs could have been prevented with some simple maintenance carried out by the owner of the vehicle.
What happens if you drive without an MOT?
If you are caught driving on UK roads in a vehicle that does not have a valid MOT, you could face a hefty fine of up to £1,000.
In some cases, the vehicle may even be impounded, depending on the severity of your individual case.
Does an expired MOT invalidate insurance?
As well as landing yourself a large fine, your car insurance policy will also be invalidated. So if you've been involved in an accident and your vehicle is found to have no MOT, it may mean that your insurance policy won't cover you for the associated costs if it was your fault - especially if the accident was caused due to a fault with your vehicle that could have been rectified in an MOT.
If you are caught driving without an MOT, and you therefore have an invalid insurance policy as a result, you could face even more penalties, such as fines, being banned from driving, having up to 8 points on your licence and even court prosecution in extreme cases.
The cost of an MOT is nowhere near comparable to the fine you could end up facing without one, so the best thing you can do is ensure your car has a valid MOT certificate, a valid car insurance policy and road tax. That way, you know you're legally entitled to drive and you shouldn't have any issues.
For further information, be sure to read our related articles below:
Is My Car Insured? - How to Check if a Car Has Insurance
---