Electric Vehicles are £90 Cheaper to Insure as Sales Soar
---
---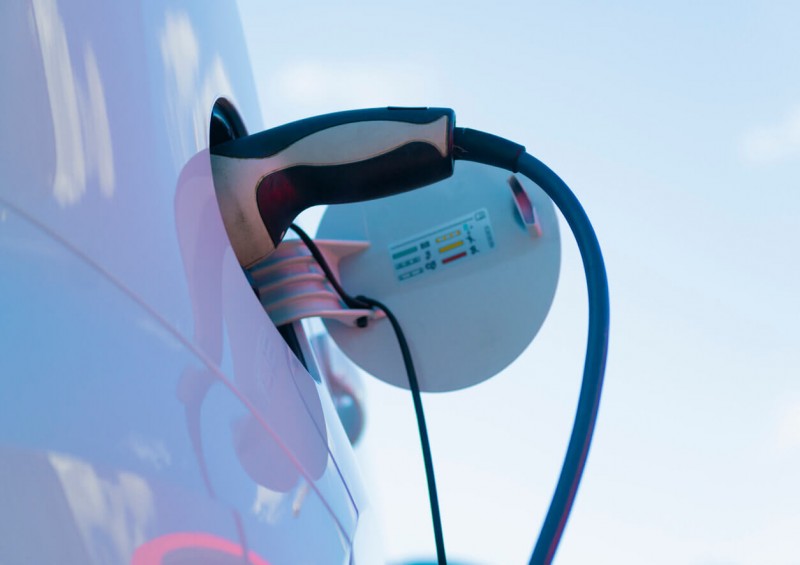 A recent study has revealed that the average electric car insurance cost (UK) is now £90 cheaper than its diesel or petrol alternatives, mainly due to a boost in sales of plug-in electrified vehicles over the last year.
The Society of Motor Manufacturers (SMMT) has reported that in September 2020, the sale of Battery Electric Vehicles (aka BEVs or more commonly, EVs) had more than tripled compared to EV sales in September the previous year.
In September 2019, there were only 7,704 EVs sold - whereas in September 2020, there were a whopping 25,097 sales. However, petrol-fueled car sales are still much higher than diesel or electric sales.
SMMT's data reveals that there were 719,908 petrol vehicle registrations in the 'year to date' (YTD) 2020. But in the previous YTD (2019), there were a staggering 1,204,719 sales.
So whilst electric car sales have increased, petrol sales in the YTD 2020 have decreased by a colossal 484,811.
The following chart clearly illustrates how much electric car sales have rocketed, year on year, since 2011: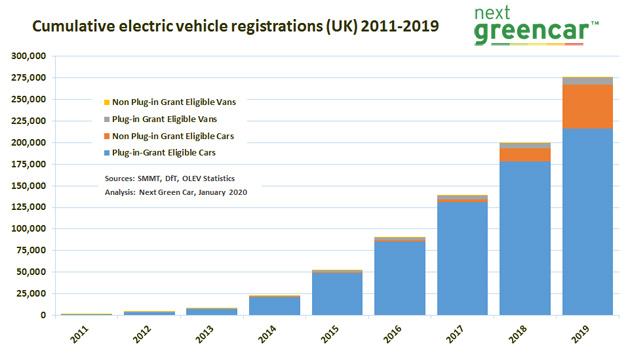 Source: Next Green Car
Despite all new car sales in the UK falling by 4.4% in September 2020 (compared to 2019), this electric-car-buying trend looks set to continue.
According to the RAC, in November 2020, electric car sales exceeded diesel sales by 2,127 sales. Barring April 2020 when all car sales fell through the floor due to lockdown measures, this is the first month this has happened.
Rod Dennis from the RAC said: "We may well now be reaching a watershed moment when it comes to new car sales in the UK – taking the anomalous month of April aside when dealers were forced to shut because of the pandemic, November saw more plug-in cars registered than diesel cars.
Read more: Electric Cars: Are They Worth It?
Are electric vehicles cheaper to insure than diesel or petrols?
Compare the Market has reported that the average insurance premium for electric cars in 2020 is £629, whereas the average insurance cost for petrol and diesel cars has been £718 for the last year.
Historically, electric vehicles have been more expensive to insure for the following three reasons:
Value: They cost more to buy because of their expensive batteries, newness and technology so they're more expensive to insure.
Expensive repairs: Only 5% (1in 20) of UK Mechanics are qualified to work on electric vehicles.
No history: Insurers had access to very little historic data to assess insurance costs so erred on the side of caution with expensive premiums.
However, because sales of electric cars have more than doubled in the last year, more mechanics are being trained and insurers finally have comparable data, electric car insurance costs are coming down.
This means electric vehicles are now cheaper to insure than many diesel or petrol vehicles.
How much is insurance for an electric car?
Nimble Fins reported back in August 2020 that the average insurance cost for EVs was £799. But of course, more recent data from Compare the Market suggests that the average electric car premiums are now cheaper at £629.
To give you some idea of which cars are cheaper to insure (or more expensive), take a look at the following electric car insurance comparison chart produced in August 2020: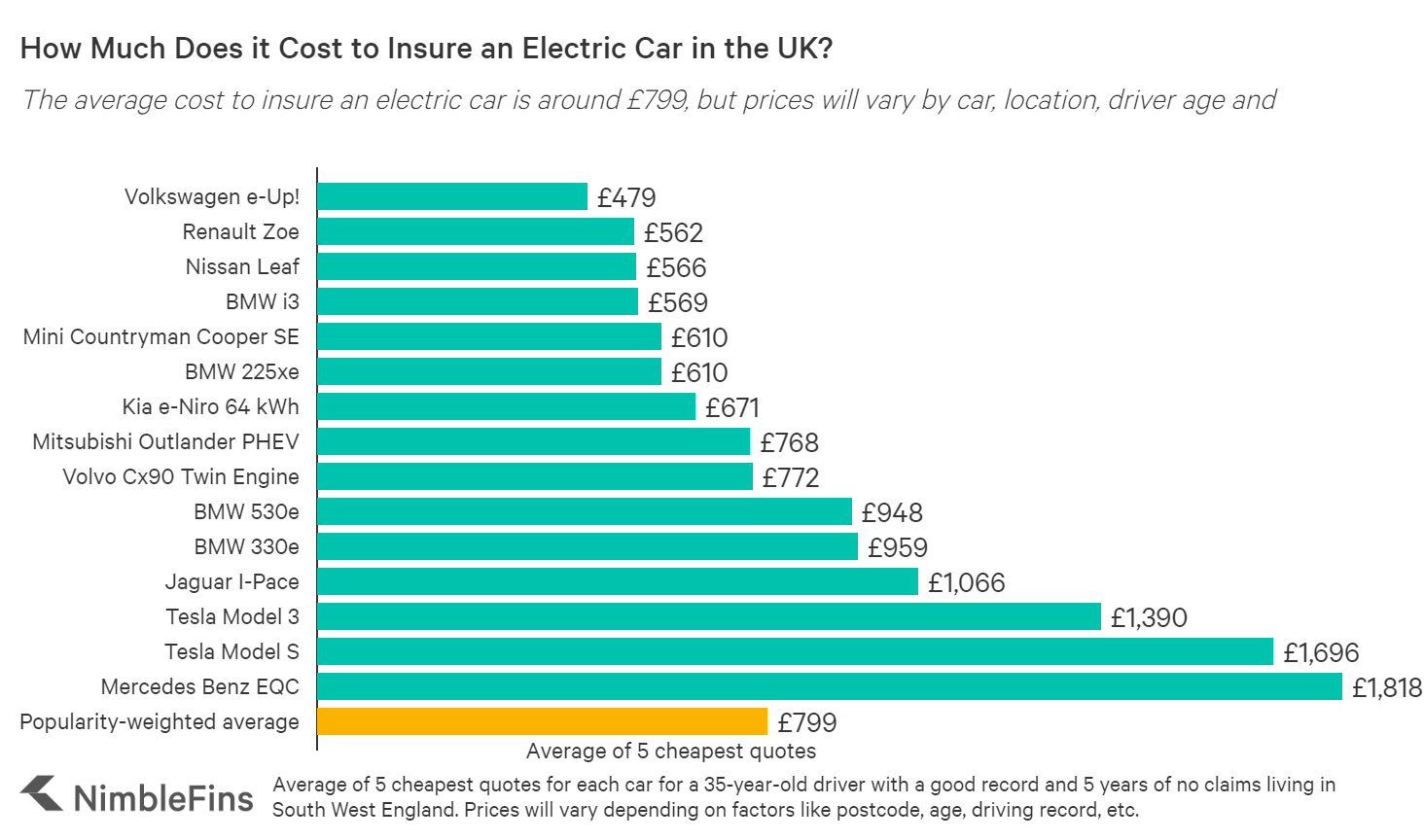 Source: NimbleFins
As you can see from the above chart, insurance premiums for small run-around cars like the Volkswagen e-Up or the Nissan Leaf, are significantly cheaper than their larger, more powerful counterparts.
One of the best electric cars on the market, the hugely popular and sporty 'high-end' Tesla Model 3, unsurprisingly costs £1,066 to insure and the Tesla Model S a budget-busting £1,390.
So if you want to 'go green' and buy an electric vehicle on a tight budget, go for smaller, less powerful models to make significant savings on car insurance.
You might like: Are Electric Cars Cheaper to Insure?
Do all insurance companies offer electric car cover?
Most of the UK's top car insurance companies insure electric vehicles, so it's best to shop around for the best deal and compare prices for hybrid and electric car insurance.
There are also price comparison sites offering special deals for specific models of electric vehicles.
Are there enough electric charging points in the UK?
Yes, there are more than you think. In 2020, there are literally thousands of electric charging points dotted about all over the UK, although charging points are more prevalent in more heavily populated areas, especially cities.
When electric cars were first sold in the UK, plug-in electric charging points were, of course, as scarce as hen's teeth.
However, due to the increase in electric car sales and the government's plan to ban new petrol and diesel car sales in 2030, there is now an abundance of charging points in the UK.
Zap Map (an app EV drivers use to locate electric charging points) statistics show that at the time of writing this article, 9th December 2020, there are 13,058 electric charging point locations in the UK.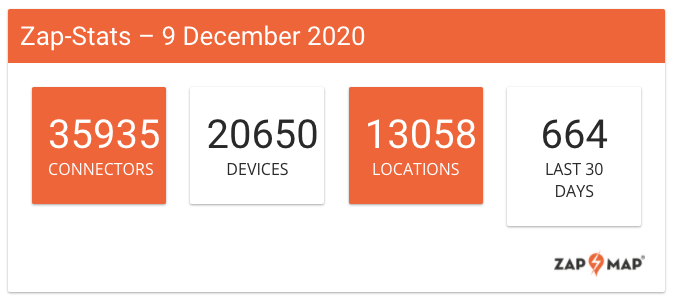 Source: Zap Map
As you can see, the amount of electric charging points for EVs are exponentially increasing at an expeditious rate. Thisismoney.co.uk reported that just 2 days ago, the UK's first EV charging forecourt opened in Essex, courtesy of Gridserve.
In the next 5 years, Gridserve plans to build another 99 of these innovative EV charging forecourts in the UK.
These super-duper EV forecourts are completely powered by renewable energy and have a wealth of high-end facilities for drivers to use and enjoy whilst waiting for their car to charge.
This brand new contemporary facility includes a few popular high street shops and, of course, the obligatory Costa Coffee, a high-end supermarket, a waiting lounge, a children's play area, meeting pods, free Wifi, upmarket WCs and a well-being zone with exercycles that generate electricity!
The latest electric plug-in models will be able to charge their car from 20% to 80% for as little as £10 in 20-30 minutes. What's not to love?!
What's the cost of running an electric car: the pros and cons
The beneficial cost savings of running a modern electric car are:
Low travelling costs of around 3-4p a mile
Lower insurance premiums
Less servicing and maintenance costs
Free car tax*
* for electric-only vehicles costing less than £40k, when new, and registered in April 2017 or later
All of the above makes the cost of running a modern EV seem pretty affordable. In stark contrast, according to Niblefins, the average cost of running a petrol or diesel car is 41p per mile.
If you add to that the cost of higher insurance premiums, regular, expensive service and repair costs and an average road tax fee of £144, the running costs of an electric car are much cheaper by comparison.
In addition, if you live in London, the running costs of an electric vehicle are cheaper still as you are not required to pay the Congestion Charge.
With these glaringly obvious cost benefits, anyone who can afford to go electric is obviously going to buy an EV and ditch their primitive fossil-fuelled vehicle with gusto.
Read more: Which Fuel Makes Insurance Cheaper - Diesel or Petrol
Charging your EV at home
The government estimates that up to 90% of EV drivers charge their cars at home. To do this, you will, of course, have the initial upfront expense of installing a charging point.
However, by charging your car overnight, you are taking advantage of the cheaper night-time electric rate. So charging your car at home will cost less than using a third-party charging point and will not hike up your energy bills too much.
The even better news is that with help from the government's Electric Vehicle Homecharge Scheme, it is possible to receive grant funding of up to 75% towards the cost of installing a smart electric home charger. However, you will need to purchase the charger from a Government-approved supplier and arrange for installation by an approved installer.
Learn more: The True Cost of Running an Electric Car
Should I buy an electric car?
All of this new-found knowledge about electric cars is probably making you want to rush out and buy an EV, but can you afford to?
We have even more good news! The government is also providing plug-in car grants for up to £3,000 to approved car dealerships and manufacturers, making electric cars more affordable to consumers.
If a new electric car is out of your price range, why not take a look at used electric cars for sale instead?
Similar to the government's Electric Vehicle Homecharge Scheme, there is a grant funding scheme called OLEV (the Office of Low Emission Vehicles). OLEV similarly offers grants of up to 75% off the cost of installing a smart home charging point. This grant is available for owners of new or used electric vehicles.
There is also a OLEV plug-in grant available, but this particular grant scheme only applies to new EVs. Go Ultra Low is also a joint government and industry initiative set up to provide as much information as possible to consumers interested in buying EVs, so head over there for more information.
According to Auto Express, the cheapest EV to buy in the UK, from new, is the diminutive 'Renault Twizy' selling for just £10,995 (plus the additional cost of a battery lease).
You should also take a look at car finance deals for new EVs or perhaps leasing a vehicle could be a more affordable option? Believe it not, you can sometimes even lease a car with bad credit.
So the bottom line is that owning an electric car can save you a lot of money on running costs, with huge savings on fuel costs, servicing, tax and, albeit belatedly, insurance.
BUT, of course, the real icing on the cake has to be that by using an electric car, you're being much kinder to the environment.
Get an electric car insurance quote now and see how much money you could save:
Related guides
---