UK Homes to Face Hike in Energy Bills in 2021
---
---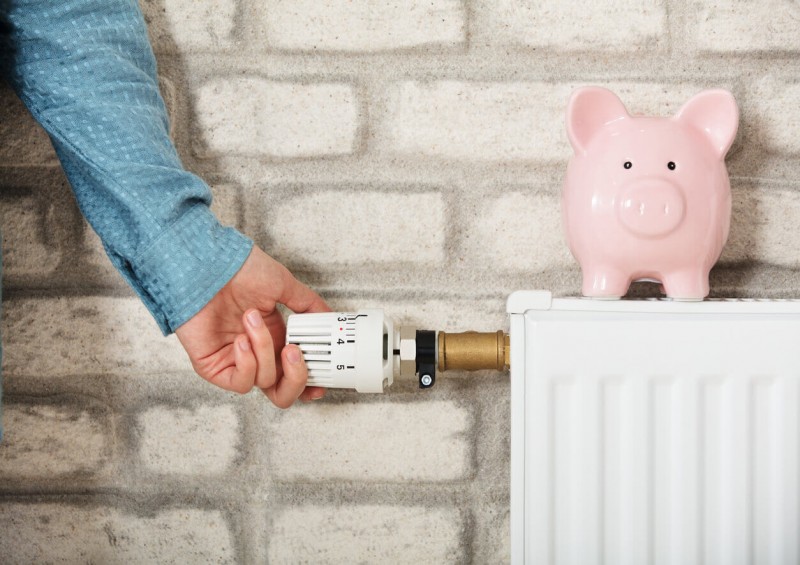 Ofgem has warned of increased utility costs in 2021, affecting millions of already struggling UK households.
The energy regulator is considering a price hike, which means the price cap may increase by £21 from 1st April next year.
In October 2020, to help out struggling households, the price cap fell by £84 to its lowest level of £1,042 and the level fell by £95 for customers using prepayment meters. At that time, Ofgem recommended the price cap remain in place in 2021 to help millions of households save on energy bills.
This price cap fall was a concerted effort by Ofgem to protect the most vulnerable UK households who do not 'shop around' for cheaper energy bills, predominantly the elderly.
If you do not save money by switching energy suppliers, you will be on a default or standard variable tariff (SVT), which usually works out more expensive than if you did obtain a new deal with a different supplier.
In stark contrast to the recent reduction to the price cap until 31 March 2020, the latest news (of an increase from 1 April next year) is, understandably, causing some confusion.
So in keeping with 'The Grand Old Duke of York' nursery rhyme, what we'd all really like to know is: Are energy prices going up or down?
Are Energy Bills Likely to Rise in 2021?
Ofgem reviews the energy price cap every six months (in the months of February and August), to reflect on price cap levels that will come into effect in April and October each year.
For typical users who pay by direct debit and are on default or standard variable tariffs, the current price cap level for October 2020 to March 2021 is at £1,042. Ofgem's latest review has indicated the price cap will increase to £1,063 in April 2021.
The only way to really avoid a rise in energy bills is to compare quotes online to find a cheaper energy supplier. By doing this, you could save in excess of £200 per year on your energy costs by doing so.
Why are UK Energy Prices Rising?
In the current coronavirus-ravaged economical climate, with many businesses going bust and unemployment going through the roof, we're all asking how and why has the cost of energy increased?
This proposed hike in energy prices is to help recompense energy suppliers for losses they've sustained, as a result of many customers not paying their utility bills due to Covid-19. It has also resulted in continued wholesale energy prices continuing to rise.
What Causes High Energy Bills?
12 reasons why your energy bills can be high are:
Winter
Large homes
Lack of insulation
Default or standard variable tariffs
Inefficient heating system
Estimated bills
Leaving appliances on standby
Leaving lights switched on
Faulty meters
Poor glazing
Unserviced boilers
Not taking advantage of the 'cheap rate'
Read more: How to Cut Your Energy Bills this Winter
UK Electricity and Gas Price Forecast 2021
The predicted cost of fuel, including gas and electricity, in 2021 is going to be affected by many influential factors including:
The Covid-19 pandemic
Ofgem's Energy Price Cap
Brexit
International politics
Renewable energy
A dip in demand for fuel, as a result of the coronavirus pandemic, is one of the causes of Ofgem's proposed increase of the Energy Price Cap.
However, despite the Energy Price Cap increase, Ofgem requires utility companies to offer emergency credit to customers using prepayment meters and further, offer reasonable repayment plans to those who have got into debt.
Another main influence on gas and electricity bills is a Brexit trade deal. At the time of publishing this article, it is no surprise to learn that this is still 'hanging in the balance' and an agreement still can't be reached.
According to inenco, the impact of a no-deal brexit on the energy market means:
"more uncertainty on UK businesses" and energy customers should ensure they're "on a tariff that takes these risks into account", and you should avoid wasting energy where possible.
International politics is another cause for concern for energy companies, which could have a knock-on effect on consumers. Many countries feel animosity towards China as a result of the pandemic, but Joe Biden winning the US presidential election will hopefully smooth relations between the US and China, the top two countries with the most geopolitical influence.
The latest energy industry update indicates that the pandemic has halted growth in the renewable energy sector (growth was down 13% from in 2020 compared to 2019) but despite this, a strong recovery is expected in 2021.
The overall main influence for the 2021 energy price forecast is, of course, Covid-19.
Wholesale Energy Prices are Continuing to Rise - How to Avoid Expensive Tariffs
The following S&P price forecast chart, for power prices in Europe, the Middle East and Africa, clearly shows how energy prices are set to increase in the coming years: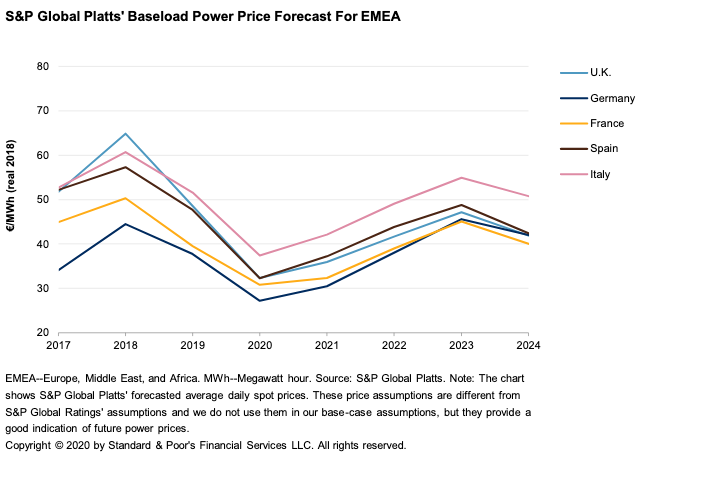 Conclusion: Energy prices are forecast to increase in the coming years. As a result, energy bills and the price cap will continue to be hiked up. Therefore, shopping around for the cheapest energy deals is now more important than ever, and default or standard variable rate tariffs should be avoided at all costs.
If you have an elderly relative who never or rarely switches energy suppliers and needs help with heating costs, you could always offer to arrange switching suppliers for them.
The elderly are particularly vulnerable through not sufficiently heating their homes in an effort to save costs, leading to ill-health and in some cases, death.
For further support, you should also check out the grants and benefits available to help you pay your energy bills, and bear in mind that BIG isn't always the BEST, and less known, smaller energy suppliers can sometimes offer more competitive deals on your utility bills.
Related guides:
---