Smart Prepayment Meters Explained
Helping customers save on their energy bills...
---
---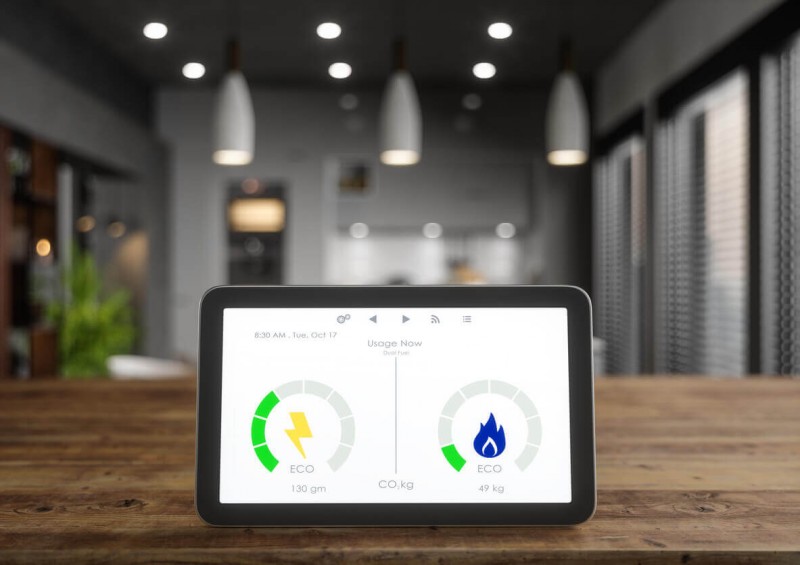 In a technologically-advanced world where smart functionalities have overtaken obsolete machines, it pays to know the difference between standard and smart prepayment meters so that you can be more energy-efficient and save money on your bills.
This guide explains the different types of prepayment meters, the difference between non-smart and smart prepayment meters, as well as how a standard smart meter may be a better choice financially.
What is a prepayment meter and how do they work?
In the world of energy and utility bills, the term 'prepayment' means that the resident(s) of a house pay for their gas and electricity before using it; similar to how a pay-as-you-go mobile phone works when you top it up – once you've used all of the money that you put on the prepayment meter or you are running low, you'll have to top it back up to continue using energy in your house again.
A home that prepays for energy will either have separate prepayment meters for gas and electricity, or in some cases, there will be just the one meter that covers both. On these meters, you can take energy readings whenever you wish and top up the credit when you need to.
There are three types of prepayment meters:
Key meters

Smart card meters

Smart prepayment meters
The first two types are traditional prepayment meters, while smart prepayment meters work differently; they are more advanced and efficient, which is why the UK government expects all gas and electricity suppliers to roll out smart meters to all of their customers throughout England, Scotland and Wales by the end of 2020.
According to the GOV.UK website, this will "represent up to £16 billion annual savings on the cost of reaching net-zero emissions by 2050 thanks to creating a more flexible, cleaner energy system, while small businesses with smart meters collectively save around £1.5 billion each year on their energy bills."
1. Key meters
This type of prepayment meter requires you to pay upfront for your gas and electricity via a unique electronic key. This key holds information regarding your tariff and to top it up, you'll need to visit your nearest PayPoint shop and take it with you.
2. Smart card meters
These work similarly to key meters, but instead of an electronic key, you are given a smart card which can be used to top up your credit for gas and/or electric at your nearest PayPoint store. A smart card will send the latest information regarding your energy usage to your supplier when you top it up.
If you use either or both of the above to pay for energy upfront, it is advised that you keep an eye on your usage to avoid having your energy supply cut off and if there are any upcoming holidays, make sure you top up a bit earlier than usual.
Generally, prepayment meters come with an emergency credit budget which you can use if you run out (similar to an overdraft), but bear in mind that the limit isn't usually that much.
3. Smart prepayment meter
A smart pay as you go meter is the most up-to-date version of prepayment meters. As mentioned above, these are currently being rolled out to all energy customers in the UK to help reduce the cost of utility bills and carbon emissions.
Smart prepayments meters function in the same way as standard smart meters, but they have added smart functionalities that help residents to be more aware of their usage and save money on their bills.
As well as the smart prepayment meters, customers are given an In-Home Display (IHD), which allows you to easily monitor how much energy you're using at any given moment. You can then make changes to your energy usage based on the information provided to you on this screen in order to cut down on bills.
With a smart prepayment meter, the process of topping up credit is much easier than it is with a standard meter as you do not need an electronic key or card to pay upfront for gas and electricity.
Rather than having to venture outside of your home to your nearest PayPoint, customers can easily top up their credit from the comfort of their own home thanks to the modern smart features. This can be done online or through an app and the credit will be applied to your account remotely, so you don't need to do anything else with your smart meter.
With smart prepayment meters, the IHD lets you see how much credit you have left, so you no longer need to keep signing into your account online to get this information. Some smart meters now even let you top up by using the smart meter itself!
If you do not have a smart meter yet and/or you have not been offered one by your energy company, you can request one by visiting the Smart Energy GB website.
Learn more about smart meters in our complete guide: How do Smart Meters Work?
What's the difference between a prepayment meter and a credit meter?
Unlike paying for your energy upfront with a prepayment meter, a credit meter differs in that it measures your energy usage and your energy supplier will calculate your bill based on this information.
So with a credit meter, the key difference is that you pay for energy after you've used it, not before.
Can I switch to a standard smart meter if I already have a prepayment meter?
If you no longer want to pay for your energy upfront and on a pay-as-you-go basis, you may wish to switch to a standard smart meter; after all, they are considered to be a much cheaper option.
In the energy market, prepayment energy plans usually offer the least attractive deals to customers and there are fewer plans to choose from, which can be a downside if you really want to start saving on your bills.
Generally, you should be able to switch your prepayment meter for a standard smart meter, or a credit meter if you'd prefer, but bear in mind that you may have to pay for this transition.
If your energy supplier is one of the Bix Six providers, however, you may be able to switch meters for free. Every company has different terms, so if you're unsure, contact your supplier directly to find out if this is possible for you.
Most of the main providers will switch your meter for free, but if there is debt on your account, it is likely that you'll be required to clear this first before they approve the switch. In some cases, they may even require a credit check, in which case they will need to inform you about this first.
Smaller energy companies, however, might charge customers a fee for removing the prepayment meter and installing a new smart meter, but the savings that you are likely to make from having one will probably outweigh this.
If your energy company does charge you, you might want to switch suppliers so that you can get one for free with someone else. In some cases, if you let your provider know you wish to change companies, they may cancel the fee for installing the new smart meter.
How smart meters can help you save money on your utility bills
The main benefit of smart meters is that they come with an In-Home Display (IHD) which lets you see how much energy you're using in real-time.
For example, if you look at your IHD before and after boiling your kettle or using your tumble dryer, you'll be able to clearly see the difference in usage and cost. By being more aware of your energy usage and how much certain appliances are costing you, you are more likely to make changes to how you use energy in your home, which will, in turn, cut your bills down and emit fewer carbon emissions.
You may even find that by doing things like turning appliances off standby could make a big difference to your usage and therefore the price you pay for energy; again, this is something you can test out yourself with an IHD.
According to Smart Energy GB, 80% of people who use smart meters feel that they have a better understanding of how they use energy compared to when they didn't have them, and 49% of smart meter users have reported that they've made savings on their energy bills thanks to them.
Aside from smart meters, an alternative way to save on your utility bills is by switching energy suppliers. By staying with the same provider every year, you are unlikely to be on the best tariff and you could shave a significant amount off your bills by changing companies.
To see how much you could be saving, compare quotes now (obligation-free):
For more information on switching, read our handy guides below:
---