Is Your Credit Score Affected When Switching Suppliers?
Do Energy Suppliers Check Your Score and Do Bills Affect it?
---
---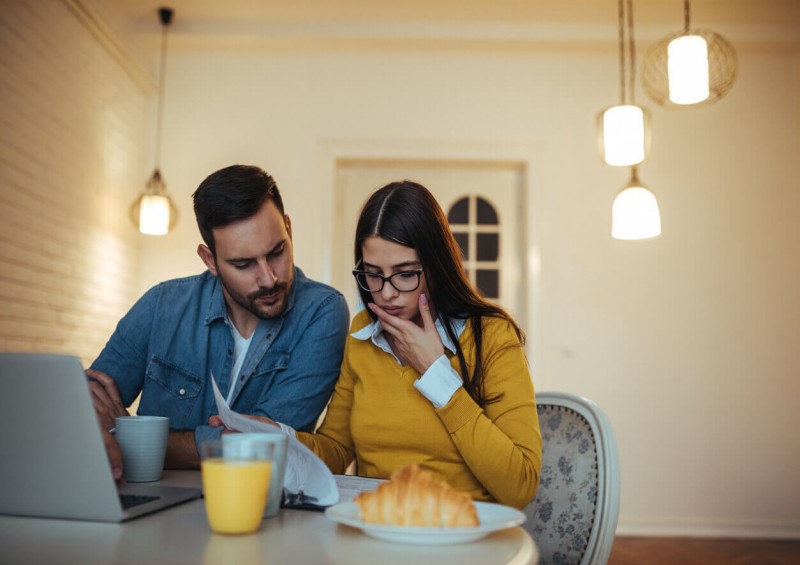 With the winter months looming and local coronavirus lockdowns in effect, we're likely to be spending much more time at home.
And with the next few months bringing lower temperatures and shorter daylight hours, this means that we'll be using a lot more gas and electricity to keep our houses warm and cosy.
If you haven't switched energy suppliers for some time - or if you've just moved into a new property - it's likely that you may be on your supplier's Standard Variable Rate tariff (SVR), which is generally their most expensive type.
If this is the case, you may be looking to switch your energy provider in the run up to winter in order to save money on your utility bills (by up to a few hundred pounds).
But do energy companies need to check your credit score when switching? Does switching providers affect your credit rating? And do energy bills have an impact? Find out here.
Check your score now with Checkmyfile - get a 30-day free trial, after which, a monthly charge of £14.99 applies - cancel anytime:
Do utility companies check your credit score?
Yes they do, but there's no need to panic. Whilst a credit check does take place, it's much less rigorous than other checks, such as if you apply for a loan or credit card.
Your energy provider will be cautious to take on any customers who have failed to keep up with payments on their energy bills in the past, but the checks are not too demanding and the provider will generally carry out a 'soft search' to check your details, which will not affect your credit score.
Given that the majority of utility bills are paid in arrears (that is, paying for your gas and electricity after you've used it), the energy companies need to protect themselves against customers who tend to make late payments or in some cases, don't pay at all.
This costs the companies money, which they'll likely claw back by raising their prices, But this is far from ideal as it could mean that they lose loyal customers and put off any potential new customers who are thinking of signing up with them.
Learn more: How Much Money Can I Save by Switching Energy Suppliers?
What's the difference between a hard and soft search?
Most utility companies will perform a soft search on your credit rating when you apply to switch. This is nothing more than a search to prove you are who you say you are, check your electoral roll status and see if you have any outstanding court orders (CCJs). A soft search will be only visible to you and will have no effect on your credit rating or any future credit applications with lenders.
It's very rare that an energy company will perform a hard search on your credit file. A hard credit check is a much more detailed search which will bring up all of your account activity and previous credit applications. It will also show if you have made late payments or defaulted on any credit agreements in the past. Any future lenders will also be able to see that you have applied for credit, but not who requested the search. It's important to keep the number of applications for credit to a minimum, as any more than one a month will look like you are desperately searching for credit, which is a red flag for any lender.
Luckily though, utility companies will not carry out this type of search and you won't be penalised for switching.
Read more: How to Check Your Credit Score for Free in the UK
Do utility bills affect your credit score in the UK?
While your utility bills are not a type of credit agreement like a loan or mortgage, failing to keep up with your energy payments could result in your credit score being damaged because any missed payments will show up as defaults on your account and your credit report, which could, in turn, impact your score.
If you miss several payments, some suppliers may report your financial behaviour to the main credit reference agencies – Experian, Equifax, TransUnion and Crediva. If they do this, it means that your missed payments will be displayed on your report and future lenders may reject you for credit applications because of this.
It's important to remember that if you hurt your credit score, it will take some time to build it back up again, so try your best to keep up with all of your monthly payments and make sure you pay them in full and on time, if possible.
Check your score with the multi-agency credit-checking website Checkmyfile to get a detailed report - tap the button below to sign up to a 30-day free trial, cancel anytime (£14.99 per month thereafter):
Will a utility company refuse to take me on as a new customer if I have bad credit?
If your new energy company discovers that you have missed recent payments on a utility bill, this may affect the type of deal they will offer you if you choose to sign up.
If they believe that you are at risk of missing or defaulting on your energy bill payments (they generally tend to look at utilities specifically), then you may be required to have a prepayment meter fitted or to put down a deposit; which essentially means you'll be paying for your energy in advance.
Prepayment meters generally cost more for customers, so take this into consideration when you look to switch energy suppliers with poor credit.
If you still owe more than £500 per fuel to your current energy provider, this debt will have to be cleared - or at least reduced - before the new supplier will take you on.
Read more: Why Switch Energy Suppliers?
Are there any energy suppliers who won't do a credit check?
No company can perform a credit check - whether it be a soft or hard search - without informing you beforehand, so if the energy supplier needs to perform one, you will know about it.
EDF, one of the Big Six energy companies, is the only provider that does not run credit checks for new customers.
However, it's always worth keeping an eye on your credit file and improving your credit score where possible, as you will get better deals with a good or excellent credit rating.
One of the best ways to check your credit score is to sign up to a free credit-checking site and keep tabs on your score through that. At Compare UK Quotes, we highly recommend using Checkmyfile as it uses all of the four main credit reference agencies to give you a detailed report, making it easier for you to keep track of your finances, see what lenders see and identify any problems that could be holding you back.
Checkmyfile is free for the first 30 days, and it'll cost £14.99 thereafter, so be sure to cancel before the free trial period ends if you don't want to make use of the services:
For further information regarding switching energy providers and improving your credit score, read our related guides below.
Related guides
---