What to Do After a Car Accident in the UK
---
---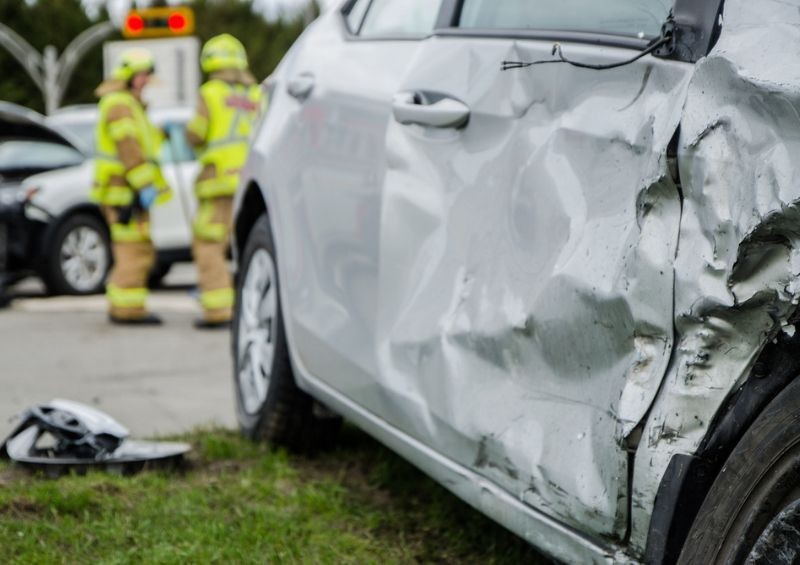 On average, one in five new drivers in the UK are involved in a car accident in their first year of driving, and – although it's not a nice thought – those who drive could be involved in some sort of road traffic collision over the course of their lifetimes.
Whether it's a serious road traffic accident or a minor collision, it's important that you know exactly what to do after a car accident in the UK.
In this guide:
Step-by-step: what to do after a car accident
Do you have to report a minor car accident to the police in the UK?
Gathering evidence after a car accident
Making a car accident insurance claim
What happens if a car accident is my fault?
No details exchanged after a car accident
What to do after hitting a parked car
Tap one of the above links to skip to a specific section, or read our entire guide for everything you need to know about the steps to take after a car accident.
What to do after a car accident: step-by-step
If you've been involved in a road traffic incident, follow the below steps as best as you can, using it as a car accident checklist:
Stop! You're legally obliged to stop after a car accident.

Turn the engine off. Switch off the ignition and put your hazard lights on.

Check for injuries to yourself or anyone else involved and call an ambulance if needs be.

Call the police on 101 or 999. Which number you use depends on the circumstances.

Ask for details of others involved and provide your own relevant information to them.

Gather evidence (such as photographs) for insurance purposes.

Contact your insurance provider and explain the situation.
Of course, what you should do after a car accident depends on the situation and any injuries you, or others, have suffered.
Safety should always be your first concern, but make an attempt to complete the above car accident checklist as long as it's safe to do so and the situation allows.
Failure to stop after a car accident
Failing to stop after a car accident is a genuine offence in the UK under the Road Traffic Act, but it's also pretty inconsiderate and makes proceedings a lot more difficult than they need to be.
Irrespective of the seriousness of the car accident, you should turn off the engine of your car and turn your hazard lights on. Your hazard lights are the safest way to warn oncoming traffic or other road users that there has been some sort of incident, informing them to be cautious if they are approaching.
Leaving the scene of an accident can have serious consequences, including a maximum fine of up to £5,000 or even six months of prison time, depending on the situation.
Do you have to report a minor car accident to the police in the UK?
It's required by law that you report all car accidents or road traffic collisions to the police in the UK, regardless of whether it's a minor or major incident, but what number you should call does depend on the accident's severity.
You should call 999 if someone suffered an injury in the accident, especially if they need emergency medical attention.
If an emergency response is not necessarily required, i.e. the incident was not severe, there are no injuries, and there's no apparent sign of 'crash for cash' fraud or foul-play, then you should call the police on 111 for non-emergencies.
Assess the situation and make a call based on the severity of the incident, whether there have been any injuries, and if there are any obstructions to other road users (broken car parts, for example).
Reporting a car accident time limit in the UK
In the UK, you must report a car accident to the police within 24 hours from the time of the incident, unless you already provided information to officers at the scene.
How long do I have to report a car accident to my insurance company?
You should report a road traffic incident to your insurance company as soon as it's safe to do so.
The time limit itself depends on the provider and the terms within your policy, but it's not uncommon for insurers to request that they are notified of an incident within 24 hours of it occurring.
That's not to say that you will not be able to claim if you report an accident a week or so after it happened, but any unnecessary delay may damage your chances of receiving the full compensation amount.
Gathering evidence after a car accident
Gathering evidence after a car accident can be one of the best and simplest ways of helping your provider determine the at-fault party and settling an insurance claim, but what do we mean by evidence?
After a car accident, you should:
Take photographs of the incident and damage done to your vehicle

Gather any witness statements

Make a note of any CCTV nearby

Keep any medical documentation if you're seen by a doctor
If you're in a fit state to do so, you should also consider sketching a quick diagram of your account of what happened while it's still fresh in your mind, to help you explain exactly what happened to your insurance company. They may even ask to see it as a form of evidence.
Gathering all types of evidence is crucial in determining the fault of an accident and settling a claim justly; your future self will thank you for it!
Avoid the immediate admission of guilt
In the heat of the moment and with adrenaline levels high, it's sometimes natural to apologise after a car accident (or in some instances, accuse the other driver), but it's crucial that you avoid saying anything that could be considered an admission of guilt, as it could be used against you when trying to make a claim.
It's bound to be hard to control the things you say during such an intense and worrying time, but try not to say statements along the lines of "I'm so sorry…", "I could've avoided that…", "I didn't see...", and so on.
You can be empathetic and show your concern for others without explicitly apologising, perhaps by asking if they are OK and if there is anything you can do to help, rather than taking the blame.
Making a car accident insurance claim
We've established the significance of notifying your insurance provider as soon as possible after a car accident, but it's just as important that you make a claim for any compensation that you are entitled to. After all, if you have been injured or your car has been damaged, you need to make sure you recover the cost of any vehicle repairs or loss of wages as a direct result of the incident.
So, how do you go about starting the process of claiming after a car accident?
Once you've notified your insurance provider of the accident, it's likely that they will ask whether you think you're entitled to a claim, or they might even tell you that your situation sounds as though you may be able to claim compensation.
Give your insurance provider a call to let them know that you would like to make a claim, and they will walk you through the process step-by-step.
Getting the best car insurance
Of course, in order to be able to make a claim, you need the right level of car insurance in place.
You could save up to £247 with Go Compare car insurance after comparing quotes from providers such as AA, Churchill and Tesco Bank. Tap the link below to find out more:
The car accident was my fault – what happens?
Determining who was at-fault in a car accident can be difficult, but there are some claims where the liable party is clear immediately.
There are some straightforward cases where you can accept that you were to blame for the accident – if your concentration lapsed and you drove into a parked car or into the back of somebody, for example.
The same rules apply – you should stop, make sure all parties are not injured, call the emergency services if needs be, and provide all relevant parties with your contact information.
Again, be mindful not to accept full responsibility publicly until you have had time to assess the situation and have spoken to your insurer, as we mentioned previously.
It's still crucial that you contact your insurance provider as soon as possible in order to notify them of the incident, so that they can begin handling any claims proceedings.
You are likely to lose some, if not all, of your no claims bonus (NCB), which means that your premiums may rise following the incident. But be sure to remain honest with your provider, as purposely lying about certain details could land you in even more trouble.
Car accident with no details exchanged
Following a car accident, you (and any other party involved) must either exchange details immediately or report the incident to the police.
What information should you exchange? Usually, you should try to exchange:
Names

Addresses

Contact details (phone number or email address)

Vehicle registration numbers

Car insurance company details
If you have been involved in a car accident where the other party involved has failed to provide you with their details, or you were hit by an uninsured driver, it's still possible to make a claim through the Motor Insurers' Bureau (MIB).
The MIB provides compensation for victims of uninsured drivers or hit-and-run instances, so try not to lose hope if you don't manage to get any of the at-fault party's contact or insurance information initially.
What to do if you hit a parked car in the UK
If you hit a parked car – whether you accidentally smash a wing-mirror on a narrow street or reverse into a car that you simply didn't see – the first thing not to do is panic; these things happen and it's important to remain as calm as possible.
What should you do? Stop your car in a safe place and look to see if the owner of the vehicle is in the area; maybe knock on a few doors or wait around for five minutes. If you're unsure of who the owner is and don't have time to wait by the car any longer, simply leave a note on the windscreen with your name, address, phone number and an explanation of the incident.
You should also keep a record of the make, model and licence plate of the vehicle you hit – use 'Notes' on your smartphone if you do not have a pen and paper at-hand.
Car insurance advice from Compare UK Quotes
Here at Compare UK Quotes, we provide you with the best advice regarding all-things money-saving and insurance, from ways to reduce the cost of running your car, to the best car insurance companies in the UK.
Browse our website for more information, whether you're interested in motor insurance, home insurance or saving money abroad, there's something for you.
---