What to do if you hit an animal while driving
---
---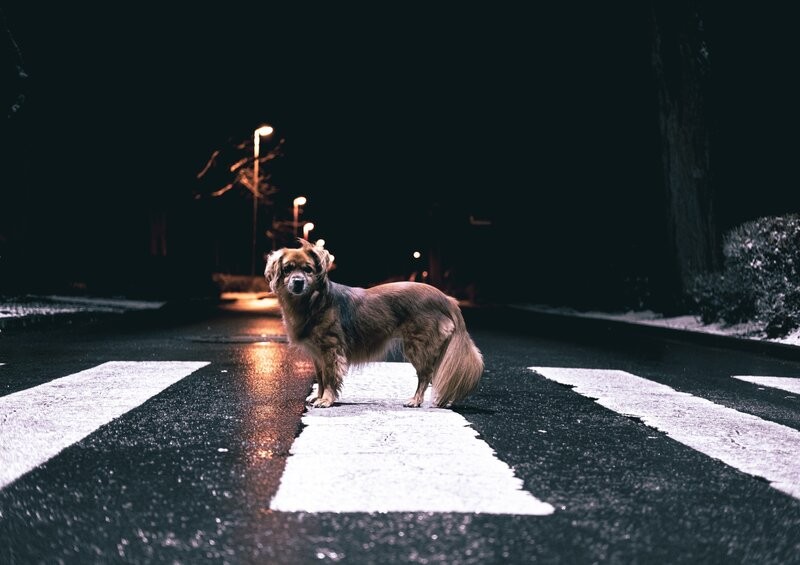 Hitting a wild animal or someone's beloved pet with your car can be a highly traumatic event, especially for animal lovers.
And, depending on what animal you hit, if you fail to report such an incident to the police you could be breaking the law.
What animals do you have to report if you hit?
You can report any dead or injured wild or domestic animal lying in the road to your local Council but there are certain animals you must report to the police.
Whether or not an animal is killed, you are legally obliged to report a dead or injured animal to the police if your car hits any of the following 1998 Road Traffic Act animals:
Horses

Cattle (i.e. cows)

Donkeys and mules

Sheep

Pigs

Goats

Dogs
You might like: Driving Licence Codes & Categories Explained
Do you have to stop if you hit a dog?
Yes, after hitting a dog with a car the law UK stipulates that you must report the incident to the police, either online or by calling 101.
Once you have reported the incident to the police, your sole legal obligation under the 1998 Road Traffic Act has been fulfilled.
You may be interested in: Pet insurance: a policy worth having?
Do you have to report hitting a cat?
So, is a cat knock and run illegal? Sadly not, no, but there are many who have tirelessly campaigned (albeit unsuccessfully, to date) for this to become a UK law under the 'Cats Bill', so this could change in the future.
However, if you do run over cat, whilst you're not legally obliged to report this under the 1998 Road Traffic Act, trying to get the cat medical help or locate the owner would be the morally correct, respectful and kindest thing to do.
What to do if you run over a cat or a dog
If you've ran over cat or dog, you should of course report a dog incident to the police but do not have to report an incident involving a cat to the police.
However, if you run over a dog or cat and you'd like to be a good samaritan by voluntarily do as much as possible to help the animal and it's potential owner you should:
Safely stop your car, pull over to one side and put your hazard lights on (if necessary) - this recommendation applies to whatever animal you may hit as you should always stop to at least identify the hit animal and whether it's injured, as a matter of course.

Try to quietly, calmly and cautiously check if the dog or cat is still showing signs of life (

only 25% of cat accidents are fatal

) and if the animal is still alive but injured, you can

report an injured domestic animal to the RSPCA on 0300 1234 999

who may advise you to take the animal to a local vet.

In Scotland you should contact the SSPCA on 03000 999 999

and in

Northern Ireland the USPCA on 028 3025 1000

.

If the RSPCA recommends taking the animal to a local vet (or you can't get through to them on the phone quick enough and can clearly see the animal needs urgent veterinary treatment), if it's safe to do so, carefully take the dog or cat to the nearest vet. If you're not sure where the nearest vet is, Google search 'vet near me' or, if it's out of hours, try Googling: '24-hour emergency vet near me'. You should inform the vet that you're not the owner of the injured animal.

Note: Vets do not charge you for taking an injured or deceased animal to them.

If the identity of the dog or cat can't be verified (i.e. the animal has no collar ID tag and isn't microchipped), you can try putting a post on a local community Facebook page and/or a local pets lost and found page or

website

describing what the animal looks like, what's happened to it and stating where the animal is currently located (i.e. the roadside location where the incident happened or the name of the veterinary clinic).

If the dog or cat is clearly deceased and there's nothing that can be done, you can again try to find the owner on social media or via

petsreunited.com

and you could try knocking on doors nearby. You could also take the dog or cat to a vet to see if it's microchipped

.
You might like to read: Differences between personal and vehicle breakdown cover?
What should you do when passing sheep on a road?
Whilst the Highway Code doesn't specifically mention 'sheep', sheep do of course fall under the umbrella of 'animals', and the Code simply states that you should:
'Slow down and be ready to stop if you see animals in the road ahead. Animals are easily frightened by noise and vehicles passing too close to them. Stop if signalled to do so by the person in charge.'
If you accidentally injure a sheep and their owner isn't present, you must report this to the Police.
What to do if you hit a deer
According to deercollisions.co.uk, approximately 42,000 to 74,000 deer are involved in vehicle collisions every year in the UK.
An accident involving a deer hit by car can not only be fatal for the deer, but can equally be fatal for drivers resulting in several human fatalities and 450 driver injuries a year.
For these reasons when you see a deer warning sign, you must be extra vigilant, especially during the spring and autumn rutting seasons when deer accidents are more frequent (between May and June, and October and November), and also be extra careful after sunrise or from dusk until around midnight.
In accordance with advice from The British Deer Society, if you hit a deer we recommend that you should:
safely pull over and stop, and try to keep yourself and any car passengers safe by putting your hazard lights on

call an ambulance if anyone is injured and then call the police on 101 and give accurate location information (you can use

What3Words

or

Google Maps

to help with this) - the police will then make necessary arrangements for the deer to be attended to or removed from the road

not approach the deer or try to move it as this should only be done by a trained specialist
If you hit and injure any type of wild animal on the roads such as a badger or fox, you should call the RSPCA on 0300 1234 999 or a local wildlife rehabilitator . Try Google searching 'wildlife rehabilitator near me' or 'wildlife rescue near me'.
You might be interested in: How long do I have to report a car accident to my insurer?
Hit a deer insurance UK: am I covered?
If you have comprehensive car insurance, most policies should cover you, any passengers and your vehicle, for injury or damages sustained following a collision with a deer while driving your car.
If you need to make a claim, make sure you provide your insurer with as much evidence as possible including:
a note of the police incident number

photographs of any damage or injuries

witness statements (if applicable)
You might like: Do I need insurance when renting a car?
How to avoid hitting animals while driving
Although there are always circumstances where hitting an animal while driving is simply unavoidable, there are preventative measures you can take such as:
Staying alert and watching out for animal road signs UK

and reducing your speed when you see one.

Driving extra slowly in built-up residential areas

where animals can dart out of nowhere.

Being extra vigilant

at night or early in the morning when many wild animals roam, especially in the countryside.

Making sure your car lights are in full working order

and clean (especially in winter when the roads are extra dirty).

Not tailgating and keeping your distance!

Not only will you be seriously annoying the driver in front of you and risking a car accident, you'll also be risking not seeing an animal on the road.
Compare car insurance quotes now
Tap the button below to get a quote now to see how much you could save on car insurance.
---