A complete guide to travel credit cards
---
---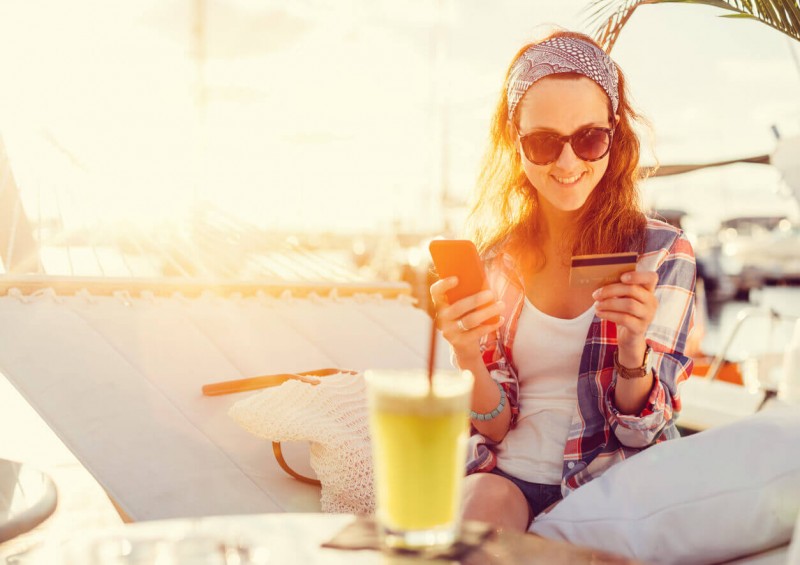 When you go on holiday or on a business trip overseas, you need to think about how you're going to spend money without being overcharged.
Most standard types of UK-based debit and credit cards charge sizable fees if you use them abroad, especially for cash withdrawals from ATMs.
Using travel credit cards for spending abroad is a great way to avoid these costly fees and some offer additional perks like air miles for discounted flights and hotels.
Here's everything you need to know about choosing the best credit card to use abroad including great alternatives to credit cards and the best cards for newbies or those who have a low credit score.
Can I use my credit card abroad?
Yes, you can but you should avoid using regular, standard types of debit or credit cards for travel as you will usually have to pay a high fee for doing so.
Additionally, standard credit cards very often have poor exchange rates.
Foreign transaction fees on standard credit cards can include:
Cash withdrawals: typically a fixed percentage of the amount withdrawn (usually 2-3%)

Non-sterling transactions: typically charged a fixed percentage of the amount spent (around 3%)

You may want to read: What to look for in a credit card.
How do travel credit cards work?
Unlike most standard credit or debit cards for UK-based spending, travel credit cards are usually free to use abroad.
However, credit cards for travelling abroad do tend to charge a higher rate of interest but if you ensure you pay off the full balance in good time (by the payment due date), no interest will be applied and shopping abroad will not cost you a penny. What's not to love?!
Best credit card to use abroad
Ideally, you should choose a credit card no charge abroad and according to a recent article by the moneysavingexpert.com, the best fee-free travel credit cards are:
Barclays Rewards Visa (no fees or interest on spending or withdrawals)

Halifax Clarity Mastercard (no fees but low interest on withdrawals)

118118 Money card (great for those with a low credit score, with no interest or fees)

Note: Fees or interest (barring cash withdrawals using a Halifax Clarity Mastercard) will not be payable IF you repay the FULL BALANCE by your payment due date.
Whilst a travel credit card is a great option, it's not a 'one size fits all' and there are a few alternative credit cards for use abroad (and debit cards) that may be more suited to your particular needs and circumstances.
Alternative types of travel credit cards and debit cards include:
Miles credit cards
There are specific card providers who partner up with airlines such as British Airways and Virgin Atlantic to offer travel rewards for using your card.
These travel rewards can include air miles for cheaper flights or hotels and other types of travel related costs.
Some current account providers also offer similar rewards to customers.
A miles credit card is of course a great option if you travel abroad regularly for business and/or pleasure.
However, to get the best deals, we recommend shopping around and comparing quotes online as those recommendations could be biased.
You might also want to read: Cashback and reward credit cards explained.
Prepaid travel cards
A prepaid travel card (also known as a currency or travel money card) is a type of card that is very different to a typical credit card as you actually have credit on the card to use as opposed to borrowing money when you spend.
You're able to top up a prepaid travel card with money before you go abroad and will usually have the option to lock in an exchange rate when you top up your card.
What's great about these cards is there are no additional fees for using the card overseas and you don't have to worry about clearing the balance by a certain date to avoid eye-watering fees.
The downside could be you end up wanting to spend more money than you loaded your card with, so this isn't the most flexible option.
Travel debit cards
Some banks and building societies allow spending and cash withdrawals abroad for no fee.
For example, Starling Bank and Virgin Money both offer fee-free spending and withdrawals.
Also, a Monzo travel card offers a great deal to their customers travelling abroad, especially to those who use Monzo as more of a banking service rather than just a spending card. All customers are entitled to fee-free spending abroad but only more dedicated customers will be entitled to fee-free cash withdrawals.
Another debit card alternative is "Currensea" which boasts of being the UK's first direct debit travel card that links to your existing current account and partners with most major high street lenders.
Travel credit cards for beginners
Some travel credit cards like the Barclaycard Rewards credit card have strict eligibility criteria such as you need to be at least 21 years old with four years' credit history and earn £21,000 or more.
A Halifax Clarity credit card is available to new customers aged 18 or more so this could be a great starter travel credit card. To check your eligibility, click here.
If you have no credit history or a low credit score, then 118118 Money is a good travel credit card for beginners. Click here to check your eligibility.
If you're looking to apply for a credit card for the first time, check out our guide: How to get a credit card in the UK for valuable tips and tricks on what to do before you apply, how to apply and more.
What credit score do you need for a travel credit card?
Most travel credit card providers have limited eligibility criteria for applications and if you have a low credit score, your application could be refused.
The higher your credit score is the better, so you should check your credit score before applying to see if there's anything that can be done to improve it.
There are three main credit reference agencies in the UK and any bank, building society or lender can choose to use one or more of those agencies when checking your credit score and history.
For this reason, it is best to check your credit rating and history with all three agencies and you can do so, for free, by getting a multi-agency credit report from checkmyfile.com.
Once you obtain your free multi-agency report, in addition to checking whether your score is any good, you should thoroughly check your report for any entries that could make you look like an irresponsible borrower to a lender.
For example, if you have a default or County Court Judgment recorded on your credit files, it's highly unlikely you will succeed with any type of credit application and your chances of getting a travel credit card will be low to zero percent.
Also, you should check your credit report confirms you're on the Electoral Roll as being registered to vote can increase your credit eligibility. This is because lenders can be certain you live at the address you say you do and this reassures them that you're a genuine applicant.
Bear in mind that when you make certain credit applications, hard searches can be conducted by lenders and if you make too many failed applications in quick succession, this will make you look like a credit risk to a potential lender.
If you have a low credit score or little credit history, then you should consider applying for a 118118 Money credit card as you're more likely to have your application accepted.
To find out what a respectable credit score is in the UK, you should read: What is a good credit score in the UK?
---