How to Get a Credit Card in the UK
---
---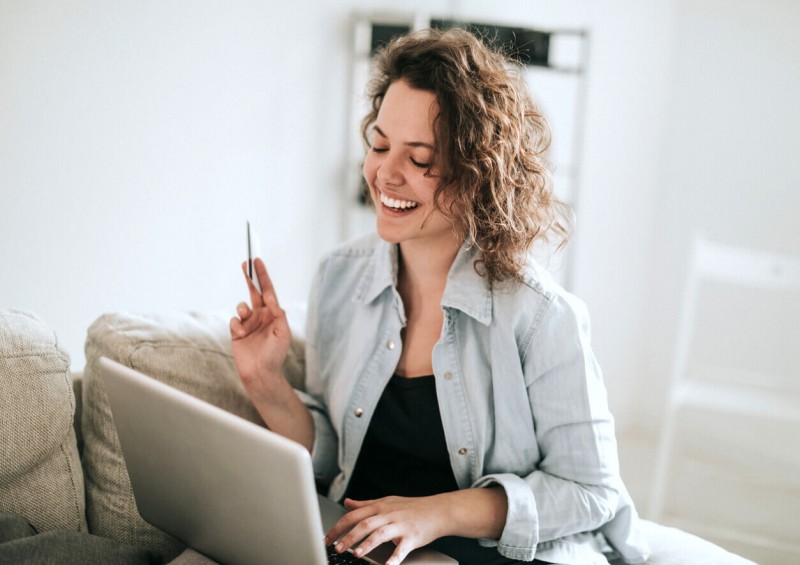 If you haven't had a credit card before and you're considering getting one for the first time - if if you simply want tips before getting another credit card, we explain everything you need to know about how to get a credit card in our handy guide below.
Not sure what your credit score is? You'll need to know this before getting a credit card to get an idea of your eligibility. Check it here:
How do you get a credit card for the first time?
Completing your first credit card application is a big step; it's a real rite of passage that gives you more independence with your finances, but it also comes with a huge responsibility.
Applying for a credit card couldn't be easier. Gone are the days where you had to fill in pages of forms and it can now be done in a matter of minutes online.
There are numerous credit card options, all of which can be tailored as to how you plan on using the card. Some cards offer cashback deals or 0% interest on purchases for a limited time.
If you prefer to do things more traditionally, you can always apply for your first credit card over the phone or by post. However, it is now very safe to apply online and will save you time and effort.
To get an idea of which type of credit card would best suit you, read our guide: Types of Credit Cards in the UK
What do I need to apply for a credit card?
To apply for a credit card in the UK - or any kind of credit - you need to be at least 18-years-old when you make your application. You'll also need to be a permanent resident of the UK and depending on the card you apply for, you'll need to be in employment, and some cards require you to be on a certain minimum salary before you are considered.
The credit card companies will also want to run a credit check on you after you apply to decide whether to accept you for the deal or not, so it may be useful to check your credit score before applying because if you are declined, it is likely to have a negative impact on your credit score and report.
If you are applying for a credit card for the first time, you may need to provide extra documentation to verify your application. This could include:
Your passport

Your driving licence

A utility bill addressed to your current home

A recent bank statement

You might like: How to improve your credit score
What kind of credit score do I need to apply for a credit card?
Ideally, your finances should be pretty healthy before you apply for your first credit card. Any negative associations or activity on your credit history will be taken into consideration, even if you are earning the required minimum salary. There is no set credit score that you need to apply, but you are more likely to be accepted for a lower interest card if your score is considered to be 'Good' or 'Excellent'.
Read more: What is a good credit score?
You're more likely to be accepted for a credit card if you:
Are registered to vote
This is a simple process that will prove your address and therefore improve your credit score. Learn more here: How to register on the Electoral Roll
Have a bank account
Opening a bank account will allow you to set up direct debits for your utility bills, council tax and other outgoings. If the credit card company can see that you are paying your bills on time, this builds trust and you're much more likely to be accepted.
Have a job
If the credit card company can see that you have a source of regular income, then it'll show them that you're able to pay off any credit card monthly repayments in the future.

If you believe to have poor credit, there are still options available. There are credit cards specifically for customers with bad credit ratings that help stabilise and improve their credit score. However, these will have very high-interest rates in order to deter any late or missed payments.
Things to consider when applying for a credit card
If you're still happy to apply for a credit card, make sure you read and fully understand the terms of the agreement and what's expected of you in terms of repayment.
Credit card companies may try to lure you in with special products and deals, but be sure you're up to speed on the below before you complete your application.
Introductory interest rates
Some companies will offer a very low or 0% interest rate for a limited period of time. This is a great incentive, but make sure you pay off your balance IN FULL before the offer ends as the rate is likely to increase significantly and you're more at-risk of owing more debt.
Check the credit limit
Take a look at the credit limit on your card. Is it going to be enough to cover any large one-off purchases you're looking to make? If you pay your balance on time and in full, your lender may increase your credit limit over time. You can opt-out of this service on many cards if you'd rather stick to your own limit, but just try not to be tempted if you think you may struggle to repay the full balance.
Check the fees section
Always look at the small print - the interest rate may seem great, but there could be some hidden charges. The smallest oversight could see you owing more than you bargained for.

Will your credit card company charge late payment fees if it slips your mind one month? Also, look out for cash withdrawal fees - we would advise against taking cash out with any credit card, but some lenders charge more than others for the privilege.
Take a look at our useful guide below for further information.
Related guides
---