Cyber Monday 2020 in the UK
When is it and what deals can we expect?
---
---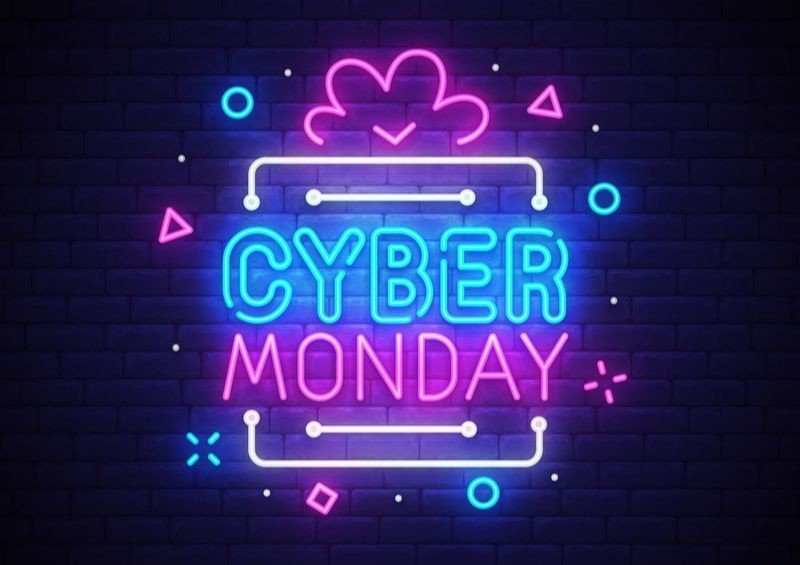 As we head towards Christmas, retailers and shoppers around the world are planning for the busiest (and most expensive) time of the year.
Black Friday is fast approaching, and with its online-only cousin Cyber Monday following shortly afterwards, there are a few dates that you need to note in your diary and a couple of things you should keep in mind.
Our guide to Cyber Monday 2020 includes:
Cyber Monday deals to expect in 2020
Cyber Monday vs Black Friday – what's the difference?
What is Cyber Monday?
Cyber Monday is the online-only equivalent of Black Friday, where all types of retailers and e-commerce sites host discounts and promotions on their products or services for a limited time.
Unlike Black Friday, where deals are now available both in-store and online, Cyber Monday remains exclusively online. You'll find deals on clothing, beauty products, electronics, home appliances, and just about anything else that you can get your hands on.
So, whether you're looking for a new Nintendo Switch from Amazon or a coffee machine from John Lewis, there's a probability that you'll find a deal on whatever you're looking for on Cyber Monday in preparation for Christmas.
Read More: A Guide to Black Friday 2020 in the UK
When is Cyber Monday in 2020?
Every year, the date of Cyber Monday can change slightly, but it always falls on the Monday after Thanksgiving Day, which is on the fourth Thursday of November (that makes it the 28th this year).
Cyber Monday was on the 2nd of December in 2019, but will fall on the 30th of November in 2020.
What time does Cyber Monday start?
Cyber Monday starts at different times for different retailers and online stores, but you should be able to find out an exact time from specific companies around late November.
The best way to find out when your favourite store's Cyber Monday deals start is by checking its social media pages, of course!
If you want to be first in-line – thankfully not literally – for that discounted XBOX One or a bargain from your favourite clothing brand, keep an eye on the site's Facebook, Twitter or Instagram accounts for the latest news on exactly when their deals will become available.
When does Cyber Monday end?
Similarly to how Black Friday has become more like Blackvember, with sales lasting almost the whole month for some retailers, Cyber Monday deals are also likely to be available for longer than just the one day.
How long the Cyber Monday promotions are on offer for will vary between each company, but your safest option is to buy on the Monday itself if there's something you really don't want to miss out on – just in case!
Some industry experts have predicted that Cyber Monday could last until the end of the week, as it follows the trend of Black Friday and becomes an extended sales period, rather than just one manic day of deals.
Cyber Monday Deals in 2020
On Cyber Monday, you can expect deals on all sorts of items, including:
Appliances (from Dyson vacuum cleaners to washing machines)
What sites are having Cyber Monday sales in the UK (2020)?
An endless amount of websites will be offering Cyber Monday deals in 2020, including the likes of:
Amazon

Argos

Carphone Warehouse

Currys PC World

Debenhams

Pretty Little Thing

Very
Again, social media is the best way to check whether a company will be offering Cyber Monday deals and when they will be beginning, so keep an eye on your favourite brands' pages to stay in the know.
Does Amazon have Cyber Monday deals?
Despite having their own 'Prime Day', where they offer deals on a variety of items, Amazon is one of the major players when it comes to Cyber Monday and Black Friday.
Amazon even has its own dedicated 'Cyber Monday' section, where you can browse all of the limited-time deals during the week or so that they're available. Bookmark that page ready for December the 2nd and you're sure to be first in-line for all the best Cyber Monday deals on Amazon this year.
Cyber Monday vs Black Friday – the difference
Black Friday was traditionally for brick and mortar stores, rather than being online, which was the main difference between Black Friday and Cyber Monday (which is online-only).
Black Friday deals have since become widely available both online and in-store, meaning that the difference between the two is now slightly less obvious.
Are Cyber Monday deals the same as Black Friday?
Deals on Cyber Monday and Black Friday are not identical, but there may be some sort of overlap as they both tend to last longer than just the one day.
It can differ with each company, as some retailers or e-commerce sites may choose to promote items exclusively during Black Friday or Cyber Monday, while others will simply offer their deals throughout the majority of late November and early December.
Related Articles:
10 Christmas Money Saving Tips
---