Christmas on a Budget: 10 Christmas Money-Saving Tips
Here's how to save money at Christmas with little hassle.
---
---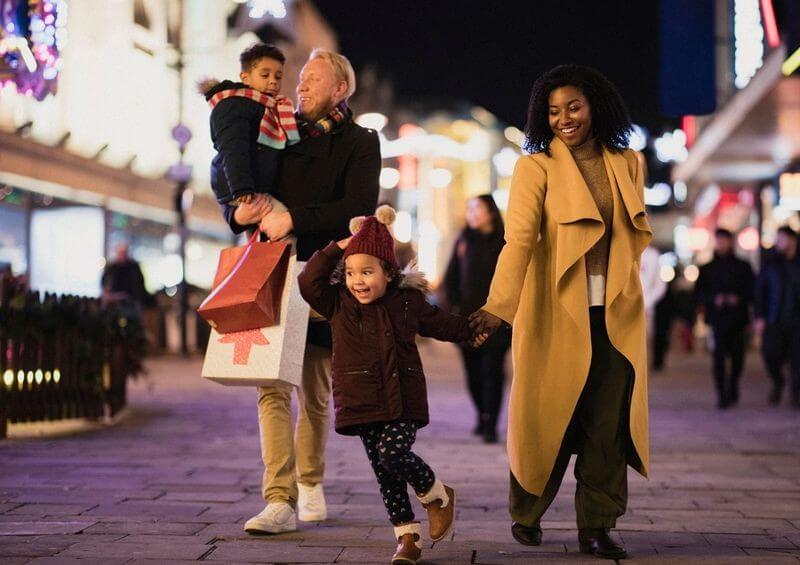 With so many financial outgoings – whether you're spending money on mince pies, Christmas jumpers, or stocking fillers for the kids – Christmas can be a stressful and seriously expensive time.
But it doesn't have to be!
There are plenty of ways to save money - or even make money - at Christmas, and you could do so by following our super easy tips to help you ease the financial strain of the festive season.
We've made a list of 10 money saving tips – and checked it twice – so that you're ready to enjoy Christmas on a budget in 2019!
1. Get your money back with a cashback credit card
Spending with a cashback credit card means that you get back a percentage of each purchase you make, usually at a rate of around 5%. This handy method of paying for your Christmas shopping will get you saving money in no time, without the time and effort of trudging through discount code websites.
Remember to set up a direct debit to repay the cashback credit card in-full each month, and only spend what you can afford to pay back, as you will be charged an interest fee for late repayments.
2. Use cashback websites and enter free competitions
There are countless cashback and discount voucher websites available in the UK, including Quidco, where you can get cashback on purchases from a range of over 4,500 retailers.
You can start saving for Christmas instantly and even receive a £10 cashback bonus by simply making your first purchase.
Free competition to win a £200 Amazon voucher
There are also hundreds of websites that offer chances to WIN FREE MONEY for simply completing surveys and entering competitions; perfect if you're struggling for cash around Christmas. Bobatoo, for example, is currently offering the chance to win an incredible £200 Amazon voucher for answering a few easy questions about your Christmas spending habits!
Head over to our full guide to the best cashback sites in the UK for more information on how you could earn money for completing surveys, entering competitions, gaming, and online shopping.
3. Use online Christmas shopping deals, rather than in-store
As lovely as it is to stroll around festive Christmas markets and shop on the decorated high-streets in December, it can also be extremely expensive.
Gifts are often cheaper online, due to the vast amount of retailers and e-commerce companies like Amazon and eBay that are able to offer more affordable prices. Of course, it's not always the case, but be wary of paying over-the-odds for your Christmas shopping when you shop in-store and always check the item's price online before buying.
Read more: Top 10 Christmas Gifts for Car Lovers
4. Don't rule out homemade gifts
It's the perfect way to put a smile on your loved ones' faces without breaking the bank!
There's no shame in making a homemade gift if you think that it's something your friend or family member would appreciate, and when they're made with all your effort and care, they can feel far more personal and thoughtful than a generic high-street gift.
There are endless possibilities to what you could make, from a homemade 'Guess Who?' board, to a Mason jar cocktail kit.
5. Make use of your loyalty cards
You don't save up loyalty card points for nothing, do you? Well, actually, it seems that many of us do.
UK shoppers earn thousands of loyalty points each year from Boots Advantage, Tesco Clubcard and Sainsbury's Nectar cards, but far too many of these points simply go to waste. If you have scanned your loyalty card every time you've been shopping over the course of the year, Christmas could be the perfect time to claim the points that you've earned and turn them into cash or vouchers!
Remember, some points can be worth up to 3 times their value when shopping with selected retailers – check how you can maximise your savings before spending your points.
6. Book travel as soon as possible
It's no secret that the cost of travelling by both train and plane sky-rocket over the festive period, even if you're only heading a few hours across the country.
Booking travel as soon as possible is essential if you want to save money at Christmas, as prices can soar as early as twelve weeks prior to the big day.
7. Set a budget and manage it carefully
Careful money management is hugely important if you're looking to do Christmas on a budget this year, which useful digital banking apps such as Monzo can help you with.
These types of mobile-only challenger banks enable you to organise your budgeting and spending right from your smartphone, allowing you to split money into various spending categories (such as 'eating out', 'travel', and 'Christmas presents') to manage your finances more diligently.
Read more: Budgeting on a Low Income
8. Plan ahead and be organised
Planning your Christmas shopping well ahead of time and making a list of everything you need to buy (and who you need to buy for) is a useful way of ensuring that you do not over-spend on things you don't really need this year.
Doing so should also help you avoid the unnecessary impulse buys that we're all guilty of from time to time.
9. Prepare for Black Friday and Cyber Monday
Black Friday (29th of November, 2019) isn't as scary as you may think – at least not anymore! The days of people fighting over TVs are dwindling, as many of the Black Friday sales are now becoming available online as well as in-store.
What's more, what was once Black Friday is rapidly becoming Blackvember, as the deals begin to stretch over the majority of the whole month, rather than just the one manic day.
Cyber Monday immediately follows Black Friday and offers even more online Christmas shopping deals, with limited-time promotions available only online.
See our full guide to Black Friday and Cyber Monday for more details.
10. Don't go crazy on food!
Food really adds to the warm Christmas feel, but the amount we waste each year means that many households end up throwing money away – quite literally.
Over half of Brits said that they overspend on food at Christmas, and it's been revealed that the equivalent of over four million Christmas dinners go to waste each year!
Don't break the bank on food that's going to end up in the bin; take some time to figure out the amount you need and, as always, be sure to shop around for the best deals.
It's absolutely possible to get through Christmas on a budget, but it's important to remember that it takes some planning ahead to get the most out of your money. Try to save for Christmas as early as possible as well; every penny will add up if you save for long enough and it could mean an extra few presents for your loved ones (or yourself!).
If you liked our Christmas shopping tips, you might be interested in our other money-saving guides:
How to Budget: Allocating Your Income to Save Money
Get 'Paid' to Walk With Activity Reward Apps!
---