Digital Banking Explained
How Do Online-Only Banks Compare to High Street Names?
---
---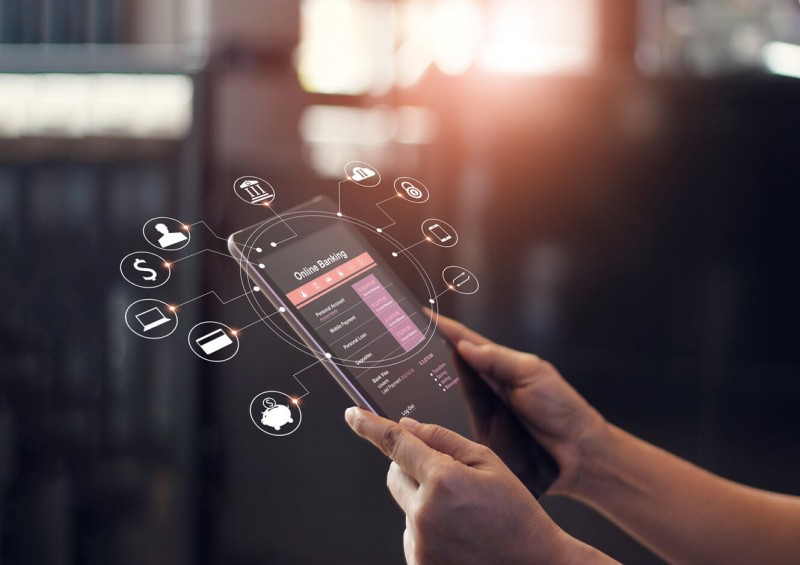 It can be very hard to change your ways when they have been part of the way you work for a very long time.
For many people, banking started when they were a child with a promotional child's account from a high-street bank and they've never changed banks once. That level of loyalty is something banks rely upon (and the reason they do child accounts with promotions!) and is very difficult to shift.
But the world moves on and banking in 2020 is very different to how it was twenty, thirty or more years ago.
Some of the differences which are obvious include telephone and online banking, the almost-total obsolescence of cheque books, contactless transactions, mobile apps, instant bank transfers and more.
Keeping up with it all isn't particularly important – after all, your bank will still deal with your money for you, but you might be missing out greatly and in doing so, be inadvertently losing money.
Is it time to ditch the high-street bank?
Contents:
How do I open an online-only bank account?
Which is the best online bank?
What's different between Starling and Monzo?
The features of the best online banks
The Starling and Monzo alternatives
Moving to a free online bank account in the UK
What is an online-only bank?
In 1989, there was a minor banking ripple. First Direct was launched – a telephone-only banking system which promised a lot (and delivered a substantial amount of it!). With no branch on the high-street, First Direct was seen as something of an oddity through the nineties, but those who used it, loved it.
Now, the path first trodden by First Direct is being paved over and turned into a major highway by online-only banks. No high-street presence, no reams of paperwork, just accessible banking for the modern age.
Digital-only banks bring new levels of function to your banking experience. With app-based banking, you have access to your account at your fingertips, you're able to move money from one place to another or just check your balance as easily as checking social media. They are nothing short of a personal finance revolution!
Are online-only banks safe?
There's something tangible about stepping into a building and talking with a person sat in front of you that can make you feel secure. It's real. You know that the money is in a safe somewhere and that there are people around to protect it. People who won't cheat you.
Of course, it's all little more than an illusion today. Modern banks, whether on the high-street or not, all move their money electronically from one place to another. They're just numbers on a system going up and down.
With that in mind, there's no reason why online-only banks should feel any less secure than a physical one.
That's assuming a bank is properly regulated and licensed, however. Like the normal high street versions, fully licensed online-only banks in the UK are protected by the Financial Services Compensation Scheme which will guarantee safety for your money up to £85,000 should the bank enter liquidation.
All banks and other online financial services also have to be registered with the Financial Conduct Authority (FCA) and without going any further, it's important to make sure you know that's the case. If you're unsure then head to the FCA website and search for your potential bank's credentials.
If your online bank is regulated by the FCA, then it's as safe as any high street version.
How do I open an app-only bank account?
Opening an account is simplicity itself. Simply download the app and go through the very quick process which involves taking a photo of some ID and a brief self-made video introducing yourself.
Minutes later, you have a new account – it really is that easy!
As banks, the online apps will offer you an overdraft facility – taking this will facilitate a credit check, so be aware of that. Ignoring the overdraft will mean no further checks are needed, however.
For more information about credit scores, check out our useful guides here.
Which is the best online bank?
Here at Compare UK Quotes, we like to do the research so that you can just jump right in with the right answer, however, banks offer different things to different people, so instead of directing you to a single best option, we're going to look at the top two of these challenger banks for current accounts in some detail – Starling bank, and Monzo bank – with a quick look at some of the other options.
What's different between Starling and Monzo?
What's the difference between NatWest and Barclays? Or Lloyds TSB and HSBC? A lot of it comes down to personal choice or even a preference to logo and the colour of your debit card (Monzo is a bright orange!).
Starling and Monzo both offer an incredible array of new features to banking which, if you've never touched an app-based service before, may surprise you.
For the most part, the features are all small and subtle, but provide an extra level of control over your banking which will make you wonder how you managed without them!
Of course, they also offer all the normal features of a bank:
A debit card
The ability to make bank transfers
Direct debits
Overdrafts
…and much more!
The features of the best online banks
Managing your money
One of the great advantages of these banking apps are the tools for budgeting, tracking and managing your money. Both Starling and Monzo go all out with these tools.
To start, you can now assign different categories to your spending. Have you just put some petrol in the tank? Class that as 'transport', along with your train fares and car lease payments. Gone out for dinner? Select 'eating out' - whereas your supermarket shop can come under 'groceries'.
By placing categories against your spending, it's easy to jump to the summary and see that you spent £141 on entertainment this month and a whopping £420 on groceries.
It's a small thing as many of these changes are, but over time, it can give you a strong level of control over your spending and may even encourage you to cut back on areas where money is being wasted.
There are limitations, of course. It's impossible for the app to know what portion of money spent in a supermarket was on food and what was on other things, so if you buy a DVD or a t-shirt, both can be filed under 'groceries', rather than going in 'entertainment' or 'clothes'.
You can be a little extra vigilant and fix this yourself by processing the transactions separately at the till and manually adjusting their categories, but this is probably only the path of the true statistician and most of us would leave such levels of detail alone!
Following that are the graphs and charts that show you your spending levels. Monzo has an eye-catching graph at the top of the page showing you how your money has gone up and down over the month, while Starling uses circular charts to show similar information.
When it comes to overspending, you are not going to get away with that either! Starling will be quick to send you alerts when you are running low and Monzo changes the colour of its dashboard based on your spending habits – if you see red when you log in, you know you're overdoing it! Of course, with access to your phone's notification system, you get regular updates whenever money goes in or out of your account too.
Saving
One of the great advantages with mobile-only banking apps is the level of control you have over savings. Despite calling them slightly different terms, both Starling and Monzo have a system of pots for saving, allowing you to make multiple mini-savings accounts that can each be labelled accurately.
So, if you are saving for a holiday, have an account marked 'holiday', or if you are putting money aside for Christmas, add one for that too.
Savings accounts also get paid interest– with Starling, that rate is currently 0.5% AER up to £2,000 and 0.25% AER above that (up to a maximum £85,000). Monzo offers an impressive 1% on all savings over £1000.
Not to forget the modern technology, you can even set one of your savings accounts to take the extra change on your spending and have it put there automatically – meaning you save up without thinking.
For example, if you spend £3.40, 60p will find its way to your savings pot and the transaction will register as a £4 one. It's a great little touch for saving without really making an impact and it's surprising how quickly it all adds up!
Splitting the bill
Living in a near-cashless society (it is definitely going that way) means having to deal with day-to-day things like wanting to split a restaurant bill with friends. In the past, if someone wanted to pay by card, everyone else was left offering to pay back later or having to have cash to pass over – it can often be enough of a problem that there's a race to be the first person to offer to take on the bill!
Starling offers a direct 'split the bill' function that allows you to deal with the problem on the spot, while both have features to enable you to request money from friends neatly and tidily. If they are also using app-based banking platforms, the whole kerfuffle can be resolved in half a minute with all the money moving through accounts seamlessly.
It's not just useful for working out who is leaving a tip, of course. The effortless way money can be moved between accounts, using nothing more than your smartphones, makes sending money to friends and relatives around the world no more problem than a few clicks.
Money in / money out
Until they invent some sort of Star Trek-style system, there's no way to push a £10 note into (or out of) your phone, so how do you get money into these banks?
The easiest way is by bank transfer from another bank, but if you are planning to replace your high-street banking entirely, there must be another way.
Getting your salary paid into your app-bank account is simple – there's a sort code and account number just as you'd expect from any other bank. Simply tell your employer your new bank details and there'll be no problem.
For cash, you can use the post office. Simply go in and deposit money just as you would with a high-street bank. While there may be no high-street branch for a Starling or Monzo bank account, there are more post offices than any standard bank branches, so it's still more convenient!
And for taking money out, you will receive a debit card a few days after registration, so feel free to use the ATM as normal.
Security
Getting access to your online bank app is a matter of getting access to your phone. If you are diligent about that – and have the appropriate fingerprint ID / faceID / pin numbers set up, then you needn't worry. You can disconnect the banking app from the fingerprint or face ID systems, but it's so much easier to use with them, there's usually no point.
Outside of the phone, losing your card is easily dealt with. Both banks have an immediate 'block my card' button to disable a stolen or lost debit card in seconds. You can then choose to re-enable it when it is found or request a replacement.
The Starling and Monzo alternatives
While we have focussed on these two apps, there is plenty of solid competition out there and as each has its own pros and cons, they are all still worth a look.
Tandem bank, N26 bank, Revolut and Atom bank are four such contenders and all provide a professional system with many similar features as those discussed in this article.
NatWest also released its own challenger bank, Bo, in readiness for 2020.
Atom bank even goes as far as to offer mortgages as one of its services – all from the comfort of your smartphone interface!
Not all the bank apps are a licensed bank themselves - Revolut, for example works by providing banking services backed by Lloyds and Barclays as third parties. This has little real effect on the day-to-day workings of the app, it is still FCA-registered and will guarantee your savings up to £85,000, but it may be something to consider when making a final choice.
Many of the online banks also offer a business banking version. Currently, there is a limit on Monzo business accounts as they move into the arena, but Starling business accounts are available, as are those from N26 and others. At Compare UK Quotes, we are yet to fully test and review these business accounts, but if the current accounts are a good indication, we're sure to be impressed.
Moving to a free online bank account in the UK
There's no harm to be had from testing the digital banking making waves in personal finance today.
While taking the jump to e-banking as your primary method of money management is a huge step for most, dipping your toes into the water is well worthwhile and after a few months of using one or more of these best online banks in the UK, you may find yourself wondering why you ever thought queuing up in a high-street branch was an acceptable idea!
At Compare UK Quotes, we are keen to give you the best advice on everything related to personal finance – and that means looking to all the new technologies and advancements out there, from the best money-saving apps to fully understanding how online banks work.
We'll keep researching further and, as the UK online-only banks list grows, we'll be sure to keep on top of all developments and bring you the results.
---