A Guide to Black Friday in the UK
What is Black Friday and when is it?
---
---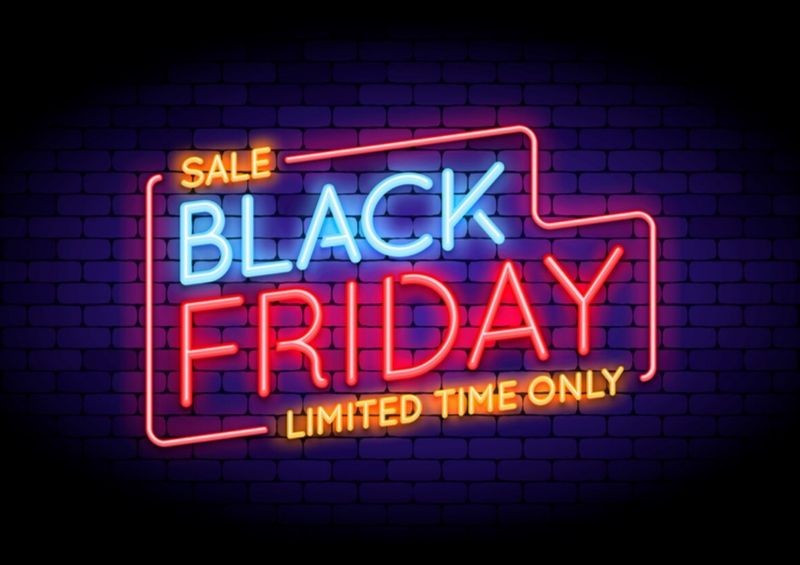 Black Friday is almost upon us, with bargain hunters around the country – and the world, for that matter – eagerly awaiting incredible deals on everything from electronics and toys, to kitchen appliances and beauty products for Christmas.
If you want the best Black Friday deals, there are a few things you need to know before the mayhem begins – but fear not, all the information you need is right here in this guide.
Remember, you could get access to deals far sooner than you might expect, so if you want to make sure that you're first in line when the busiest date in the shopping calendar comes around, you need to know the ins-and-outs of both Black Friday and Cyber Monday beforehand.
In this guide:
When is Black Friday this year?
How early does it start and when does it end?
How much discount can you get on Black Friday?
Where can you find the cheapest deals?
What is Black Friday?
Originally an American tradition, Black Friday is the Friday that follows Thanksgiving Day in the United States and marks the beginning of the Christmas shopping season, with retailers slashing prices and offering special deals for a limited time only.
It has now become a hugely anticipated annual event (for both shoppers and marketers) in the UK, and is a date that all Christmas shopping fanatics and deal hunters must note in their diaries.
Read more: 10 Christmas Money-Saving Tips
When is Black Friday?
Black Friday is the immediate Friday that follows Thanksgiving Day, but when is that?
Thanksgiving Day is celebrated by Americans on the fourth Thursday of November every year, with Black Friday starting the following day, ideally in line with the last payslip before Christmas for most people. Black Friday's date therefore changes slightly most years, but it always occurs near the end of November.
What date is Black Friday? In 2020, Black Friday will fall on the 27th of November, but remember that the date itself changes every year.
Ironically, Black Friday doesn't only last the Friday nowadays; most retailers will offer deals during the week before and/or after as well, with some even cutting prices over the course of an entire month.
Black Friday itself is still the centre-point of sales though, which is why it remains the primary date on the calendars of all retail powerhouses in the run-up to Christmas.
How early does Black Friday start?
2019's Black Friday deals began before the 29th of November, but how long before depends on the retailer.
While some companies adhere to the traditional one-day-only Black Friday deals, there are many retailers that will begin promotions at least a week or two beforehand both in-store and online.
For example, Amazon's Black Friday deals lasted ten days in 2019, Currys' offers spanned a few weeks, and Carphone Warehouse had promotions on for almost a whole month.
In reality, Black Friday deals could start as soon as early to mid-November this year, so keep an eye on your favourite retailers' social media pages and websites for news around the Bonfire Night period.
When does Black Friday end?
Once Black Friday itself ends, the deals are likely to stretch into the weekend and beyond. Some retailers will even keep their Black Friday deals on for several weeks afterwards, but don't leave it too late to grab your Christmas bargains, or you might miss out!
The Monday following Black Friday is what's known as Cyber Monday – which is basically its online-only cousin, as we'll explain in due course.
How much discount do you get on Black Friday?
How much discount you get on Black Friday can differ with each retailer, but it's likely that we'll see offers of around 30% or more from most participating companies and brands.
Be aware though, that the very best deals will probably be available on Thanksgiving Day, Black Friday, and the following Saturday.
Black Friday 2020 predictions | What deals are on Black Friday 2020?
There will be deals within a variety of departments, including electronics, appliances, fashion, and toys.
TVs, in particular, are classic Black Friday buys, and the sales figures of electronics surge during both November and December.
But, that's not all that's on offer, with deals expected on:
Appliances (from Dyson vacuum cleaners to washing machines)
If you're thinking about buying any of the above in the near future, HOLD OFF until the Black Friday deals are introduced, as you could save some serious cash before Christmas.
But where can we find the best deals? Online? In-Store?
If you were wondering, industry experts have estimated that Brits spent almost £1.5 billion on UK online retail stores on Black Friday 2018, an increase of over 7% compared with the previous year.
It's been reported that Amazon held a 26% share of the Black Friday market in 2018, reiterating the amount of bargain hunters that flock to the online retailer rather than heading out to brick-and-mortar stores nowadays.
If Prime Day is anything to go by, the cost of Amazon device prices could be slashed during Black Friday. But other than Amazon, where else can you look for deals? Here's a list of just some of the many stores and retailers that will host Black Friday bargains in time for Christmas 2020:
Amazon

Argos

GAME

Carphone Warehouse

Currys PC World

John Lewis
Black Friday holiday deals 2020
It's not only toys, electronics, clothes and furniture on offer on Black Friday, you can also get some incredible deals on holidays and trips.
Whether it's a last-minute getaway over Christmas, or a fortnight trip for the following summer, Black Friday could help you get the holiday you've been dreaming of, at an affordable price.
Remember, amidst all the excitement, you'll need travel insurance before going on holiday, which you can get from Confused.com at a cheap price.
Read our guide to travel insurance for more information.
What is Cyber Monday? Is Cyber Monday as good as Black Friday?
Cyber Monday always occurs on the Monday after Black Friday and is a day that many online stores offer various deals on their products.
The reality is that there is very little difference between Black Friday and Cyber Monday, since Black Friday has now become an event for both online and in-store retailers, but the more deals, the better!
When was Cyber Monday in 2019? It's was on the 2nd of December; conveniently after the last payday before Christmas for most monthly-salary earners.
For more money-saving updates, hints and tips, keep an eye on our social media pages and website, or see the related articles below.
Related Articles:
Christmas on a budget: 10 Christmas Money-Saving Tips
Get 'Paid' to Walk With Activity Reward Apps!
---