Can You Tax a Car With Temporary Insurance?
---
---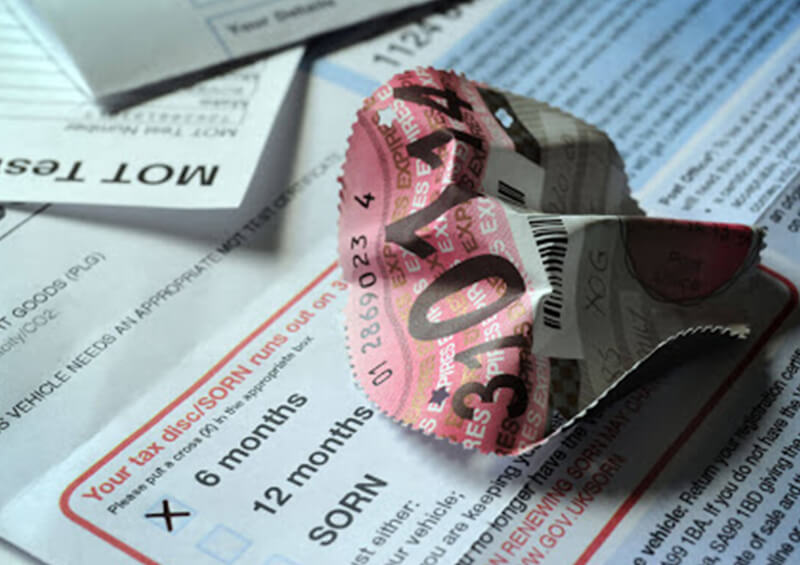 Owning a car comes with added expenses, and while it pains us to pay for things like car insurance, vehicle excise duty (road tax) and MOTs, it is important you do so to make sure you're driving around on UK roads legally.
Paying for insurance annually is a big expense for many people, particularly for drivers that don't intend on driving that much throughout the year or those who need cover just for a weekend while they borrow their friend's car to move house, for example.
For many reasons, temporary car insurance is a much more flexible and affordable policy that works better for some people than others, but can you still tax the vehicle if you only have short-term cover?
In this guide, we explain what road tax is, what the penalties are for not having it, whether or not you can use temporary insurance to tax your vehicle, and where you can get cheap quotes for short-term cover today.
In this guide:
What is road tax and do I need it?
What are the penalties for having no tax and insurance?
Can you tax a vehicle without insurance?
Can I tax my car with temporary insurance?
Short-term cover - What is it?
What is road tax and do I need it?
Vehicle tax, also known as vehicle excise duty (VED) or car tax, is a tax that needs to be paid every year for which you intend to use and park your vehicle on public roads in the UK.
The cost of vehicle tax is completely dependant on your vehicle and how much CO2 emissions it emits, so the lower the CO2, the cheaper your car tax is.
Generally, people pay their car tax every year, but depending on your vehicle, you may be able to pay for VED monthly or every 6 months. It is important to know, however, that the government will add a 5% surcharge on top, so you will need to work out what works best for you financially, depending on your needs.
If you are not using your vehicle, i.e. it is not being used on public roads and you are keeping it on private land or in your garage, the vehicle must be covered by a Statutory Off Road Notification (SORN), in which case you do not have to get car insurance or pay road tax.
It is important to remember that if you want to drive your car again, you must have a valid insurance policy in place before you do so, as well as car tax and a valid MOT certificate if the vehicle is more than 3 years old.
If you've been financially affected by the Coronavirus pandemic, you may be entitled to an extension on your MOT. Find out more in our guide here: Coronavirus Causes Six-Month Extensions.
What are the penalties for having no tax or insurance?
As stated on the GOV.UK website, driving on UK roads or in a public place without the minimum-required level of insurance is illegal.
You must have at least third party insurance to be legally covered, but it is vital you have the correct policy suited to you and your situation.
Even if your vehicle is insured, you could still face penalties if you are found to have insufficient cover. Many drivers choose to get fully comprehensive insurance so that they are covered for all situations, and in many cases, this type of policy is cheaper than the minimum third party cover.
The police can easily check whether or not a vehicle is insured by using their own automatic number plate recognition technology (ANPR) or via the DVLA's AskMID website.
If you are caught driving without insurance, you could receive a fine of £300 plus 6 penalty points on your driving licence. If the case is taken to court, you may end up having an unlimited fine as well as a ban on driving.
If the police detect an uninsured vehicle, they have the right to seize it, and in some cases, even destroy it.
The police also use their ANPR technology to check whether or not a vehicle is taxed, and if you are caught with an untaxed vehicle, you might be given a fine of up to £1,000 and the police reserve the right to clamp it until the necessary tax amount is paid.
Can you tax a vehicle without insurance?
No. A vehicle cannot be taxed without having a valid insurance policy in place first, but you do not need your insurance documents or certificate on hand to be able to purchase car tax.
The DVLA and government will be able to check this information via AskMID when you attempt to tax your vehicle online or at your nearest Post Office, so if you are found to have no insurance, you will not be able to tax your car and will therefore be unable to drive your vehicle.
Can I tax my car with temporary insurance?
Yes. Whether you have a standard annual policy or 1 month short-term policy, you will be able to tax your vehicle.
For many drivers in the UK, a short-term car insurance policy suits them much better, depending on what they need to use the car for and how long they need it. In many cases, it makes sense to get a temporary policy rather than paying for an annual one, which is generally much more expensive.
Learn more: The Average Cost of Car Insurance in the UK
Short-term car insurance
Many UK drivers generally opt for temporary car cover for the following reasons:
They need to borrow someone else's car or van for a day or for the weekend (to help them move house, or because they're going away, for example).

They need to use another vehicle due to an emergency

They have bought a new vehicle and want to drive it as soon as possible

They are test-driving a vehicle

They are unsure how long they'll need cover for

They need to get road tax and do not need insurance for the whole year

Their vehicle has a SORN and they need to take it to have an MOT

They are having a new car soon and therefore don't want to pay for an annual policy
Thankfully, there are many insurance providers out there that will cater to your needs and provide a short-term policy for you, whether you need it for 1 week, 2 weeks, 1 month, 2 months or even 3 months.
Get a free quote for short term car insurance by tapping the button below.
One day car insurance
Many people simply need car insurance for just 1 day, and there are many providers willing to cover drivers for this short period of time.
When getting a quote for one day car insurance, similarly with standard insurance, you will need your driving licence and details regarding any previous claims or accidents. You will also need to provide your full name, address, details of the car you're insuring and the dates for which you want the policy to start.
To get car insurance for just one day, simply tap the button to get covered.
How do I tax my car?
Once you have a valid insurance policy in place, you can then tax your car online via the GOV.UK website, or you can do so in your local Post Office. At Compare UK Quotes, we recommend taxing your vehicle online to save time and hassle, but you can do it either way.
Then, as long as you have a valid insurance policy and MOT certificate, you can drive on the road as soon as possible knowing you're fully covered should anything happen.
For more information regarding temporary car insurance, vehicle tax and MOTs, be sure to read our helpful guides below.
Related guides
Vehicle Excise Duty (VED) Explained
A Complete Guide to Temporary Car Insurance
Is My Car Insured? - How to Check if a Car Has Insurance
---