What is AskMID?
---
---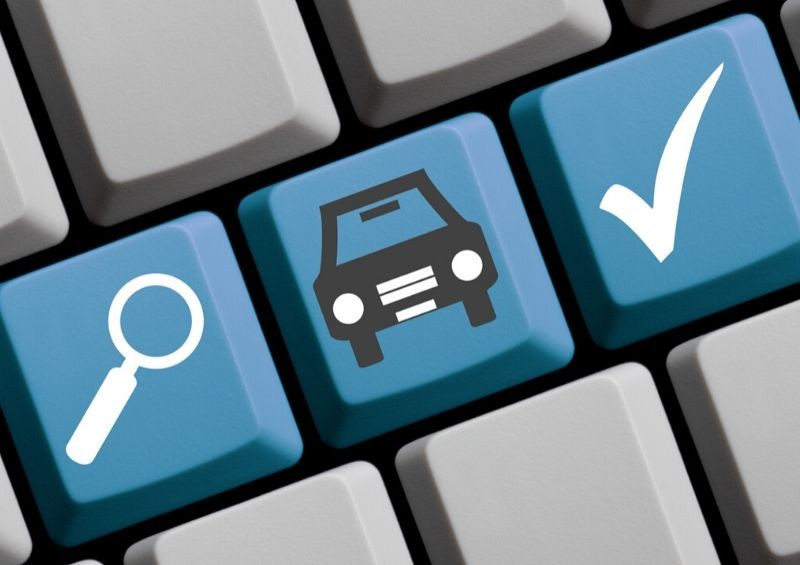 Being unaware of whether or not your car is insured is a high-risk gamble, and if it isn't covered, you could face points on your licence, fines, a driving ban, and even a prison sentence in some extreme cases.
Thankfully, with the help of AskMID's free car insurance check, finding out whether your cover is currently valid has never been easier.
Not only does AskMID allow you to check if your own vehicle is insured, it can also be used to find out whether a third-party's insurance is valid if you're ever involved in a road traffic accident, and is also used by the police to stop and seize uninsured cars.
But what exactly is AskMID?
AskMID is an online service that gives people access to the Motor Insurance Database (MID) to view up-to-date information on the status of their car insurance simply by using the vehicle's registration number. The Motor Insurers' Bureau, who acts on behalf of the government, is in control of the service and also provides compensation to victims of car accidents caused by uninsured drivers.
The main purpose of the MID is to allow the government to make sure that all vehicles driven on UK roads are covered by insurance, as is required by law. The AskMID service gives members of the public access to this database in order to check whether a vehicle is insured if ever they are unsure or need to find out for claims purposes.
What is AskMID used for?
The AskMID service can be used to:
Check the current status of your car insurance
View the insurance status of a third-party following an accident (at a cost)
AskMID: Is my car insured?
To check the status of your motor insurance, all you need is the vehicle registration number.
You simply visit the ownvehicle.AskMID webpage, enter your vehicle registration number, tick the data protection declaration, and confirm that you're not a robot. Easy enough, right?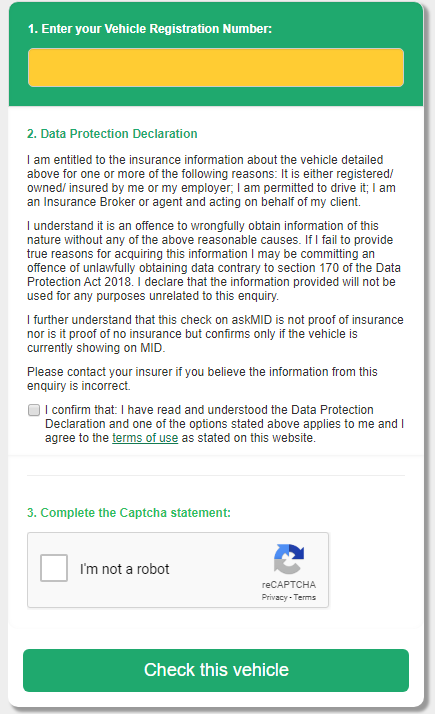 Once you click the big 'check this vehicle' button, you'll either see a red message stating 'No, this vehicle is showing as UNINSURED on the Motor Insurance Database today' or a green message stating 'Yes, this vehicle is showing as INSURED on the Motor Insurance Database today'. You'll also get the vehicle's make and model as it's listed on the MID.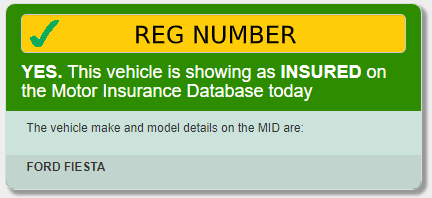 The search remains private and your current (and future) car insurance premiums will not be affected.
You cannot, however, use this particular search to view the information of other parties. So how do you get information about a third party if you've been involved in an accident?
A third party car insurance validity check after an accident
To find out the insurance details of someone else following an accident, you are required to make a formal enquiry (which requires a small fee).
To do so, head to the AskMID homepage and look for the 'One-off search' tab on the right-hand side. Clicking there should take you to a form that you are required to complete, followed by a single debit or credit card charge of £4.50.
This check can be used by pedestrians, motorists, cyclists, passengers, or property owners that have been in an incident involving a vehicle. If the check finds that the vehicle registration is insured, you will be provided with a policy number, name of insurer, and claims contact details. If the vehicle is discovered to be uninsured, you should proceed to begin a claim through the MIB.
As with your own vehicle search, the owner of the third-party car will not be notified and the process will stay private.
Is AskMID what the police use? The police use the MID alongside their automatic number plate recognition system to find uninsured vehicles and get them off the road as soon as possible.
How long does AskMID take to update?
The database used by AskMID is updated minute by minute and receives up to 10,000 car insurance updates every hour.
If your policy is brand new, it might not show on AskMID immediately, but it should usually appear within 48 hours and a maximum of seven working days.
What doesn't the AskMID search show?
The AskMID 'own vehicle search' only provides you with the vehicle's make and model, and whether or not it is insured. There is no information about the policy provider or any sort of policy number.
If you would like to see your vehicle's full insurance details and history, then you are required to download a 'Data Subject Access Request' form directly from the MIB.
Remember that you won't be able to retrieve any information on the vehicle's service or MOT history on AskMID, but you will be able to find such details if you get a HPI check.
If your car is not showing on AskMID
As stated on the website itself as a friendly reminder, if your car's details are not found on the MID, you risk being fined and facing court prosecution. Your vehicle might also be impounded or destroyed if you cannot provide proof of insurance.
If you need insurance cover as soon as possible, you can get a cheap policy today from Confused.com using the button below:
It is a criminal offence to drive on UK roads without car insurance, so be sure that you are covered regardless of how little you use the vehicle. If needs be, consider taking out temporary car insurance if you only use the vehicle during short-term periods.
My car is insured but not showing on AskMID insurance check
There are some circumstances under which your car could be insured, but not listed on the MID. For example, if your car insurance is brand new and simply hasn't been processed on the MID yet, or something as simple as an issue with new registration plates.
If your vehicle is insured but does not show on AskMID, you should contact your insurance provider as soon as possible to have the issue resolved, or you will be at risk of having your car seized by the police. See the AskMID contact page for more information on who you should contact in the event of any relevant issues.
Despite not showing a great level of detail, using AskMID to check your car insurance for free is the most efficient way of finding out whether your vehicle is covered or not.
See our full 'Is My Car Insured?' guide for more information on getting the full details of your car insurance policy (including the policy provider, history, and so on).
---