How much do electric cars cost?
---
---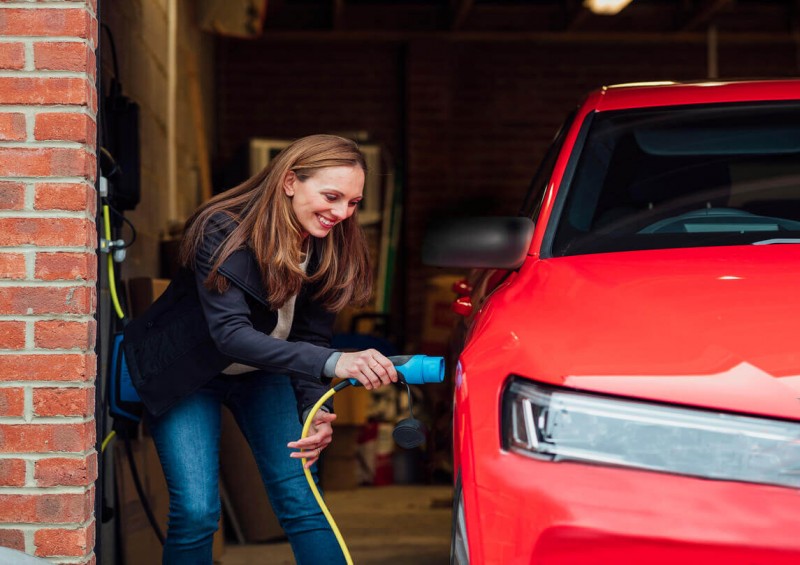 According to a recent AA survey, four out of five drivers said that they still consider electric vehicles unaffordable, but a large chunk of those surveyed (63%) were not aware of the Government's plug-in grant or the Elective Vehicle Homecharge Scheme.
So, if you're thinking of 'going green' and looking to lease or buy a new or used electric car, read on to find out the cost of buying, leasing, running and charging an electric vehicle (EV) in 2021.
Why are electric cars so expensive?
The three main reasons why electric cars continue to be unaffordable to many drivers are:
The advanced technology behind EVs is still progressing and continually being evaluated, so the cost of technological hardware in EVs makes them more expensive.
Batteries in EVs are extremely expensive. A battery for an average electric car in the UK costs approximately £8,500.
The EV market is still relatively new, so even used EVs are very often more expensive than a similar brand or model of a fossil-fuelled car.
The good news is that because sales of EVs are growing exponentially year on year, this is driving down the cost of EVs, meaning that many more drivers will soon be able to afford a new or second-hand electric vehicle.
How much does an electric car cost?
How much an electric car costs depends on the:
Brand
Model
Battery range (i.e. the amount of miles you can drive before having to recharge the battery)
Power
Age of an EV
Brand new electric car
The average price range of brand new EVs in the UK is £17,350 up to £138,825 or more according to Nimble Fins.
Second-hand electric car
According to carmagazine.co.uk, used electric cars can cost approximately:
£4,000 for something like a first-generation, used Nissan Leaf
£22,995 for a used hybrid SUV such as a Kia Niro
And more high-end, dynamic used EVs, start from approximately:
£24,995 for a used Tesla Model S
£36,995 for a used Tesla Model 3
£38,490 for a used Jaguar iPace
£53,680 for a used Tesla Model X
Leasing an electric car
Leasing a car with Drive Electric can start from £163 per month for a Volkswagen e-Up on a 24-month lease, if you only drive 5,000 miles per annum.
Or, at the other end of the scale, you can rent a Porsche Taycan 4S Plus for £906 per month on a 48 month lease if you drive 5,000 miles a year or less.
You might be interested in reading: How to lease an electric car
The cheapest electric car
The very cheapest new EV we could find to buy in the UK is the Renault Twizy selling for around £11,000.
After the Renault Twizy, there are a few other similarly very small cars in the £20-£24k price range like Smart EQ cars for 2 or 4 or the Fiat 500.
But, if you want a more affordable electric car suitable for a family and a bit of luggage, the price then jumps to around £25,000+.
According to drivingelectric.com, the very best value electric car is the MG 5 SW EV estate car selling from approximately £27,000.
Are electric cars cheaper to run?
So, despite costing more to buy, are electric cars cheaper to run? Yes, they are!
Overall, electric cars are most definitely cheaper to run than traditional fossil-fuelled cars because:
Charging an electric car costs less than filling up with diesel or petrol
Electric vehicles are cheaper to insure
Less replacement parts means less maintenance and servicing
Pure EVs are exempt from road tax and congestion charges!
Find out more about what's involved in an electric car service by reading our guide: Electric car servicing FAQs
How much does it cost to run an EV?
The low cost of running an electric car vs petrol or diesel cars makes buying an electric car a shrewd investment in the long-term.
To show you how much cheaper it is to run an EV, here's an example of an electric car's running costs vs the running costs of petrol and diesel cars:
A Tesla Model 3 long range EV charged on an Eco7 off-peak tariff can cost as little as 2.4p per mile to run.
A petrol car between 1,401-2,000cc (and assuming a fuel cost of 120.5p per litre) costs approximately 11.4p per mile to run or, for an engine over 2,000cc, 16.8p per mile.
A diesel car between 1,601-2,000cc (and assuming a fuel cost of 125.0p per litre) costs approximately £9.8p per mile to run or, for an engine over 2,000cc, 11.4p per mile.
Read more: The true cost of running an electric car
How much does it cost to charge an EV?
The cost of charging an electric car depends on whether you charge an EV at home (during the day or overnight) or if you use a public charging point.
The cost of a charging point is also affected by a charging point's power rating, how slow or fast the charger is and how long you want to charge an EV for.
Charging your car at home
According to pod-point.com, to fully charge a 60kWh battery charge using an electricity rate of 17p per kWh, the cost of charging an EV at home is approximately £9.20 for a range of around 200 miles. This works out at an unbelievably low 4-5p per mile.
Tesla's Supercharger network
Using one of Tesla's Superchargers costs around £0.28 per kilowatt-hour, meaning you can expect to get:
7p per mile for a Model 3
8p per mile for a Model S
9p per mile for a Model X Standard lamp post [slow] charging points
The cost of using a lamp post charging point varies geographically, but to give you a rough idea, using a lamp post charger in Dundee costs 15p/kWh and a connection fee of 38p. That means it will cost you approximately £6.38 (4-5p per mile) to travel up to 150 miles on a 40kWh battery.
Car park [fast] charging points
There is a huge variety of network providers for public charging points in UK car parks with differing charges, depending on the speed or type of charger. A full list of the main electric charging networks in the UK can be found on Zap-Map's website.
If you park at Lidl, their fast chargers cost 23p/kWh and Tesco's cost 24p/kWh. This works out to around £6 or £7 for half an hour's charging and gives you a range of approximately 100 miles - so 6/7p per mile.
Motorway service station [rapid] charging point
Some rapid chargers at motorways services can be free to some car drivers but the most costly way to charge for others. Typically, a Pod Point rapid charger will cost approximately 25p/kWh.
Related guides
---