Electric car servicing FAQs
---
---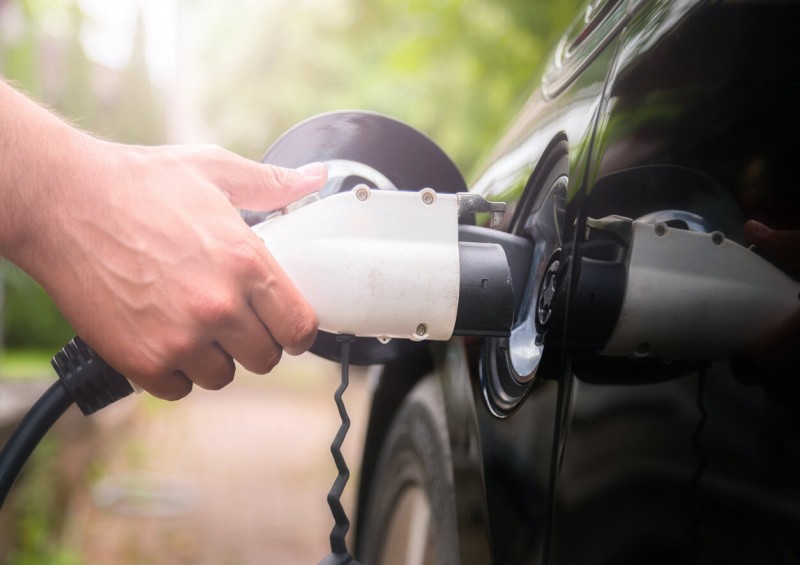 If you're thinking about getting an electric vehicle (EV) or you're buying or leasing one soon, you may be wondering what the deal is when it comes to getting it serviced
In our guide below, we answer all your frequently asked questions relating to electric car servicing so you know what to expect when your EV arrives.
Do electric cars need servicing?
Yes, electric cars (and hybrids for that matter) need to be serviced at similar intervals to standard petrol and diesel cars to make sure everything is working and running as it should be and that your car is roadworthy for UK roads and safe for both drivers and pedestrians.
An electric car will still experience general tyre wear and tear, and the windscreen wipers will need to be checked, as well as brake fluids, battery cooling system, etc.
Unlike a car service for a standard diesel or petrol vehicle, there are many things that won't need to be checked as an electric car doesn't have as many parts. So all in all, costs for servicing and replacements/repairs is likely to be a lot lower.
Note: If you are booking your electric car in for a service, it's really important that you make sure your dealership, workshop or garage has trained EV specialist mechanics that can service it for you.
How often should an electric car be serviced?
While an electric vehicle doesn't have as many parts as its diesel or petrol counterparts that need to be checked in a service, an EV must still have the same number of service intervals as a regular car.
This is because it is important for a mechanic to check things like the brakes, suspension and tyres, so it would be risky to leave longer intervals between services.
The service intervals will, however, largely depend on the type of electric car you have, so you must check this with your dealership, finance company, manufacturer or vehicle handbook to find out.
Depending on your car's manufacturer and the model you have, how often you get your vehicle serviced will be determined either by time or distance (depending on which comes first). For example:
Nissan Leaf: Once every year or 18,000 miles
Porsche Taycan: Every two years or 20,000 miles
Tesla: Once every year or 12,500 miles
Generally, most electric cars will have a feature built into the digital, onboard computer system which will tell you when something needs to be checked, so you might also want to check this out with your new EV and understand what issues will show up and what problems won't.
You might like: Are EVs cheaper to insure than petrol or diesel cars?
What parts of an electric car need to be serviced?
Electric motors are simpler than petrol or diesel cars and don't require as many checks; they have a maximum of 20 components.
Here are the main parts of your EV that will be checked over when it goes in for a service:
High voltage electrical cables and systems
Battery
Battery cooling system
Charging cable
Fluid levels
Brakes
Brake fluids
Regenerative braking system
Suspension and steering
Wheels
Electric drivetrain
Tyres
Heating and ventilation system
Air-con system
Lights
Other parts may also be checked, but the above list shows the most important parts that will need to be examined during an electric car service.
It's also worth remembering that an electric car has more mass and instant torque delivery compared to its petrol and diesel counterparts, so you should expect to have to change your tyres more often than usual.
What is not included in an electric car service?
An electric car service will come with exclusions (just like with standard car services); usually, a service will involve inspecting and maintaining the existing parts of the vehicle, but it will not include repairing any faulty or damaged parts.
If your EV has a major fault or defect and this is identified during your car's service, the cost will either be covered by:
Your EV's warranty (this won't cost you) or
You
If any defaults cannot be covered by a warranty, the garage or dealership where you are getting your EV service will have to price up the cost of carrying out any necessary repairs and you'll, unfortunately, have to cover these costs yourself.
Similarly, if your EV needs new tyres and/or brake pads, this will have to be paid for on top of the electric car service cost.
When buying an EV, you may wish to take advantage of the manufacturer's maintenance plans, which may come as an all-inclusive package that covers the cost of replacements, such as tyres and windscreen wipers, but you'll need to check the inclusions and exclusions with them - this will also work out quite pricey, too, but this all depends on your budget and preferences.
How much does it cost to service an electric car? - Is it cheaper than petrols and diesels?
At the time of writing (08/2022), there is no fixed price for getting your EV serviced. As with any other type of car service, the cost will differ depending on where you take it to get checked over and if you'll need to pay for any replacements or repairs.
It's worth noting, however, that due to having less parts than petrol and diesel vehicles, electric cars are generally much cheaper to maintain and run, so you can expect the cost of a service to be cheaper than vehicles with internal combustion engines (ICE) - whether you purchase a service plan or pay as you go.
In general, you can find out more about service prices and other associated costs when first getting the car, so be sure to ask!
The cost of electric car service plans
Here are the prices for service plans with some of the most popular electric vehicles in the UK, along with the length of the plan (according to AutoCar and Buyacar):
| | | |
| --- | --- | --- |
| Electric car model | Service cost | Length of plan |
| Audi e-tron (and sportback) | £399 | 2 years/variable miles |
| BMW i3 | £540 | 3 years/30,000 miles |
| Kia e-Niro | £259 | 3 years/30,000 miles |
| Kia Soul | £239 | 2 years/20,000 |
| Nissan Leaf | £159 | 1 year/18,000 miles |
| Renault Zoe | £399 | 3 years/30,000 miles |
| Volkswagen e-Golf | £386 | 2 years/20,000 miles |
For a brief comparison, a BMW 1 series (petrol or diesel) costs £720 for a 3-year service plan, and a Kia Sportage (petrol) costs £349 for a 3-year plan. When comparing the costs with their electric models, you can see that the price for an electric car service generally works out cheaper.
Where should you get your electric car serviced?
You should try to get your electric car booked in for a service with the manufacturer if possible. While this may seem like the most expensive option, they are likely to have trained mechanics available specifically for carrying out EV services.
As electric cars are still up and coming, your local garage may not be able to carry out a service competently due to needing specialist knowledge and experience, so you'll be better off going to the main manufacturer dealer near you.
By all means, you don't have to do this, but you'll find that most EV warranties state that if there is a fault that needs repairing or a part that must be replaced, it must be done by an approved manufacturer that has approved replacement parts, so you'll need to follow these terms and find an approved dealer to avoid invalidating the warranty.
On top of servicing, make sure your electric vehicle has the right car insurance policy in place, as well as a valid MOT certificate (road tax is not required as EVs are exempt) to make sure that you're driving around legally on UK roads.
For more tips and advice relating to EVs and car maintenance, check out our guides below.
Related guides
---