How to lease an electric car
---
---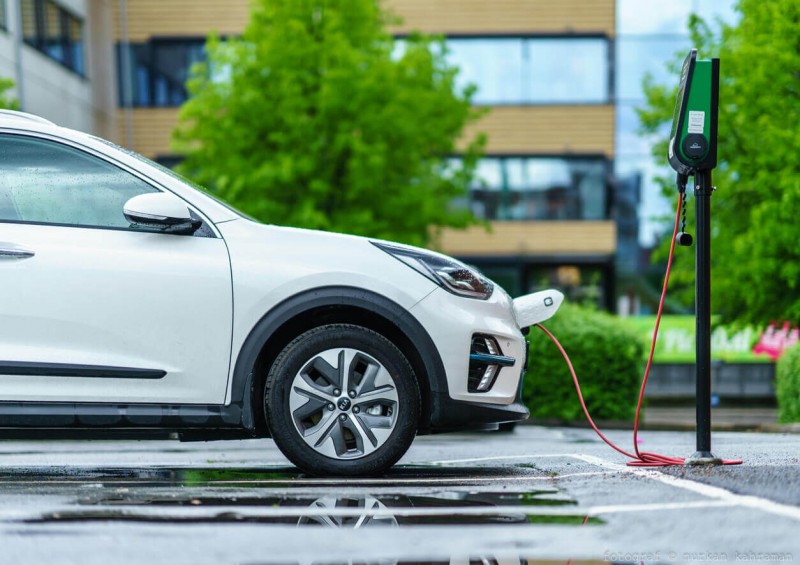 If you fancy joining 'the green team' and going electric, you're probably weighing up your options and wondering 'is it cheaper to lease an electric car than to buy one on finance?'
Here's what you need to know about leasing an electric car, also referred to as Personal Contract Hire (PCH), in 2021.
Can you lease an electric car?
Yes, you most certainly can and you have been able to do so for some time.
Electric car makers are keen to encourage EV leasing as drivers can provide them with essential feedback to help them improve EV technology and battery performance, and keep evolving their manufacturing process in line with their competitors.
If you always like to drive a new or nearly new car, you may want to start dipping your toe in the EV market water before the 2030 deadline when the sale of new petrol and diesel cars will come to an end.
You might like: How to charge an electric car
How much is it to lease a new electric car?
The cost of leasing an electric car is surprisingly reasonable and can cost less than £200 per month to lease extremely popular EV models such as the Renault Zoe and Nissan Leaf.
What is the cheapest electric car to lease?
According to carmagazine, the cheapest electric vehicles to lease for under £200 in 2021 are as follows:
| | | | | |
| --- | --- | --- | --- | --- |
| Car | Price per month | Initial Rental | Contract length | Yearly mileage |
| Smart EQ for Two | £154.00 | £1,596.00 | 48 months | 5,000 |
| Renault Twizy | £165.24 | £1,586.16 | 48 months | 5,000 |
| Seat Mii Electric | £170.33 | £1,021.98 | 48 months | 5,000 |
| Hyundai Loniq | £173.31 | £1,758.79 | 36 months | 5,000 |
| Renault Zoe | £185.99 | £1,115.94 | 48 months | 5,000 |
| MG ZS EV | £195.82 | £1,369.92 | 48 months | 5,000 |
Note: Electric car financing costs are heavily influenced by the amount of miles you travel per year but it's better to overestimate than underestimate your mileage at the outset.
Read more: What is a green number plate?
How much deposit do I need to pay to lease an electric car?
With electric car leasing, you typically pay a deposit that is equivalent to 3, 6 or 9 monthly lease payments.
For example, if you lease a Renault Zoe for the price shown in the table above and have to pay the equivalent of 6 monthly lease payments as a deposit, the deposit amount would be £1,115.94 (6 x £185.99 =).
However, there are also plenty of electric car lease no deposit deals available where you'll instead pay higher monthly payments.
You might like: Electric car servicing FAQs
Is insurance included when leasing an electric car?
Electric-only car leasing agreements do not typically include car insurance but can be an option with some providers.
If you opt for an insurance electric car lease deal then you will pay a combined monthly payment for both the lease and insurance of the vehicle.
Taking out a combined lease deal with insurance can help you see at a glance exactly what you'll be paying from the outset and budget accordingly, plus the premiums are usually fixed for the duration of your agreement.
However, before choosing to include insurance you really should take a few minutes to compare quotes online between the insurance included as part of your lease vehicle contact compared to the premiums for a completely separate car insurance policy.
If you arrange your own car insurance, most car lease companies will require you to take out fully comprehensive insurance.
Whilst insurance isn't included as standard, breakdown cover is usually included under the manufacturer's warranty and there are various extras you can pay for like a maintenance package.
Read more: Electric vehicles are £90 cheaper to insure as sales soar
Is leasing an electric car a good idea?
There are many positive reasons that make leasing an electric a good idea but there are also some negative points to take into consideration.
Here's a roundup of the advantages and disadvantages of leasing an EV.
The benefits of leasing an electric car
Car depreciation
Depreciation is how much your car is worth when you go to sell it compared to when you bought it.
EV technology is constantly evolving with longer battery life and range meaning each previous EV model can lose thousands of pounds in value, very quickly.
A short term electric car lease means you can enjoy driving the newest and latest EV models and update your car every two or three years, which you'd struggle to do financially if you bought an EV outright because of its huge loss in value.
Battery life and range
A 2020 survey by Which? revealed that a car's battery loses range year-on-year; EVs up to three years old tend to have a range of around 98% whereas older models up to several years old tend to have a much more limited range of 92%.
Battery deterioration and range depreciation is again something you don't need to worry about when leasing.
Service costs
As mentioned above, some car leasing companies will offer service and maintenance packages (MOT, service & tyre replacement) that you can add to your lease agreement.
The good news is that whether or not you incorporate maintenance into your lease agreement, having a new or nearly new EV means servicing and maintenance is usually more straightforward and cost effective than maintaining a traditional vehicle.
Read more: Car maintenance costs UK drivers £4.2bn every year
Running costs
Running a car with electricity is cheaper than running a car with petrol or diesel, especially if you charge your car at home, overnight, during the cheap rate.
What's more, there are huge tax savings to be made on not only personal leasing, but also business leasing (also known as Business Contract Hire (BCH)).
Personally leasing a vehicle means you can potentially save hundreds of pounds in road tax and congestion charges and when leasing an electric car through a limited company, you can enjoy zero tax as a Benefit in Kind for both plug in hybrid electric vehicles (PHEV) or pure electric cars with a range over 130 miles.
Choice
A decade ago, EV choice was very limited, but in 2021 there is now a wide range of electric vehicles to choose from and EV options continue to expand exponentially every year.
Environment
Just think how good you'll feel driving an EV knowing you're helping the environment. And think about how 'cool' you'll look on the school run or when you park up alongside work colleagues with a special green number plate that your car wears like a badge of honour.
The disadvantages of leasing an electric car
Mileage limitations
When you lease an electric car, you will need to estimate the amount of miles you think you will travel every year, just like you have to for car insurance.
If you go over your estimated mileage, at the end of your contract you will be charged a certain amount of pence per mile for every mile over your mileage cap.
So you should carefully consider exactly what mileage you anticipate travelling over the next year. A good way to do this is to look at and compare the mileage recorded on your current or last vehicle's MOT certificates (over two years) or your car's service history record.
Commitment
If you fail to make your monthly payments in full and on time, you risk losing your car and if you want to terminate your lease early, you may still be required to pay the full amount due under the terms of your contract.
Battery rental
Albeit very rare, some leasing contracts do not include the battery, especially on older models of the Renault Zoe. So double-check this before signing.
Maintenance and repairs
Even though you're leasing a car, you will need to make sure the car is fully maintained and repaired at your own expense as you would do with a car that you own.
If you fail to arrange and pay for servicing or repairs, then you will be penalised financially when your contract ends.
Ownership
You'll have nothing to show for your expenditure at the end of your contract as you will not own the car.
Related guides
---