Rent to Buy Scheme: Get Help with Buying a Home
---
---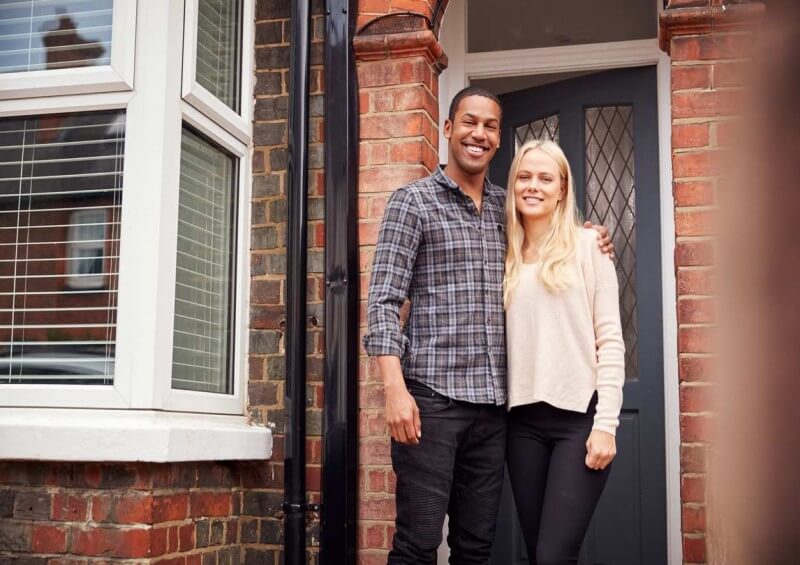 Finding a way on to the property ladder can be difficult and overwhelming for many, but there are organisations and schemes available in the UK to help you save money to buy your first home.
In order to ease the transition from renting to buying, the government has set up the useful Rent to Buy (or Rent to Own) scheme, which can be applied to hundreds of homes across the country.
What is the Rent to Buy scheme?
Rent to Buy – also referred to as Rent to Save, Rent to Own and Intermediate Rent – is a government-run scheme that provides subsidised rent to tenants in order to make it easier to transition from renting to buying and owning a home.
Rent to Buy in England, Scotland and Northern Ireland
With the scheme available in England, Scotland and Northern Ireland, you rent a new-build property at 20% below the market rate for a maximum of five years (depending on the property).
During that time, you have the option to purchase the property or buy part of it under a shared ownership scheme. When you reach the end of the five-year period, you either move out or buy part of the property.
Housing associations use varying labels, such as Try Before You Buy, Rent Save Buy, Rent to Own, Intermediate Market Rent, and more, but they all have the same purpose.
How does Rent to Buy work in the UK?
In summary, here's how Rent to Buy works in England, Scotland and Northern Ireland:
Those eligible can rent properties with a shorthold tenancy at a reduced rate (80% of local market rates).
Paying less rent gives you the opportunity to save up money for a deposit to buy a share (or all) of the home later down the line.
When the shorthold period ends, you can purchase the house or move out.
The average lease period lasts between six months and five years (depending on the property).
Tenants can make an outright offer or apply for a shared ownership scheme at any time during the lease.
There is very limited availability and each local authority only has a certain amount of Rent to Buy properties.
In Wales, the rules are slightly different.
How does Rent to Own work in Wales?
The scheme is known as Rent to Own in Wales and works a little differently, but still provides similar benefits in that it gives you a helping hand as you work towards buying a home.
In Wales, you rent a property and pay the going rate for up to five years. After two years, you have the option of buying the property. If you do so, you will get 25% of the rent you paid and 50% of any increase in the property value since you moved in to use as a deposit on the property.
Rent to Buy eligibility
There are some requirements that must be met before you are considered eligible for Rent to Buy homes, including the following:
Your household must earn £60,000 a year or less
You must be a first-time buyer or someone that previously owned a home but can't afford to purchase one in the current market
You must have a good credit history
There are also some additional requirements or criteria, depending on the housing association that is offering the property. They usually prioritise certain groups of people, including those with an existing tenancy with the housing association, council tenants, and first-time buyers.
In you're unsure, get in touch with your local authority for more information on whether or not you qualify for the scheme.
The London Living Rent scheme
If you live in London, the equivalent of the Rent to Buy scheme is known as London Living Rent, but it is near-enough identical to Rent to Buy.
You rent a property for an amount less than the market rate and have time to save money for a deposit over the course of a minimum three-year tenancy. During this time, you're prioritised for shared ownership properties in order to make it easier to go from renting to owning a property.
The average monthly rent is around £1,000 under the scheme; the exact amount you'll pay depends on the location and the property, but the overall aim is for the rent to be one third less than the average in the area.
Other ways to buy the house you want
If you aren't eligible or simply don't think the Rent to Buy or Rent to Own schemes are right for you, you can look at other ways to work towards buying your ideal home.
There are many government plans available, including:
Help to Buy
Shared Ownership
Right to Buy
Armed Forces Home Ownership scheme
Home Ownership for People with Long Term Disabilities (HOLD)
You can also get some help from non-government organisations, such as CreditLadder.
First-time buyers get help from CreditLadder
Starling Bank and CreditLadder recently teamed up to help first time buyers improve their chances of being accepted for their first mortgage.
They allow people to use their monthly rent payments as a way of building up a credit history, thus improving their credit score or rating and eventually becoming eligible for more competitive mortgage rates.
Read more: Starling Bank and CreditLadder Team Up to Help First Time Buyers
Finding the right home insurance
Once you've got money for your deposit, bought your first property and become a proud homeowner, you then need to protect it with the right home insurance policy.
The best way to find the right home insurance policy for you is to shop around using a reputable comparison site like Confused.com.
Read our guides on buildings and contents insurance, and how much you should be paying for cover, or tap the button below to get your home insurance quote today!
Related guides:
Starling Bank and CreditLadder Team Up to Help First Time Buyers
Pros and Cons of Help to Buy ISAs
---